Invest in yourself: Silvia Cuevas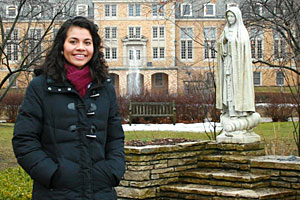 Silvia visits one of the college's most beloved spots:
a statue of Saint Mary on an island in Lake Marian. Day after day, Silvia Cuevas walked into her high school counselor's office at Bishop Noll Institute in Hammond, Indiana. "Any new scholarships?" she'd ask.
When the answer was yes, Silvia got to work, filling out piles of application forms and writing scholarship essay after essay after essay. "My life was apply, search, apply, search, apply, and search," she recalls.
More than 95 percent of Saint Mary's students receive financial aid.
The responsibility for financing college fell on her shoulders, and she was determined not to allow that to limit her college options. "Great things come with hard work," says Silvia, a Saint Mary's junior. "It's frustrating to write scholarship essays, but you have to stay motivated. You just can't give up."
Her search paid off with a financial aid package that isn't typical, but an exceptional mix of scholarships and grants that include:
Holy Cross Grant
Father Basil Moreau Scholarship
Hammond College Bound Scholarship
Hispanic Women's Forum Scholarship
Saint Mary's Grant
Indiana Freedom of Choice Award
Indiana Higher Education Award
Federal Pell Grant
Once she was accepted at Saint Mary's, the Financial Aid Office helped her connect with college awards. "I applied for Early Decision and filled out my FAFSA (Free Application for Federal Student Aid form). Then Saint Mary's made it easy to find college scholarships."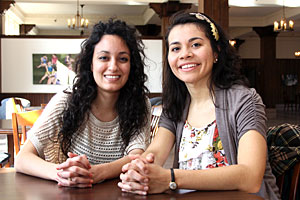 Silvia was elected president of the senior class for the
2012-2013 school year. Ambreen Ahmad, a double major
in communication studies and humanistic studies,
was elected vice president. Those scholarships are funded by alumnae, and Silvia never forgets it. "I am so glad that through generous alumnae, I am a Saint Mary's Belle. God is good, people are good, life's good! Scratch that—they're all GREAT!"
With this in mind, Silvia is determined to make the most of her time at Saint Mary's, especially with her major of business administration with concentrations in finance and international business.
To get a head start in her career, Silvia joined the new Alumnae Mentoring Program. Through the Career Crossings Office, 25 rising juniors are paired with alumnae to give them greater understanding in their field of study. "I was paired up with Maura Kahn, a 1983 graduate who's the vice president for business development and marketing at Noxilizer," Silvia says. "She helps me with my resume, and gives me advice for career goals, networking, and other issues. You name it, and she's helped."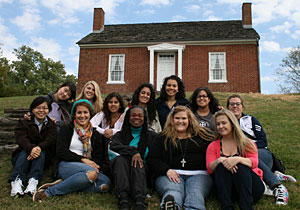 Silvia, back row, visited the Rankin House in Ripley, Ohio,
one of the stops of the Underground Railroad. She
visited with a group from the Center for Women's
Intercultural Leadership. Siliva also immerses herself in campus life. She's the mission commissioner for the Student Government Association (SGA), a member of the SGA Finance Committee, and liturgical minister for Campus Ministry, and is earning a certificate in women's intercultural leadership through the Center for Women Intercultural Leadership.
"Am I glad I'm here? A million times yes!" she says. "Saint Mary's is like a close-knit family. By second semester freshman year, I was calling it home.
"My peers inspire me to go above and beyond what I thought I could do. The professors know our names and encourage us to succeed. My spiritual life has never been stronger. This is a great place to be."