Filmmaker screens latest project at Saint Mary's
Albany Road written and directed by SMC Trustee Christine Swanson
On September 30, multi-award-winning filmmaker and screenwriter Christine Swanson (ND '94) made a stop at Saint Mary's College to screen a rough cut of her new film Albany Road. Swanson is described as a "visionary storyteller" who has worked with HBO Films, Lionsgate, Warner Bros. Television, CBS Television Studios, TV One, A&E Networks, BET Films, and Starz. She and her husband Michael Swanson (ND '93), an Emmy Award-winning studio executive at Universal Studio Group in Hollywood, also own Faith Filmworks, the production house under which Albany Road was produced.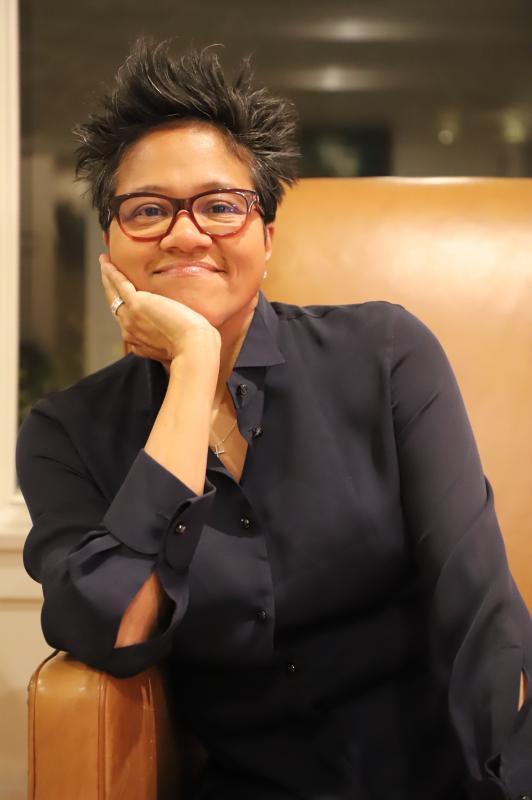 Through Faith Filmworks, the duo has worked with powerhouse actors—Morgan Freeman, Renée Elise Goldberry, Michael Boatman, Ruby Dee, Debbie Allen, Ernie Hudson, among dozens of notable others. While here, Christine, a member of the College's Board of Trustees, met with students who are interested in the film industry. She and Michael also answered audience questions following the screening. We talked with Swanson while she was on campus about her latest project, what it means to be in the film industry at this moment in time, and how women continue to shape her life. 
Tell me briefly about Albany Road
Albany Road is an independent feature film made by our production company Faith Filmworks where my husband Michael is the producer and I am the writer/director.
How did the screening go at SMC? What were the reactions? Similar to other markets where you've screened it?
The screening at SMC was a huge success. We had a diverse audience group consisting of members of the South Bend community, students, professors, nuns and the president of the College! The reaction was overwhelmingly receptive and very similar to the consistent responses of joy and laughter we have received in other cities.
Why did you choose to screen it here? 
My husband Michael was assisting with a show at DPAC (Debartolo Performing Arts Center at Notre Dame, of which Michael is a board member). Since we were in town, I asked Kaite Conboy if we could screen a rough cut of the movie on the campus of SMC. She and her team put it all together—and rather quickly.
You defined rough cut for me in person as a film that is close to being finalized, but still editable, based on feedback from audience reactions. Is that close?
A rough cut is an unfinished film. In our case, we haven't added the score, done the sound mix, the color correction and the end credits.
Growing up in Detroit, did you always want to be a creator? In film specifically?
Growing up in Detroit, all I knew was that I would be going to college. That's all. When I got to college at Notre Dame, Spike Lee came to campus in my freshman year and that's when I learned about the business of making movies. I decided to change my major from Finance to Communications and Theatre (now called FTT) and never looked back. I did research and learned Spike Lee went to NYU Graduate Film School. So, I applied and got in for grad school and Spike was my directing teacher in my last year.
As an undergraduate and then graduate student in the male-dominated world of filmmaking, what did you think of the industry then, vs. what you find to be the reality now?
Once I decided I wanted to be a filmmaker, I focused mostly on how I would show up in this space and find my voice. I had to navigate the male-dominated terrain with great ambition and grit. Ultimately, the cream will rise to the top. I focused on being the cream and not necessarily on being a woman. It got easier the older I got but it's never easy being a minority anywhere. Yet, it's also a building block. Adversity in general, brings out the best in you when your back is up against the wall. You get to see what you are made of and if you can allow yourself some grace, you will understand that all your trials  were there to force you to grow in ways you would not have grown without them. Over time, when maturity and confidence kicks in, you can move in ways that would surprise your younger self. So, you have to be in for the long game. Yes, it's hard but it's worth it.
Would you do it all over again?
I would do it all over again!!!
What keeps you motivated?
I'm motivated by my love for God, family and people. I live to be used of God however he sees fit. His ways are bigger than my ways. I'm always trying to hear from God.
You joined the board in 2022. What do you find appealing about the Saint Mary's community? 
What I find appealing about the SMC community is the genuine love of learning and curiosity of the students and the passion and the commitment of the faculty and administration. I always feel a great sense of belonging and love that resonates greatly in the atmosphere here and beyond with the graduates.
Have there been women in your life that have opened doors for you?
There have been many women in my life that have opened doors for me starting with my grandmother and great-aunt who raised me when they were in their 60's and done raising their own children. Next, the doors of my mind were opened by great women teachers in Detroit as well as Notre Dame who instilled in me a love for learning and exploration. Lastly, in my professional life, I am greatly supported by my fellow female artists friends who support and encourage me all the time.
What's next for you?
Next for me is whatever God wills. Generally, I hope to make more movies that inspire and speak to the hearts of the masses.
Learn more about Christine Swanson, Michael Swanson, and their company Faith Filmworks here. 
October 20, 2023