A Note From the Cloak Room
Campus and Community Events and O'Laughlin Auditorium have undergone a significant physical transformation this year: new carpet, new paint, wall removal, and some long overdue winnowing of files, records, and memorabilia. This summer, crews will transform the lobby restrooms, in hopes they will be ready by fall of 2022. These renovations have been part of a three-year project made possible by a campus-wide initiative.
The Moreau Center for the Arts has also seen quite a few changes: classrooms have been modernized, the building is air conditioned, floors and walls have been recolored and recovered, and new photos adorn the walls. Patrons will see new furniture and a few new spaces throughout the building. While these changes bring an exciting new sparkle, the soul of the building remains intact. We are — as we have always been —- a place focused on hospitality.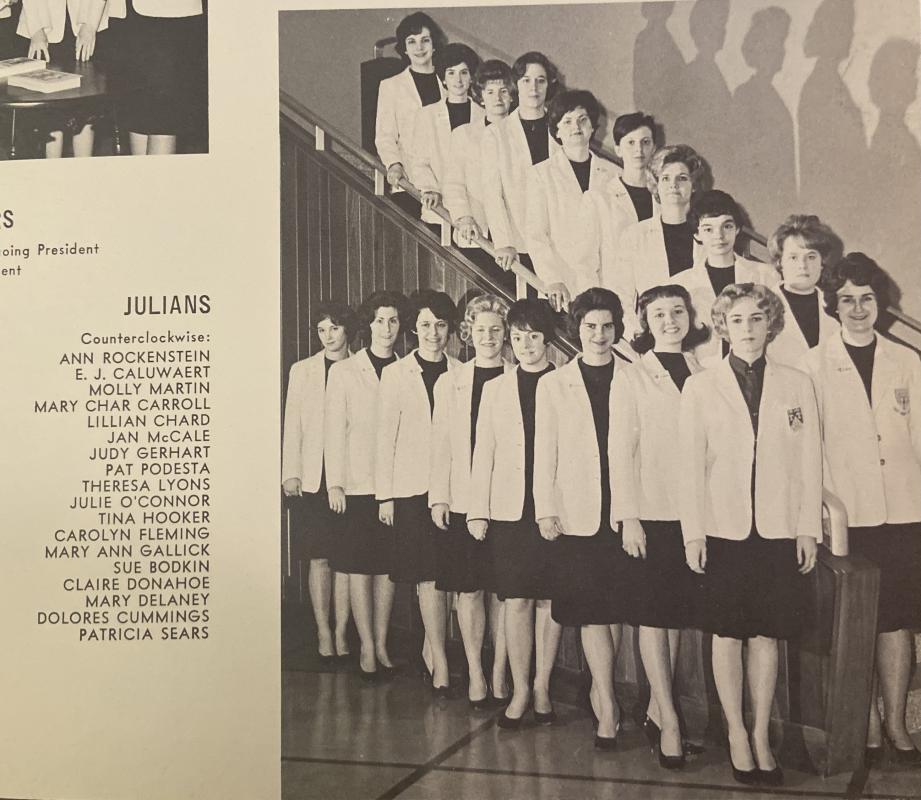 I am the Director of Campus and Community Events and my office is the old coat check room, or, as it was originally known, the cloak room. I specifically asked not to have the paneling painted because it tells an important story:  When the Moreau Center for the Arts came to life 65 years ago, Dwight D. Eisenhower was our nation's President, and Sister M. Madeleva Wolff, CSC, was the president of our College. The O'Laughlin-Moreau complex served as a regional arts center, and in those days, most patrons checked their coats before coming into the theatre, entrusting their belongings to our staff. The students who worked in Moreau checked those coats, served as ushers, tore tickets, and sold concessions. They were known as The Julians, in honor of Saint Julian, the patron saint of hospitality. The blazers they wore personified them as part of an elite group of hospitality ministers. They cared for our guests during their short stay and watched over their possessions.  
The holes in the paneling of the walls are artifacts. They tell part of our story, such as how many people have attended events in our facility and how vital their trust in us has become. Following the lead of the Sisters and their welcoming spirit, we are all hospitality ministers, serving the needs of those who come to campus. The cloak room reminds us of our responsibility to remain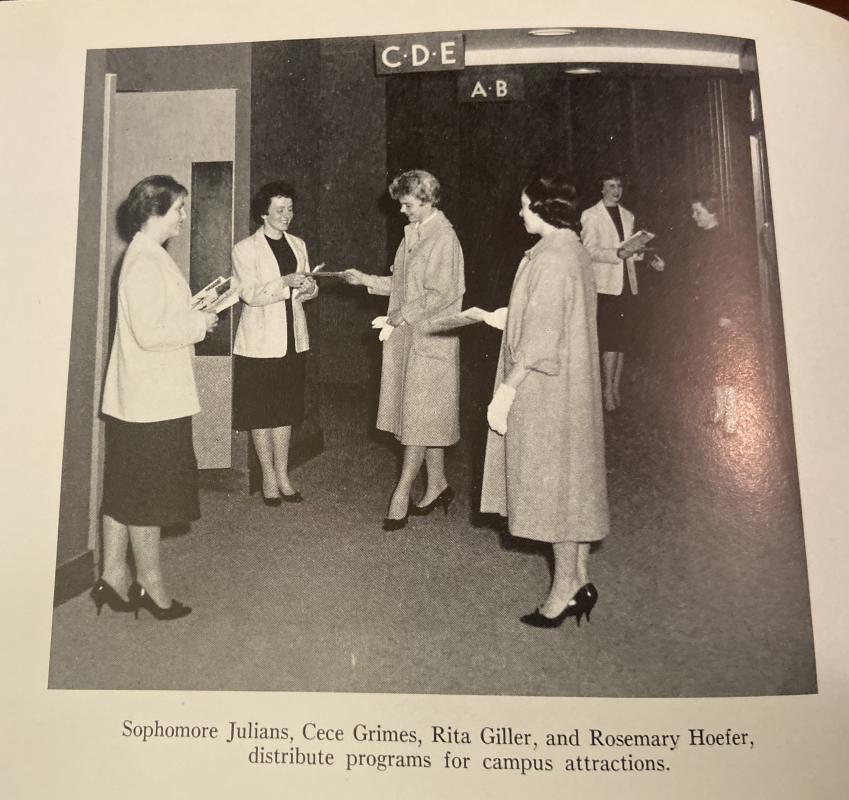 worthy of our visitors' trust, and to graciously serve all of those who come through our doors.