Opera Scenes Teach Leadership and Vocal Technique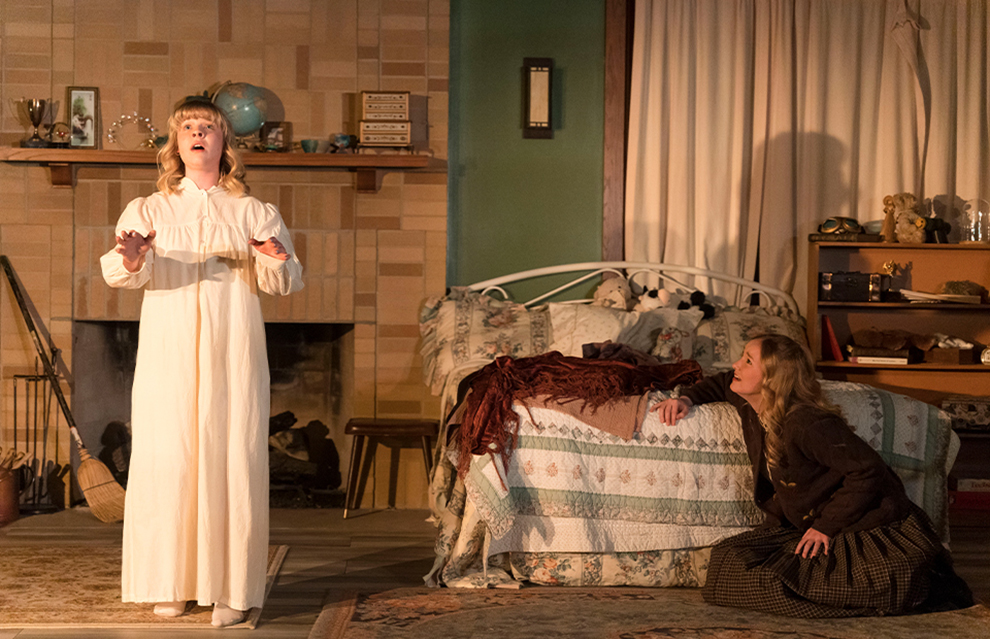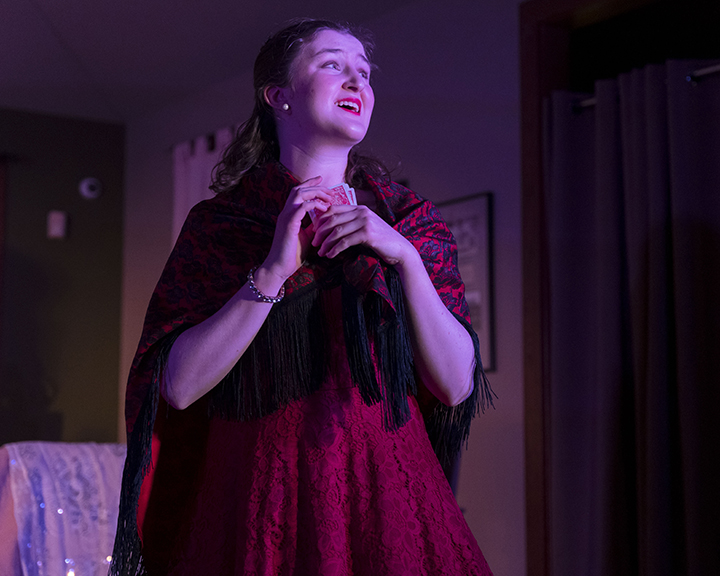 From handbell choir to women's choir, there's a plethora of musical opportunities open to students at Saint Mary's College. One unique opportunity presented to students is taking part in an opera workshop for course credit. Students learn vocal technique, and the campus community gets to enjoy the fruits of the student's hard work at the Opera Scenes performance held in Dalloway's Clubhouse on February 24 and 25.
The Saint Mary's College Opera Workshop, led by professor Elizabeth Schleicher, allows undergraduate students the chance to learn and improve their operatic vocals, as well as gain leadership and stage management skills. Students prepare their roles throughout the semester and perform the full opera—or selected scenes—at the end of the experience. Weekly rehearsals focus on musical preparation, blocking, and character development. Music major Julia Zusi '24 has immersed herself in this performance as both a cast member and the assistant director. This was Zusi's first experience as a student director, and she has enjoyed working with the music faculty to write the script and bring the show to life.
This year's performance is a collection of selected opera scenes, short sections of music or scenes taken from a full opera, chosen on the basis of students' talents and vocal types. Oftentimes these scenes contain a duet, trio, or other ensemble piece from an opera score.This year's performance is titled "Lost in a Book." Fittingly, all of the opera scenes are based on classic literature, including Little Women and Cinderella, and linked to a common theme. Zusi helped write the script with her professors to tie the chosen opera scenes together into one coherent work.
Students perform with their peers at the opera workshop, focusing both on the music and poetry of a piece as well as their character development. Over the course of six weeks, students spend two nights a week preparing seven different opera scenes in total. Because the timeline for the course is abbreviated, students are encouraged to devote additional time outside of class to learning music and developing their character.. 
Zusi's experience collaborating with her professors and peers on this show has been a singular experiential learning process. "I have learned a lot as a performer and a director about what makes an opera and the ways in which it is traditionally staged and written different from musical theater or straight plays," said Zusi. The most important lesson she learned through the process, however,  was about the importance of flexibility and being able to "pivot on a moment's notice when there are unexpected changes. The directors I am working under have made this experience really welcoming and incredibly educational and collaborative."
Zusi is excited to see her hard work, and that of her peers, come alive in front of an audience.