Rebuilding Together
The 2015 Rebuilding Together work day will take place on April 11th!
To sign up for Rebuilding Together click here
General Information about Rebuilding Together
Rebuilding Together is a nonprofit, community-based partnership of volunteers from local government, businesses, and other nonprofits, whose purpose is to improve neighborhoods by rehabilitating the homes of low-income homeowners.In 1972 a group of volunteers in Midland, Texas, decided to devote one day in April to repairing and sprucing up the homes of their low-income, disabled, and elderly neighbors. "Why, this is like Christmas in April," they were told. The spirit of giving has spread to local affiliates across the country.
Christmas in April (St. Joseph County) began in 1989. Since then, more than 20,000 volunteers have donated their times and skills, worth millions of dollars in market value, to rehabilitate 675 homes in South Bend. In 2002 the Board of Directors of the local organization voted to change its name to Rebuilding Together, St. Joseph County. This name change aligned the local efforts with the national program and better reflected its mission of a community working together to rebuild neighborhoods. The core goal of making repairs to the homes of low-income, disabled, and elderly residents remains unaltered.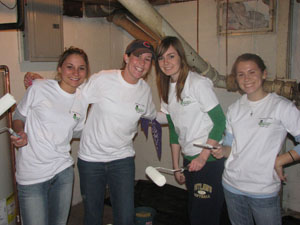 What Gets Fixed
Repairs vary from yard clean-up and trash removal to minor repairs such as small carpentry jobs and painting walls to major skilled tasks such as roofing and updating electrical and job plumbing systems.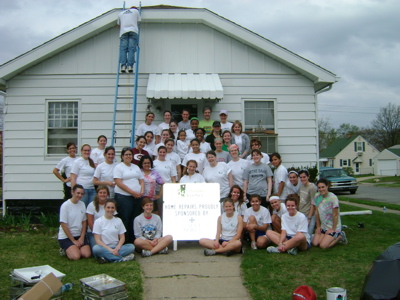 Selection of Clients and Homes
Rebuilding Together seeks applications from low-income homeowners, particularly the disabled or elderly, in the targeted neighborhood. Neighborhood groups, churches, social service agencies, and private individuals sometimes refer homeowners to the program. Once a homeowner's eligibility is confirmed, each home is inspected and evaluated, and a determination is made on the extent of the repairs to be completed.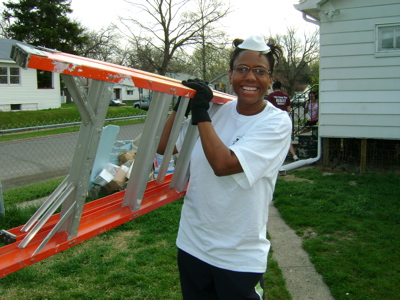 Contributors and Partners
The Rebuilding Together program succeeds based on its partnerships. Program funding and donations, in terms of volunteers hours, materials, and money, come from the City of South Bend; the St. Joseph Building and Construction Trades Council; other trade contractors; the Home Builders Association; local businesses, churches, and synagogues; the University of Notre Dame, St. Mary's College, Bethel College and Indiana University South Bend; the South Bend Community School Corporation; and from the community at large. All repairs are made at no cost to the homeowner.