Department of Music
Greetings from the Music Department at Saint Mary's College. We invite you to join us in the remarkable journey we take every year. In many ways, our department works as a family—you will be nurtured and challenged in your development by the talented music faculty and your fellow students, and energized by constant music-making in the halls.
Click on the image to see the Music Department brochure or to download it.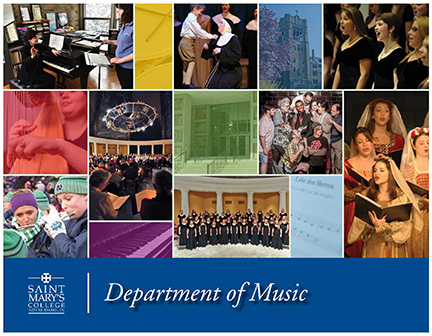 We believe that, like life, music is a collaborative experience. Come join us as together, we seek meaning and beauty in this perfect art, Music.
Saint Mary's College is an accredited institutional member of the National Association of Schools of Music, which assures that music programs, faculty, facilities, and students meet high standards.
Questions or Comments?
E-Mail Music Department
or write
Department of Music · Saint Mary's College · Notre Dame IN 46556
Telephone: 574.284.4632
Fax: 574.284.4884