Welcome from the President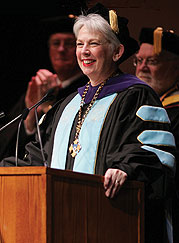 Whether you are a prospective student , parent , or an alumna checking in to see what is happening on campus, this site will lead you to other areas of the College. Now in our 170th year, tradition plays a large role here, but we also take great pride in being responsibly daring as we look to the future.

Professors at Saint Mary's challenge and encourage students. Our faculty place teaching as their highest priority and personal attention is the rule, not the exception here. As a result, our graduates are confident leaders, well educated, and well prepared for life.

From the moment you enter campus and drive down our tree-lined Avenue, you will be struck by the beauty of Saint Mary's College. We are situated near the banks of the St. Joseph River, and our nature preserve and trails are the perfect place for leisurely walks or brisk runs. Each season brings new beauty to our carefully maintained grounds. Lake Marian, with its legendary bridge and reflective garden spaces, will capture your imagination just as it has mine and that of my fellow alumnae.

Students participate in athletics, student government, clubs, and social activities . They have the advantages of a small residential college as well as those offered by our neighbors, the University of Notre Dame, Holy Cross College, Indiana University at South Bend, and Bethel College.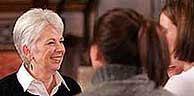 As a Catholic college, we support the moral and spiritual development of our students. Graduates know the place of faith in an adult life. Our Office of Civic and Social Engagement coordinates more than 80 percent of our students as volunteers by the time they graduate. Social justice is not just an aspiration here—it is a way of life.
Saint Mary's is committed to cultivating an appreciation for diverse cultures and experiences within our community. In order to offer the richest educational experience possible, the College strives to bring together students and employees of different nations, cultures, and races. The need to diversify arises from the role that diversification can play in making Saint Mary's a more vibrant learning community and preparing all of its students for life and work in a diverse and global world.
As you visit this site, remember it is always better to visit us in person. While a Web site is an efficient way to get an idea of what a college is like, I promise you that a visit to Saint Mary's will be far more engaging. Drive down The Avenue, see for yourself the Saint Mary's of today—a place where we educate women and transform lives.
Sincerely,

Carol Ann Mooney '72