Welcome from the President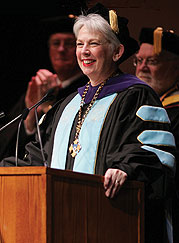 Whether you are a prospective student, parent, or an alumna, this site will lead you to other areas of life at Saint Mary's College. Now in our 175th year, tradition plays a large role here, but we also take great pride in being responsibly daring as we look to the future.
Your professors at Saint Mary's will challenge and encourage you. Teaching is their highest priority and personal attention is the rule, not the exception here. You will become a confident leader, well educated, and well prepared for life.
Saint Mary's College is beautiful. So beautiful that our alumnae return often to walk down The Avenue and cross the famous Lake Marion bridge.
You will participate in athletics, student government, clubs, and social activities . You will have the advantages we offer of a small residential college and those offered by our neighbors, the University of Notre Dame, Holy Cross College, Indiana University at South Bend, and Bethel College.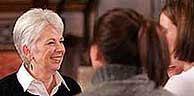 As a Catholic college, we will support your moral and spiritual development. As a graduate you will know the place of faith in your adult life. Our Office of Civic and Social Engagement coordinates more than 80 percent of our students as volunteers by the time they graduate. Social justice is a way of life here.
Saint Mary's will cultivate an appreciation for diverse cultures and experiences.
No website tells the whole story - visit us in person. Drive down The Avenue, see for yourself the Saint Mary's of today—a place where we educate women and transform lives.
Sincerely,
Carol Ann Mooney '72