Schedule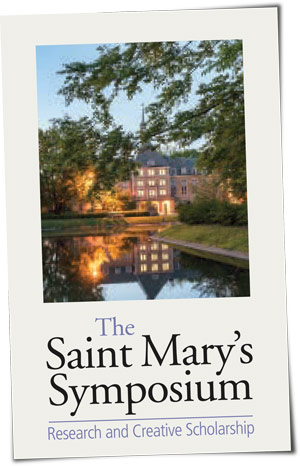 The Saint Mary's Symposium of research and creative scholarship is Thursday, May 2, 2019. This third annual event features a full day of presentations by both faculty and students. The day starts at 9 a.m. with over 35 presentations and culminates with a senior showcase and social hour beginning at 4 p.m. To view the full listing of presentations, please download the 2019 Program.
Panel Sessions
Student Center
9 – 9:10 a.m.
Welcome
Rice Commons
Laura Williamson Ambrose, associate professor of humanistic studies
9:10 – 10:00 a.m.
Keynote address
Rice Commons
"Who frames the questions? Why students' research matters."
Rebecca Stoddart, professor of psychology
10:15 – 11:30 a.m.
Global Politics and Activism
Vander Vennet
Presentations by:
Yidi Wu, assistant professor of history
Cameron Moore '19
Sandra Úsuga, lecturer of modern languages
Forms of Knowledge
Earley Conference Rooms DEF
Presentations by: 
Phyllis Kaminski, professor of religious studies
Emily Speybroeck '19
Katherine Wankelman '20
Annie McHugh '19
Into the Woods: Interdisciplinary Perspectives on Nature
Rice Commons
Presentations by: 
Cassie Majetic, associate professor of biology
Aaron Moe, assistant professor of English
Margaret M. Gower, assistant professor of religious studies
Tiffany Johnson Bidler, associate professor of art
11:30 a.m. 
Break for lunch
On your own
12:45 – 2 p.m.
Visualization
Vander Vennett
Presentations by:
Mary Coleman '20
Grace Zablocki '21
Kathryn McGowan '19
 
Inclusive Campus
Earley Conference Rooms DEF
Presentations by:
Catherine Kehner '20
Natalie Davis '20
Madeleine Green '20
 
Twenty-first-century Problems
Rice Commons
Presentations by:
Masarakufa Gumiro MS '18, data science
Josephine Bruni '19, Lauren Richey '19, and Catherine Sosnowski '19
James Rogers, lecturer of business and economics and Alissa Russell, assistant professor of psychology
2:15 – 3:30 p.m.
Systems and Metrics
Vander Vennet
Presentations by:
Zoie Clay '19
Morgan Chichester '20, Kathryn Hansen '20, and Abigail Mengel '20
Cheryl Periton, visiting assistant professor of math
Stress and Behavior
Earley Conference Rooms DEF
Presentations by:
Mary Carper '19 and Haley Coghlan '19
Angela Bozik '18
Lillias Zusi '19
Senior Showcase & Social Hour
Carol Ann Mooney Fieldhouse
4 – 5:30 p.m.
Welcome
Opening remarks by Interim President Nancy Nekvasil
Poster Session
Art:
Hope Marinkovich '19
Cara Givens '19
Biology:
Paige Schurr '19
Darby Auckland '19
Business and Economics:
Abbi Fleming '19, Erin Maloney '19, Brianna Nichols '19, and Emmalee Schulte '19
Grace "Gracie" Burchett '19, Mackenzie Hamman '19, Anna Kerper '19, and Kaitlin King '19
Chemistry:
Heather DiLallo '19
Erica Slogar '19
Communication Studies:
Kerry Rose McDonald '19
Anna Carpenter '19
Communicative Sciences and Disorders:
Emily Miron '18
Claire Conlon '20, Natalie Dock '18, Jalyn Doyle '20, Meghan Egierski '20, Haley Mitchell '20, Elizabeth Preister '19, Emma Snodgrass '20, Taylor Szabo '20, and Sophia Wittenberg '20
Education:
Kaylee Briggs '19
Christina McGuire '19
English Writing:
Molly Vogele '19
Catherine Grady '19
English Literature:
​Elaine Albaugh '19
Anna Byrnes '19
Environmental Studies:
Sophia "Sophie" Johnson '19
Ellen Johnson '19
Gender and Women's Studies:
Ashley Hovorka '19
Jordan Lolmaugh '19
Global Studies:
Ashlyn Maes '19
Angeline Barthel '19
History:
Sarah Allen '19
Megan Temple '19
Humanistic Studies:
Jordan Cockrum '19
Allie Johnston '19
Mathematics and Computer Science:
Maria Escobedo '19
Monica McGrath '19
Modern Languages:
Riley Harber '19
Ashley Hovorka '19
Music:
Grace Haase '19
Jennie Liu '19
Nursing Science:
Madelyn Kostielney '19, Sarah Mead '19, and Riley Schlais '19
Emma Vielee '19, Johanna Pinto '19, Annabelle Paulson '19,  and Meghan Baker '19
Philosophy:
Deirdre Cawley '19
Physics:
Sam Ayala '19
Political Science:
Maeve McMahon '19
Psychology:
Kathleen Shaffer '19
Londy Avila '19
Social Work:
Mary Carper '19 and Haley Coghlan '19
Jane Henry '19
Sociology:
Mikaela Gohn '18
Student Independent Study and Research (SISTAR) Awards
Presentations by:
Riley Harber '19 and Dionne Bremyer, former assistant professor of English
Adele Edmonds '19, Samantha Schickel '19, and Tracy Anderson, associate professor of nursing,
Jordan Lolmaugh '19 and Jamie Wagman, associate professor of gender and women's studies and history
Alicia Twisselmann '19 and Teresa Aubele-Futch, assistant professor of psychology