Still Deciding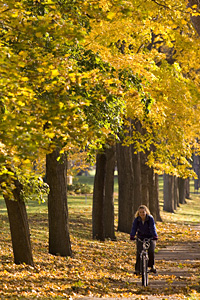 There's no need to rush into decisions about your future.
Saint Mary's College will inspire and enlighten you. Our top-ranked liberal arts education offers a broad, deep foundation of knowledge. You'll discover new passions and ways to focus your interests. You'll learn about endless possibilities, no matter what major you choose.
As pioneers in educating women, we'll help you reach your potential through rigorous academics, a supportive environment, and attention to your personal goals and desires. You'll always find faculty, staff, and activities to help you focus on your needs for the future.
Programs and Activities
You'll find guidance for focusing your studies through the following:
The Office of Academic Affairs and First-Year Studies provides advisors who will help you make informed academic decisions. They collaborate with faculty about your needs and monitor your progress towards graduation. They'll also encourage you to take courses suited to your interests and abilities.
Sophia means "wisdom" in Greek. It's the name we give to our general curriculum. But, it's more than a general education program, Sophia is the foundation for all our majors. You will acquire knowledge across disciplines and the ability to apply that expertise inside and outside of the classroom. It provides you with the freedom to explore specific areas of interest within a structured framework will help you focus your studies. Yet, you'll also stretch outside your comfort zone, leading you to greater self-discovery.
The Career Crossings Office offers information and guidance. The staff encourages students to consider more than which careers are associated with specific majors, and ask more fundamental personal questions, such as 'What do I like to do?' The Alumnae Resource Network provides a database of nearly 5,000 graduates who are willing to assist you with career information, internship opportunities, and personal insights concerning typical career paths.