Student-Centered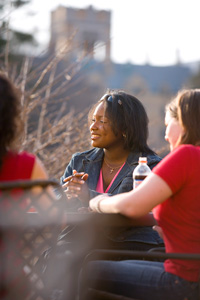 "I have always believed that the transmission of knowledge is not as important as instilling in students an insatiable intellectual curiosity that encourages them to continue to ask vital questions throughout their lives."
—Ted Billy, English professor
In every discipline, from biology to sociology, expect to participate as you learn. Saint Mary's faculty teach through conversation and collaboration, asking for your input and responding to your ideas.
Teaching is our highest priority, and that's why we maintain a student-to-faculty ratio of 10:1. You will play an instrumental role in your classes, which average only 18 students. Your voice will be heard and your participation necessary.
Top-notch Faculty
Saint Mary's outstanding faculty are highly regarded scholars in their fields. They conduct research, publish in scholarly journals, and present their findings at prestigious conferences such the national meeting of the American Chemical Society.
Academic Resources and Support
The Office of Academic Affairs and First Year Studies is the central advising office at Saint Mary's. The office works closely with faculty advisors and professors to help you plan your schedules, decide on a major, and navigate your four year academic career. The Career Crossing Office offers services for career decision making to all students throughout their four years and beyond.
Academic Centers
Three academic Centers of Distinction enrich the learning environment at Saint Mary's College. The Center for Academic Innovation, The Center for Spirituality, and The Center for Women's InterCultural Leadership support the teaching and learning environment, providing collaborative research opportunities, visiting scholar lectures, and much more.