Argentina Summer Program
Córdoba is recognized as a center for arts and learning in Argentina with its many universities, theaters, and museums. Argentina's second largest city and the region's early capital, Córdoba is a bustling educational and commercial center set at the foothills of the Sierra Chica mountain range in northern Argentina. Saint Mary's College has an affiliation with Spanish Studies Abroad, which offers true cultural immersion experience in Córdoba.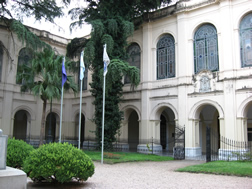 The Córdoba Program offers three enrollment options: summer, semester, and academic year. The summer term consists of a one-month intensive language and culture session at an innovative university, Universidad Blas Pascal (UBP). In addition to 60 hours of classroom instruction, the summer program includes a home stay, horseback riding, tango lessons, and cultural excursions, including a three-day trip to Buenos Aires. 
Saint Mary's students wishing to study in Córdoba must have at least a 3.0 GPA as well as a 3.0 (B) average in Spanish, or be a heritage speaker, at the time of their application.
For more information, contact:  
Jennifer Zachman
Associate Professor, Modern Languages
Faculty Coordinator of Study Abroad Programs
(574) 284-4173
jzachman@saintmarys.edu