Belize Marine Biology Program
Saint Mary's College offers a week-long spring break field experience in South Water Caye, Belize, as part of the marine biology (BIO 209) course. This experience is offered in odd number years (2017, etc). South Water Caye is located along the Belize Barrier Reef and is listed as a UNESCO protected site that is of "universal value to humanity" and "of great scientific value" for its remarkable biological diversity. 
Location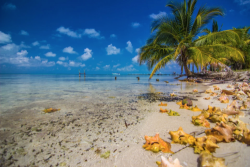 Students will stay at the facilities of IZE Belize marine biology field station on South Water Caye. This island is located approximately 14 miles southeast of Dangriga, Belize in the middle of the South Water Caye Marine Reserve. This facility has classroom and wetlab facilities with circulating sale water tanks, wet tables, and microscopes. The island is surrounded by pristine coral reef, seagrass beds, and mangrove habitat, all of which can be access directly from shore. The island is staffed by Belizean locals whose families have relied on the resources of the reef for several generations. Students will stay on the island in dormitory style housing and will experience local cuisine in the communal cateteria. Each day, students will go on boat field trips to nearby reefs for snorkeling with experienced local guides. Students will also design and conduct independent marine biology field experiments that will be part of their final project for the course.
Program of Study
This field experience satisfies the laboratory component for BIO 209, which is an upper level biology course designed for biology majors and minors. This course satisfies Sophia LO1: Science for the Citizen, LO3: Global Learning B, and Academic Experiential Learning.
Housing
All students will stay in dormitory-style housing on the island. Students will sample local cuisine prepared by the chefs. The cafeteria can accommodate all dietary restrictions. 
Transportation and Costs
The total cost for the experience covers all domestic and international airfare, ground and sea transportation, lodging, meals, and boat excursions. In addition, there is a $50 application fee and a $20 service fee.
Insurance
Saint Mary's College provides international health insurance to all students abroad through GeoBlue insurance company. Students on any Saint Mary's study abroad program are automatically enrolled and the fee is included in the cost of the program.
Eligibility and Requirements
The Marine Biology Spring Break Experience is open to any student that has taken BIO 154, Foundations of Biology II, or by permission of the instructor. Non-Saint Mary's students may also apply. There is no GPA requirement, but students must be in good standing with the College to apply. 
For more information contact the Program Coordinator:
Laura Kloepper
Assistant Professor of Biology
574-284-4668
lkloepper@saintmarys.edu
See More Options!