Environments of Ecuador Summer Study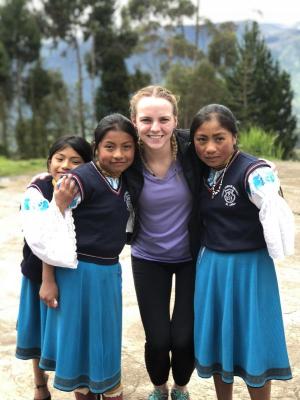 One of the most environmentally diverse countries in the world, Ecuador offers a unique opportunity to explore ecology and evolution in a natural settings. From the 500-pound tortoises on the Galapagos Islands, to the alpacas of the Andes highlands, to the capuchin monkeys and brightly colored birds in the Amazon rainforest, students discover a fascinating world of unusual plants and animals.
The three-credit course highlights the natural beauty of Ecuador in a two-week travel experience. Particular emphasis is placed on local cultures, the rich diversity of life, and the intersection between biodiversity and culture. Participants spend several days in Quito visiting historic sites, hiking in the Andes Mountains, and participating in a service project at a local village school. They then travel by plane, boat, and canoe into the Amazon rainforest to a comfortable lodge in the jungle, exploring the grandeur of the rainforest with canopy walks, night hikes, and canoe tours. The final leg of the trip is five days in the Galapagos Islands, touring from island to island to see giant tortoises, snorkel with sea turtles, and lay with sea lions on the white sand beaches. The diversity of the ecosystems you will experience on this trip will open your eyes to wonders of nature.
Who Can Apply?
The program is open to students of all majors and class years, but limited to a group size of 14 participants. It is offered every other summer (e.g., 2020, 2022). Information on the Saint Mary's College summer student travel grant can be found by clicking HERE.
Cost and Financial Aid
Students pay Saint Mary's College summer tuition and a short-term program fee. Financial aid from Saint Mary's will not apply to the summer session. Information on the Saint Mary's College summer student travel grant can be found by clicking HERE. To learn more about this program and associated costs, click the Application Information button and navigate to the program specific budget sheet.
Insurance
Saint Mary's College provides international health insurance to all students abroad through GeoBlue insurance company. Students on any Saint Mary's study abroad program are automatically enrolled and the fee is included in the cost of the program.
For more information, contact:
Joel Ralston
Assistant Professor of Biology
(574) 284-4674
258 Science Hall