Greece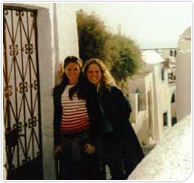 Greece, the fountain of democracy, philosophy, science, and religion is the life-source of western civilization. Although the country's classical heritage is its glory, it is also a modern Balkan country whose membership in the European Union serves as a crossroads between east and west. The paradoxes of past and present can be seen in the ancient ruins, mountaintop fortresses, and Byzantine churches, which are scattered between old villages and modern cities. The natural beauty of Greece is experienced in the lush blue Mediterranean Sea that surrounds it, or in the dry stony mountains that fill this ancient, yet modern land.
Location
The first four days of the Greece Summer Study Tour are spent at Saint Mary's for classroom instruction and orientation prior to departure; two weeks are spent on-site in Greece. Once in Greece, students visit such prominent ancient cities as Athens, Beroea, Corinth, Philippi, and Thessaloniki.
Program of Study
The Greece Summer Study Tour, the Saint Mary's course titled The Greco-Roman World and Christian Origins, is an 18 day program beginning near the end of May and continuing into the month of June. The study tour allows students to earn three academic credits for the course. Students immerse themselves in the Greco-Roman world of the first urban Christians converted by Paul the Apostle while traveling throughout mainland Greece. Participants consider how Greek culture and cities influenced early Christian converts and their unique Christian assemblies by investigating history, pagan religions, politics, city planning, architecture, art, economy, and travel on-site in Greece.
Housing
The accommodations for participants in the Greece Summer Study Tour are at three-star hotels located throughout Greece. These hotels offer scenic views and are in close proximity to nearby beaches. The double-occupancy rooms are fully air-conditioned and equipped with a television, private bath and toilet facilities. Continental breakfast is served each morning in the hotels' dining rooms before commencing with the daily study tour program.
Transportation, Costs, and Financial Aid
The price for the Greece Summer Study Tour includes three-star air-conditioned hotel accommodations with daily continental breakfast and roundtrip group airfare on a major regularly scheduled airline. Students fly together to Athens with a Saint Mary's College representative. The advertised price for the Greece Study Tour includes all transportation in Greece on a modern air-conditioned coach with an experienced driver, as well as all ferryboat charges including the one-day Greek island excursion. Transportation does not include use of the Athens Metro System or entrance fees to museums and archaeological sites, which are an estimated $60 for the duration of the trip with a valid student I.D. card. Course tuition for three credit hours is an additional required cost. Participants who wish to extend their stay in Greece or wish to travel elsewhere in Europe beyond the published return date of the study tour are able to do so by paying any additional charges as appropriate. Participants are responsible for meeting all scheduled activities of the program in the United States and in Greece.
Financial aid is available for students through the Center for Women's Intercultural Leadership in the form of Individual Student Intercultural Learning Grants.
Eligibility and Requirements
Enrollment is open to students of all class years, but is limited to 20 students who will be accepted on a first-come, first-served basis. Provision of valid passport is the responsibility of each participant. Non-U.S. citizens are responsible for obtaining the necessary visas and documents for their entry/re-entry into Greece and the United States.
For more information, contact:  
John Fotopoulos
Assistant Professor of Theology
(574) 284-4071
Email: jfotopoulos@saintmarys.edu