Maynooth, Ireland
This program is currently not accepting applications. The software for study abroad is being updated. Applications will be accepted again starting January 15, 2023. If you have any questions, please contact the CWIL office at abroad@saintmarys.edu.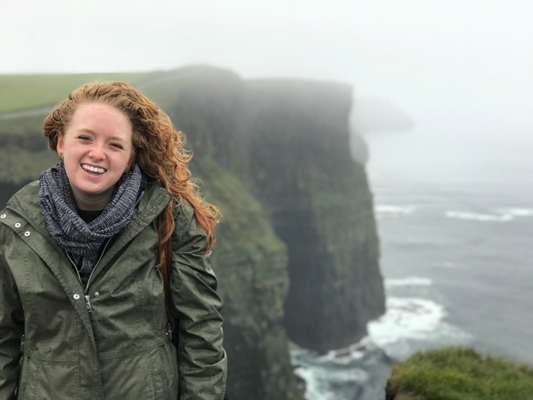 In 1977, Saint Mary's College established an international study program at the Maynooth University. This program offers students an opportunity to live, learn, and play with Irish and international students. Ireland is a gateway to Europe, and travel opportunities abound for program participants. During breaks and holidays, students can easily travel to other countries in Europe. Such exposure to civilizations other than their own gives students an appreciation of other ways of life. After a year in Ireland, students have grown in independence and often demonstrate a new inner strength. Friendships inside and outside of the Saint Mary's group last a lifetime and reach across the world.
Location
The Saint Mary's College Ireland program, located at Maynooth University (MU), Maynooth County, Kildare, is only 14 miles west of Dublin center and 30 minutes from the International Airport. Participants can experience the vibrant pulse of metropolitan Dublin and the more tranquil rhythms of an Irish country town. Bus and rail transportation to Dublin are both inexpensive and frequent.
Program of Study
The program is designed primarily for sophomores, but juniors can also attend with permission from their departments. Students attend classes taught by NUIM professors and attended by Irish and international students. The choice of subjects from the curriculum include anthropology, economics, English drama, literature, poetry, fiction and criticism, philosophy, theology, history,  mathematics and sociology. Current Saint Mary's College students may find Sophia Program information HERE.
Students can study in Ireland for the full academic year or for either the fall or spring semester only.
Housing
Students live in modern university apartments located near Maynooth University. Each apartment houses five students. There are five single bedrooms with en-suite bathroom, a kitchenette, living room/dining room. Students are typically placed with Irish and other international students. The Arts Building, Students Sport's Center, Student Union Arts Block, and Medical Center are all near the apartments.
Transportation, Cost, and Financial Aid
Students arrange their own flight to Dublin; their is an optional group flight that students can arrange to join if they wish. During orientation, students move into apartments, register at MU, and tour Dublin, Kildare and County Wicklow.
Students pay the standard Saint Mary's College tuition rate and a study abroad fee. Room and board rates will be slightly higher than if you were studying on the SMC campus, each program has a standard accommodation package. These fees cover all expenses during the orientation program in Ireland, tuition at MU, room, and planned educational trips. Expenses that are not covered are passport fees, domestic and international airfare, personal travel, books and supplies, laundry, food, and personal expenditures.  Every student is given a Heritage Card for free entrance to all national monuments. Students can also use this card while traveling independently. All students who plan to study abroad are required to pay a non-refundable deposit.
Most Saint Mary's College scholarships and financial aid can be applied to the semester or year in Ireland. There are a few financial aid awards from Saint Mary's College that cannot be used while studying abroad, please check with the Office of Financial Aid about your specific aid eligibility.
To learn more about this program and associated costs, click the Application Information button and navigate to the program specific budget sheet.
Insurance
Saint Mary's College provides international health insurance to all students abroad through GeoBlue insurance company. Students on any Saint Mary's study abroad program are automatically enrolled and the fee is included in the cost of the program.
Eligibility and Requirements
The Ireland program is open to undergraduates from all accredited institutions. Eligibility is based on academic record, 3 letters of recommendations, and the assurance of readiness for living and studying overseas. To be eligible for consideration, the student must have a cumulative grade point average of at least 2.8 on the 4.0 system.
For more information, contact:
Rebecca Méndez
Assistant Director of International Programs
Center for Women's Intercultural Leadership
(574) 284-4740
rmendez@saintmarys.edu
For more information on Maynooth University.
See More Options!