Performing Ensembles
Performance Opportunities
---
Performance Ensembles at Saint Mary's College
Saint Mary's College Women's Choir
Nancy Menk, Conductor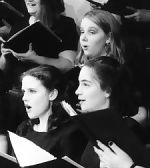 The Saint Mary's College Women's Choir , a select 40-voice ensemble, regularly commissions and performs new works for women's voices. An outgrowth of this emphasis is the publication of the Saint Mary's College Choral Series, a collection of new works for women's voices, published by earthsongs of Corvallis, Oregon. The Choir has performed throughout the United States and has appeared before state and division conventions of the Music Educators National Conference and the American Choral Directors Association. In February 2005, the Choir appeared before the national convention of the American Choral Directors Association in Los Angeles, performing in Wilshire Christian Church and the new Walt Disney Concert Hall. Each November the Choir hosts the annual Saint Mary's College High School Women's Choir Festival, in which 20 choirs from neighboring states perform for each other and a panel of commentators. The Choir tours nationally every other year, and regularly performs with the University of Notre Dame Glee Club in joint performances of major works with the South Bend Symphony Orchestra. This year they will perform music of American composer Gwyneth Walker with the SBSO in October, and Beethoven's 9th Symphony in April. They have appeared in concert at Carnegie Hall in 1999, 2001, and 2005, and they will return to NYC this November to perform music by Gwyneth Walker for women's voices and orchestra at Lincoln Center's Alice Tully Hall.
The Women's Choir has recorded four compact discs on the ProOrgano label: Ave, Ave!, recorded in 1997, Amazing Day!, recorded in 2002, Anima mea!, recorded in 2004, and Across the Bar..., recorded in 2007. In 2013 they were named 2nd place winners of The American Prize in Choral Performance, the first women's choir to place in the college/university division.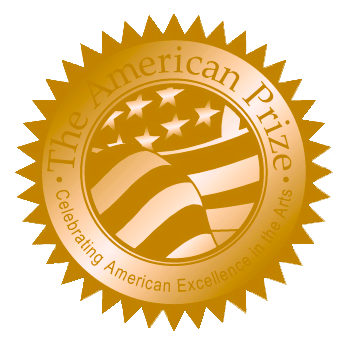 ---
Opera Workshop
Laurel Thomas, Director
The Saint Mary's College Opera Workshop, taught by Laurel Thomas, provides an unusual opportunity for undergraduate students to learn operatic vocal preparation and stage technique. The opera is chosen each year on the basis of the students' talents and vocal types, taking the vocal health and maturity of each student into consideration.
Students prepare a complete role throughout the semester and perform the full opera at the end of the experience. Weekly rehearsals focus on musical preparation, blocking, and character development. The class is open to members of the Women's Choir, most often vocal majors. Men's roles are awarded by audition or invitation, and are often sung by graduate students from a neighboring university.

Scene from Witness by Zae Munn
 

 
The Music Department's 2014 opera production, to be performed  Feb 20, 21, 22 in Little Theater, is


The Enchanted Pig-a Musical Tale by Jonathan Dove

When you're a princess you expect a fairytale wedding. You don't expect your husband to be hairy, smelly and a genuine pig.(Oxford Playhouse)

Saint Mary's College Music Department presents The Enchanted Pig, an opera for children and adults which offers a twisty tale of love triumphant via envy, greed, a witch and a princess journeying to remove a spell.

The librettist, Alasdair Middleton draws from Romanian, Norwegian and classical fairy tale sources. He starts with King Hildebrand and his three daughters, the youngest of whom, Flora, is fated to be married to a pig. Undeterred by the fact that her mate is under a spell that makes him a swine by day and a swain by night, Flora falls in love with him and, when he is abducted by a wicked old woman, she goes in ardent galactic pursuit of him, aided by the sun, moon and north wind. (Michael Billington, The Guardian, December 15, 2006)

In April 2006 the workshop presented Zae Munn's new opera Witness fully staged, with orchestra.
In February 2007 the workshop members staged a program of opera scenes: Music of the La La Sisterhood
Spring 2008: Visions, Voices, and Virtues, Ordo Virtutum by Hildegard von Bingen, Suor Angelica by Puccini. Here are pictures from this production: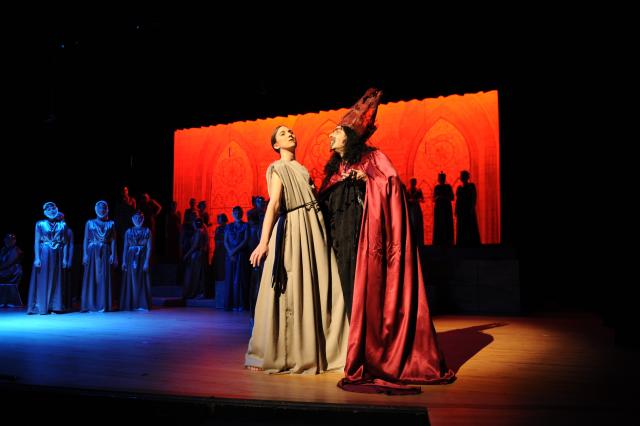 The Soul (Megan Bolander) struggling with the Devil (Richard Baxter)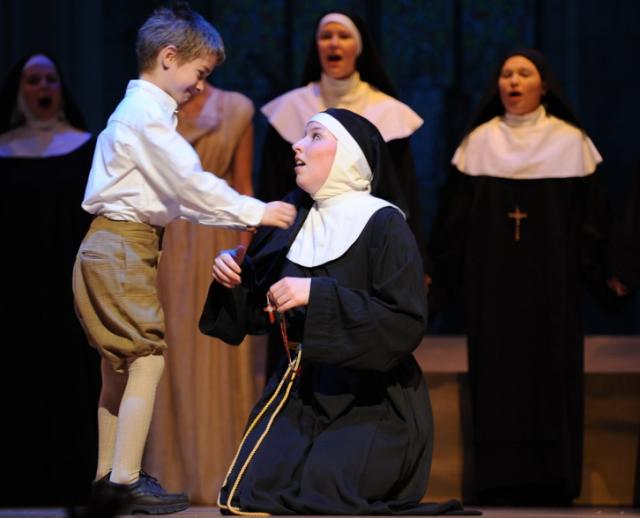 Suor Angelica (McKayela Collins) meets her son (Lucas Meyer-Lee) in heaven


Suor Angelica curtain call
---
Collegiate Choir
Nancy Menk, Conductor
The Collegiate choir rehearses 2 hours per week and performs primarily on campus, giving at least one concert per semester and performing in the annual Service of Lesons and Carols. Last spring the Choir had the fantastic opportunity to sing the role of the Boychoir in Benjamin Britten's monumental War Requiem with the South Bend Symphony.
The goals of the Collegiate Choir are as follows:
To develop excellent individual and group tone quality
To work toward unified vowels and clear and proper diction
To strengthen aural and music reading abilities
To perform quality women's repertoire in 2-4 parts, both sacred and secular
To demonstrate clear stylistic understanding
To have lots of fun while rehearsing and preparing for our performances!
---
Lessons and Carols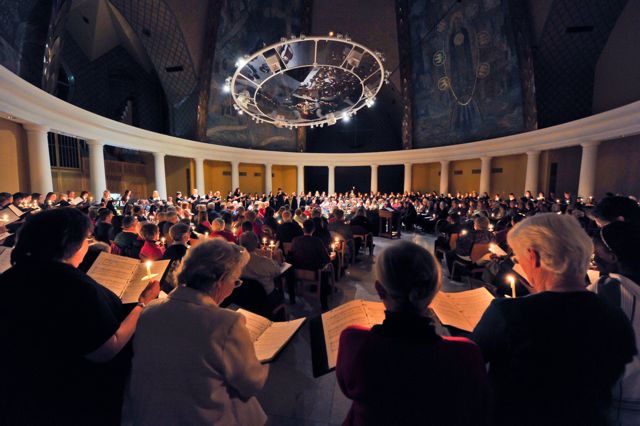 Each December, the departments of Music, Campus Ministry, and Dance combine to present an interdenominational service of music, dance, scripture, and candlelight to a capacity crowd in the Church of Our Lady of Loretto. Central to the ritual, which is based on the Anglican Christmas Eve service, is the assembly's singing of traditional Advent and Christmas carols. The Saint Mary's Women's Choir, the Collegiate Choir, the Loretto Choir, Liturgical Dancers, and Moreau Chamber Ensemble participate.
---
Madrigal Dinners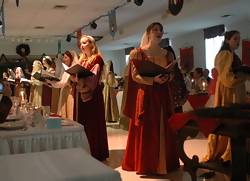 A Saint Mary's holiday tradition, the annual Madrigal Dinner is a reenactment of a Renaissance-era holiday feast, replete with colorfully attired singers, instrumentalists, jugglers, a jester, and a lord of the manor. The Madrigal Singers are made up of students selected from the Saint Mary's Women's Choir.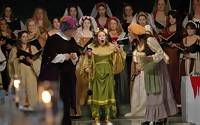 Sodexho Food Service prepares a meal fit for a king, with each course introduced by trumpet fanfares and served by costumed waiters in the Regina North Lounge. Last year marked the 40th annual Madrigal Dinners, which featured new decor, music, dancing, and more. 
Presented on the first weekend of December, the four performances sell out far in advance.  For ticket information, call the Saint Mary's Box Office at (574) 284-4626. Go to Special Events for more information on the dinners. More on the upcoming event!
---
Musical Theatre Productions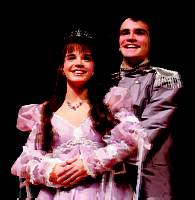 The Saint Mary's Theatre produces a full-scale musical theatre production in conjunction with the Music Department every four years. To the right is a production photo of the stars of our April 2005 production of Rodgers and Hammerstein's "Cinderella." Past productions include "West Side Story," "Oklahoma!," "Gypsy," "Candide," "Into the Woods," and "The Secret Garden."
---
Notre Dame Ensembles
Notre Dame Symphony Orchestra
Music majors and minors may fulfill their ensemble requirement by playing in this Notre Dame ensemble for credit. Click here to go to the Notre Dame Symphony Orchestra website.
Notre Dame Band
Music majors and minors may fulfill their ensemble requirement by playing in this Notre Dame ensemble for credit. Opportunities include the University of Notre Dame Marching Band, as well as two concert bands and several varsity sport band opportunities.  Click here to go to the Notre Dame Band website.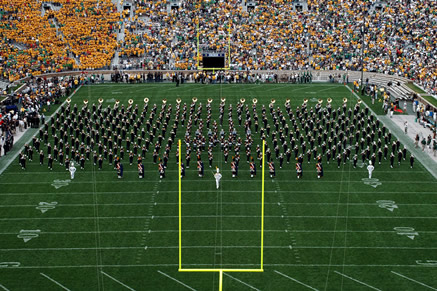 Band of the Fighting Irish
---
Non-credit Ensembles at Saint Mary's College
Handbell Choir
Contact Lisa DeLorenzo in Campus Ministry for more information.
Singing for Mass
Contact Lisa DeLorenzo in Campus Ministry for more information.
Bellacappella
Taken from singers of the Women's and Collegiate Choirs, Bellacappella is a student-run, a cappella group that performs popular music in a variety of settings--see them on Youtube! Please contact director Nia Parillo (nparil01@saintmarys.edu) for more details.