Why Saint Mary's?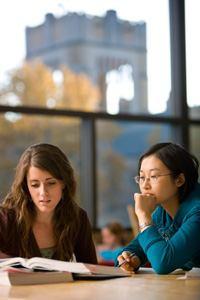 Saint Mary's students are diverse women who share a common spirit and an eagerness to grow, learn, and shape the world. We develop strong thinkers and leaders who take action, and here's why.
Saint Mary's College is:
Nationally Recognized
Saint Mary's College ranks among the top National Liberal Arts Colleges for 2022 published by U.S. News. We have six nationally accredited programs—in art, chemistry and physics, education, music, nursing, and social work. Our strong science and mathematics departments turn out graduates who are accepted into their first-choice medical programs and well-known graduate schools, such as the University of Michigan, Boston College, Johns Hopkins University, and Carnegie-Mellon.
Student-Centered
Saint Mary's professors will craft experiences to help you learn. Small, discussion-based classes will help students to develop communication and critical thinking skills. Collaboration in lectures and labs will ensure you understand difficult concepts during class. Our 10:1 student-faculty ratio and average class size of 22 make it possible for this conversational, give-and-take approach to teaching, an approach geared specifically to women's learning styles.
Empowering
Saint Mary's focuses on your personal discovery and growth along with our high academic standards, providing you with the tools you need to take charge of your life and your future. You'll get leadership mentoring in a community specifically dedicated to women. You'll gain experience through internships with Fortune 500 companies, graduate-quality research opportunities, and a world of study abroad offerings. You'll be connected to more than 8,000 successful alumnae through the Saint Mary's College Alumnae Resource Network.
A Dynamic Community
You'll make close, lifelong friends in your classes, in your residence halls, and through numerous activities organized by our student-run Board of Governance. Our beautiful, intimate campus and dedicated students, faculty, and staff create a supportive environment. On top of that, you'll participate in social and cultural activities at the University of Notre Dame, just across the street.
Making a Difference
In class, you'll discuss faith, values, and ethics. Outside of class, you'll expand your horizons at the Center for Women's Intercultural Leadership and put your faith into action through the Office for the Common Good. Approximately 80% of Saint Mary's students volunteer during their time on campus.