Commencement
---
Academic Procession
National Anthem
Invocation
​Sister Veronique Wiedower '70, CSC
Member, Board of Trustees
President, Sisters of the Holy Cross
Welcome
Nancy P. Nekvasil, PhD
Interim President
Outstanding Senior Award
Jennifer Winnett Denniston '98
Member, Alumnae Association Board of Directors
Lumen Christi Award
Judith R. Fean
Vice President for Mission
Madeleva Award
Titilayo Ufomata, PhD
Provost and Senior Vice President for Academic Affairs
Valedictories
Sarah Hautzinger
Anna Bilse
Nicole Aggarwal
Citation for Honorary Degree
Titilayo Ufomata
Commencement Address
Maryanne Wolf '69
Citations for Graduate and Undergraduate Degrees in Course
Titilayo Ufomata
Presentation of Graduates
Tracy P. White
Senior Academic Advisor
Conferral of Degrees
and Charge to the Class
Nancy P. Nekvasil
The Bells of Saint Mary's
Recession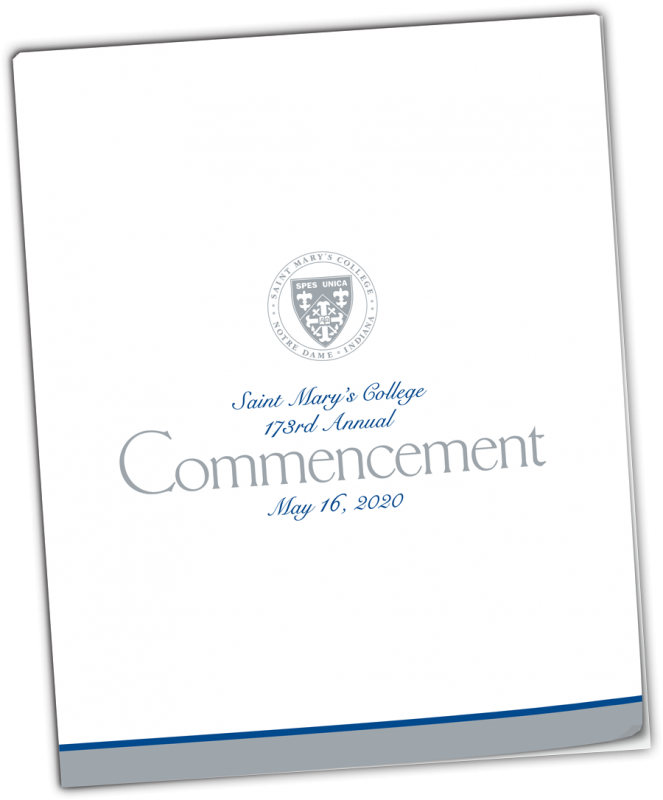 Multiple printed copies of the Commencement program will be mailed to all graduates of the Class of 2020.
*Honors listed in the Commencement program are based on GPAs at the time of printing and are subject to verification and/or change.
---
The Class of 2020
We know this Commencement is so much different than what all of us might have expected. In these unprecedented times, we are having to get creative to find ways to celebrate and share — and most of all, stay connected. So we asked the Class of 2020 to submit photos and pen departing thoughts and future plans with all of us. We hope you will take time to browse, search for friends and loved ones, and celebrate all of their accomplishments.
What I love most about Saint Mary's are the traditions and the friendships I've made that I will cherish forever.

Abigail Frances Smedley

Elementary Education

What I love most about Saint Mary's is the community and the life-long friends I have met here.

Abigail Mabry

Business Administration

Following graduation I will attend graduate school for my master's of marriage and family therapy at Syracuse University in hopes to one day have a private practice.

Abigail Marion Seubert

Psychology

My future plans include working on a Progressive Care Unit

Abigail Mengel

Nursing Science

I love that the professors here at Saint Mary's make it their life-long mission to help each of their students discover who they want to become.

Alana Cieszykowski

Mathematics

"Wherever you go, go with all of your heart."
—Confucius

Alayna Gabrielle Haff

Communication Studies

A little girl from Mexico dreamed of receiving her diploma and honoring her people. She worked hard and always believed she could accomplish her greatest goal. She finally did! Esto es para mi gente.

Alexa Zapata Fernandez

Psychology

I have been called to be an educator. I will be teaching third grade in Arizona for the upcoming school year. I am sad to leave Saint Mary's and the friends I have made here but am excited for this new chapter of my life.

Alexandra Majchrowicz

Elementary Education

I love the feeling of home you always get.

Alexandria Balok

Social Work

What I love most about Saint Mary's is how over the past four years it became my home away from home. The community is so much more than the school, I have met my forever friends and made memories that will last me a lifetime. Saint Mary's will always hold a special place in my heart.

Alexis Ann Caron

Political Science, Global Studies

I'm ready to start my career as a speech language pathologist! I will be completing my CFY at a pediatric clinic where I will serve children and their families with speech, language, and other communication disorders. I am looking forward to giving back to my community and live out my calling.

Alexis Lemus

Master's in Speech Language Pathology

I have a job lined up in the ICU at Silver Cross Hospital in New Lenox, IL. I am very excited and I hope to get a lot of experience so I can become a traveling nurse! My goal is to travel and see as many places as I can to find a beautiful state to live and settle down in and go to graduate school.

Alexis Marie Pullara

Nursing Science

Always believe in yourself!

Alexis Vittone

Business Administration

I love being a part of a sisterhood that will last a lifetime

Alexis Wallace

Biology

My favorite memory is an early morning walk to the library from Holy Cross Hall in winter. There was snow covering the trees and there was no one else around me. It was so serene that I sat on the steps of Moreau for about 20 minutes just embracing the beauty.

Alison Alberts

English Literature and Secondary English

What's next? Moving to Chicago with my best friends!

Allison Page

Accounting

My favorite memory is move-in weekend. Being on campus the past two move-in weekends have been such a great experience seeing the new Belles driving down the avenue for the first time. Seeing their excitement tied in with nerves not sure what this road would lead them too in their new adventure.

Ally Jones

Communication

I will be going to graduate school to pursue my Master's of Social Work

Amahti Maitè Campbell

Social Work

My favorite memory at Saint Mary's was starting Fiat with Claire Conlon, Katy Stalter, and Alexandra Guevara Stevens — and of course, Liz Palmer, too. I could not imagine my Saint Mary's experience without any of you powerhouse women.

Amanda Fischer

Communication Studies

The thing I love the most about Saint Mary's is the community that has allowed me to make life-long friendships

Amanda Rensch

Speech Language Pathology

I plan on attending law school in the Fall of 2021. I hope to specialize in immigration law and focus my career on addressing human rights issues!

Anastacia Gomez

Philosophy: Law, Ethics & Politics

I love the community. From my peers to the faculty and alumnae. I would not be the woman that I am today without the people that came alongside me. The people that contributed to make SMC possible, those who taught me about the world, and those who made it enjoyable. SMC is truly a sisterhood.

Andrea Alejandra Ruiz-Montoya

Chemistry

What I love the most about Saint Mary's is the constant and unwavering support from those around me, from professors to dining hall staff to my peers.

Anisah Elsayed-Awad

Global Studies

My favorite memory is Senior Dad's Weekend!

Ann Noreen Curtis

Communication Studies

There are so many things I love about Saint Mary's! One is absolutely the community. The friends I have made here have supported me and will continue to. We've made many memories throughout these four years! Go Belles!

Anna Babiak

Secondary Education and Biology

My favorite memory was studying abroad in Ecuador and being immersed in the Amazon Rainforest! Attempting to catch piranha for dinner and hiking in the pitch black jungle was truly a once in a lifetime experience.

Anna Christine Bilse

Molecular Cellular Biology

After graduation, I will be participating in ACE (Alliance for Catholic Education) in a two year fellowship where I will be teaching in a Catholic school while working on my master's of education from Notre Dame during the summers between those school years. My teaching placement is in DC with 5th graders!

Anna Marie Zappa

Environmental Studies

Saint Mary's is a special place and I will always love my time here. The professors are kind and have taught me so much beyond the curriculum. I have made friends I know will last a lifetime. I will cherish memories of going to football games in the fall and admiring the beautiful campus in the spring.

Anna Mason

Business Administration

Consultant in Property Tax Commercial at Ryan, LLC

Anna Smagala

Accounting

What I love most is the feeling of home that enters my heart when I step foot on campus and I am surrounded by the Belles I love.

Anne Maguire

Global Studies

Embrace your inner geek. Remember to embrace those little things that make you happy. And when you need it, blast your favorite songs, read your favorite books, and don't be afraid to take some time for yourself. Yes, you deserve it!

Anne Nowalk

Communication Studies

I will be working as a data analyst in NY while also completing my master's in data science from Saint Mary's. I'm so excited that I will still be a little part of the community!

Annie Smierciak

Computing and Applied Mathematics

I love the sisterhood that Saint Mary's has given me. I have found my best friends here and I can never thank Saint Mary's enough for giving me them.

Ariana Arriaga

English Literature and Spanish

I plan to work in adolescent mental health and eventually pursue a master's degree in social work

Austin Fritzgerald

Social Work

This Fall I will begin my graduate studies in speech-language pathology at Saint Xavier University, in Chicago. After my 2-year program I will officially be a practicing pediatric speech language pathologist. My goal is to serve many multicultural/multilingual populations in underserved areas.

Bella Marie Escobedo

Speech Language Pathology

My favorite memories at Saint Mary's include driving down The Avenue during the fall, celebrating Hispanic Heritage Month with a mariachi band, walking around campus in the snow during Christmas time, calling Blinkie, tailgating, going to football games...

Bella Tillman

Biology and Spanish

I love the strong sense of community and sisterhood that is present at Saint Mary's College. I have met so many incredible people and I will always cherish the memories I have made during my time at SMC.

Bernadette McGeever

Communication Studies

This fall I will be attending the University of San Diego to pursue my doctor of nursing practice in psychiatric mental health. I am forever grateful to Saint Mary's Nursing for leading me to find my passion for psychiatric mental health nursing!

Blair Giulianna Danahey

Nursing Science

I will be attending graduate school for speech language pathology!

Bobbie Gina Mammolenti

Speech Language Pathology

I will be working as a pregnancy counselor and I am getting married this summer.

Bonita Murphy

Communication Studies

My favorite memory? Late night study sessions in Trumper fueled by Monsters!

Bridget Ann Julian

Nursing Science

My favorite memory is being with my friends. From euchre nights to skiing and from long nights of studying to long nights at Newfs, I will never forget my time spent with my friends. Long live Wilma.

Bridget Diane Delaney

Nursing Science

I plan to go to an accelerated nursing program to become a NICU nurse at a Catholic hospital. I also want to remember that Saint Mary's taughts ne everything happens for a reason and Carpe Diem.

Bridget Lenore Herod

Religious studies

I love that Saint Mary's made me a part of a community of women who consistently inspire, love, and support each other.

Bridghid Kelly

Business Administration and Economics

My favorite memories are when I studied abroad in Ireland, a life-long dream, and going to Midnight Breakfast with friends and singing our hearts out. I will treasure these memories the most as I begin to move forward.

Brooklyn Paige Beltran

Business Administration

After graduation, I plan on passing the NCLEX and work in the Chicago/Northwest Indiana area. I can't wait to work as a nurse and help others. Saint Mary's has taught me so much, and I plan on applying those lessons in my future career and life.

Caitlan Pawlowski

Nursing Science

I will be moving to Boston to complete my master's degree and teach Spanish.

Caitlin Gibbs

Elementary Education, Spanish

I will deeply miss the countless hours my best friends and I would spend in the dinning hall conversing about the things we will never forget.

Cameron Verducci

Communication Studies

I plan to pursue my master of social work degree at the University of Illinois - Chicago.

Carey Ann Dwyer

Social Work

After graduation I will be working as a Family Nurse Practitioner!

Carly Thompson

Doctor of Nursing Practice

"Pray, Hope, and Don't Worry!"
— Saint Padre Pio

Catherine Marie Viz

History and Humanistic Studies

After graduation, I will be completing a year of service in South Africa with the nonprofit organization Open Arms Home for Children. I then hope to continue my education in the field of social work and earn my MSW to become a licensed social worker.

Catherine Niles

Social Work

The thing that I love the most about Saint Mary's is the close community.

Cathleen Meade

Elementary Education

Beyond my wonderful education, the SMC faculty, and staff, I most treasure Annie, Jessy, MiAn, YuFei and Katelyn. I will be forever grateful for their friendship. I am excited to continue making memories, as the end of this chapter is simply the commencement of the next chapter of our lives together.

Chiara Marie Smorada

Chemistry / Environmental Engineering

Never be afraid to use your voice

Chloe Griggs

Chemistry

From here I plan to work as a compliance examiner at National Futures Association (NFA) in Chicago.

Chloe Jacobs

Business Administration

I officially accepted my offer at Kohl's Corporate Headquarters and will be moving to Milwaukee in September! It's been a dream of mine to be accepted into a nationally recognized merchandising program at a Fortune 500 company. I can't wait to begin my first steps to becoming a fashion buyer!

Christina Serra

Business Administration

I will probably take a year break and go for my Doctorate !!!

Christine Mazhata

Master's in Data Science

I plan to pursue a Masters of Science in Speech Language Pathology at the University of Nebraska-Lincoln.

Claire Conlon

Speech Language Pathology

The opportunities, friendships and community created here at Saint Mary's cannot be described in 250 characters or less. I think that's the beauty of Saint Mary's in which only the people that have been blessed to attend this College would be able to understand.

Claire Michelle Holman

Computing and Applied Mathematics

What do I love most about Saint Mary's? The sisterhood

Claire Simon

Psychology

What I love most is the community aspect — Saint Mary's feels like home.

Clara Faith Judge

Business Administration

I will be working for KPMG as an Audit Associate in their Chicago office this Fall.

Clare Eileen Carragher

Accounting

Favorite memory? Junior Mom's Weekend

Clare Elizabeth Wade

Social Work

I love the feeling of "home" I get whenever I am on campus. I will always be thankful for all of the memories, friendships, and experiences Saint Mary's has given me.

Colleen Marie Dempsey

Business Administration

I am going to be attending graduate school at Boston College as a part of the Urban Catholic Teacher Corps program.

Colleen Murphy

Elementary Education

Sometimes you're the dog, sometimes you're the hydrant

Corinne Janik

Social Work

Saint Mary's has felt like home since I first stepped foot on campus. That feeling cannot be bought. I know whenever I return in the future, that feeling will always be there.

Courtney Kroschel

Economics

I plan to continue to learn and grow as a Speech-Language Pathologist, following graduation. I hope to work with a pediatric caseload either in the school or outpatient setting.

Courtney Martin

Master's of Speech Language Pathology

I plan to pursue an MFA in Creative Writing (Fiction) at Miami University, OH in the fall.

Dalanie Nicole Beach

English Writing / Studio Art

Do your best, forget the rest

Danielle Heather Knowlton

Nursing Science and Spanish

I love the people that I have met and how they have helped shape me into the woman I am today. I have met people that I know will be in my life forever and I have gained such a support system at SMC that I would not change it for the world. We have all built this community, which I am so grateful for.

Darby Lee Harcourt

Environmental Studies

I plan to begin my career as an elementary educator in Indiana.

Delaney Marie Rohlman

Elementary Education

There are many memories I will cherish. From long nights studying at the library, to spending two hours in the dinning hall catching up, to getting our first apartment and now graduating together. I will definitely miss the walks down the Avenue and sitting by the lake. Once a Belle Always a Belle!

Diana L Soto

Accounting and Spanish

Up next? I'll be teaching in Valencia, Spain!

Diana Michelle Kirk

Elementary Education

I will be attending Thomas Jefferson University in Philadelphia to receive my doctorate in occupational therapy.

Dominique Gousset

Psychology

My favorite memory is dancing on the table with my friends at Midnight Breakfast!

Elena Kolarevic

Business Administration

I love Saint Mary's' mission aiming to inspire female empowerment in addition to providing strong guidance to discovering and developing my academic identity. It's given me support in so many ways over the years, and I know even after graduating, I can always count on SMC.

Elisabeth Barrett

Philosophy, Organizational Management & Behavior

Saint Mary's College is my second home. As much as I've thought about the one thing alone that is my favorite thing about Saint Mary's, I can't place it. Saint Mary's has brought me my best friends, the most excellent education, the best memories, and so much more! I love everything about you, SMC!

Elizabeth Jane Kaspers

Business Administration

What I love the most about Saint Mary's is the community of the college. Saint Marys became my home away from home because of the incredible friendships I made over my four years. I also am extremely grateful for my professors who showed a genuine care in my growth as a student and a young woman.

Elizabeth Sandra Tizzano

History

I love the beauty of campus and the kindness shared by all at Saint Mary's.

Elizabeth Schueppert

Elementary Education

I will be attending Western Michigan University to pursue my Doctor of Audiology.

Elizabeth Stockwell

Speech Language Pathology

I love all the connections I have made at Saint Mary's. I not only met my best friends, but I have found great role models among the faculty, staff, and alumnae.

Elyse Paul

Communication Studies

I plan on living in a van (down by the river) and eventually getting a doctorate in bioethics.

Em Varanka

Philosophy

In the words of Chieko Okazaki, "In principle great clarity, in practice great charity". Standing firm in who you are can still leave room to love others where they are.

Emily Barr

Nursing Science

Next year I will be continuing my master of autism studies at SMC and working with people on the spectrum in the South Bend Community!

Emily Bednar

Psychology

My favorite memory is walking down the Avenue in the spring, when all the trees are newly green and beautiful. There's a freshness and excitement that is unmatched.

Emily Casado

Nursing

My future plans are moving to Chicago and working as an Account Representative at CDW!

Emily Elizabeth Beam

Communication and Humanistic Studies

I will be pursuing a career as an actuary with Auto-Owners Insurance in Lansing, MI.

Emily Frances Klepper

Mathematics

Saint Mary's is the best four years of your life. There is no other college that compares to the sisterhood and connections that are available to you here. Saint Mary's made me into the woman I am today. I promise that the Avenue will always lead you home.

Emily Nikodemski

Psychology

My favorite memory is having a friend come to my room because her floor had a bat loose on it then making her go back up to her floor because I wanted to see it. Which then led to the bat flying directly at us. Have never laughed so hard and seen my friend drop to the floor so quick

Emily Smith

Psychology

My favorite memory during my time at Saint Mary'e was studying abroad in Fremantle, Western Australia. I had so many great experiences and met lifelong friends.

Emma Aloisia Larson

History

I will be spending the next year in Wexford, Ireland as a member of the House of Brigid program. I will be working at a Catholic parish, primarily doing music ministry and religious education with other recent college grads. I am so excited to return to Ireland for an exciting new adventure!

Emma Beaudoin

Elementary Education

My favorite memory is meeting my amazing friends that I will have forever in my life.

Emma EIleen Ibarra

Nursing Science

Saint Mary's has challenged me to be comfortable with being uncomfortable. It has showed me strength can come from extraordinary places. But most importantly, it has brought me together with so many vibrant and brilliant individuals who have changed my life for the better.

Emma Freund

Business Administration

What I love most about Saint Mary's is the fact that you are constantly empowered and supported by your peers to be the best version of yourself.

Emma Helene Kelley

Chemistry

In the fall I will be attending Texas Christian University to pursue my MS in Speech Language Pathology. In the future I hope to work with the pediatric population as a speech-language pathologist in the Dallas-Fort Worth area and eventually go back for my PhD or SLPD.

Emma Paige Snodgrass

Speech Language Pathology

My favorite memory is meeting all my amazing friends.

Emma Schmidt

Elementary Education

My roommate was locked in our other room and maintenance had to come remove the door for her to exit. We both missed class but had a good laugh about it.

Emma Wilke

Business Adminstration

My favorite memories are nothing without the incredible and inspiring women I've shared the past four years with. I owe it all to Saint Mary's for bringing me to those women I know call my best friends, and the times spent with them are what I will treasure the most as I move forward.

Erika Wright

Nursing Science

What's Next? Passing my boards and starting a new career as a DNP-FNP

Erin Pillette

Doctor of Nursing Practice (FNP)

My favorite memory is having a Twilight movie marathon during the polar vortex!

Gabrielle Beach

Physics & Mechanical Engineering

I will be serving a year for City Year Chicago. I will also be getting an associates of art in addiction studies!

Genesis Vasquez

Gender and Women's Studies

At Saint Mary's, I found a community marked by compassion and integrity. I joined a community where my peers were also my role models. I learned as much from my friendships, as I did in the classroom and I leave Saint Mary's proud of the woman I have become.

Georgia Turvey

Spanish and Social Work

I will be attending the nonfiction writing MFA program at Columbia College in Chicago and hope to pursue writing as a career (serving my community as a journalist or screenwriting). Whatever lies ahead, I will always keep writing, laughing, and questioning everything.

Gina Marie Twardosz

Communication Studies, English Writing

I want to continue to create art that heals me and I hope to develop my voice as an artist within the San Antonio Art scene. Most importantly I want to inspire the youth in my community to use art as an emotional outlet when battling mental illness, drug abuse, and trauma.

Gladis Piña

Studio Art

I am very excited to apply everything I have learned at Saint Mary's to my future job and life in Washington DC. I am so grateful for my awesome Saint Mary's friends who I know will be in my life forever!

Grace Hillman

Business Administration

I plan to attend graduate school for Speech Language Pathology.

Grace Mattimore

Speech Language Pathology

This summer I will start a new job as a Patient Care Asst. in a Med/Surg unit at a Lafayette hospital. In August I begin an accelerated BS in nursing program at the St. Elizabeth School of Nursing. I am so thankful for my time at Saint Mary's and for how this college community shaped me.

Grace Milligan

Psychology

I will be moving to Spain in early September to become a language professor in English and French and following my childhood dreams to travel and experience the world while continuing my education in languages and cultures. I will be receiving my TEFL certification from the University of Cataluyna.

Grecia Sofia Guapillo Segura

Economics

I plan on going to grad school!

Guadalupe Garcilazo

Secondary Education & Spanish

I'll be working as a Human Resource Expert at Target. I plan to work and save for my MBA or law school. I'm going to do my best to help our community.

Guadalupe Vanesa Gonzalez Zagal

Political Science and Communication

What I love most about Saint Mary's, is that they encourage each one of us to find our place in the world in our own ways — to study abroad to have new experiences, meet new people, and explore our faith. I would not change anything about my experience and I am forever grateful for my time at Saint Mary's.

Hailen Jerkovic

Business Administration

The things I love the most about Saint Mary's are the community, vulnerability of students to have conversation in the classroom, and the beautiful architecture and aesthetic of the campus!

Haley Mitchell

Speech Language Pathology

The second I drove onto campus for my tour years ago Saint Mary's felt like home. I have loved and treasured so many moments — from spending time with friends in our cozy dorms to studying on the island. This school has helped shape me into the person I am today.

Hannah Elizabeth Wilson

Accounting

What I love most about Saint Mary's is the sisterhood. The friends I've made throughout my time here have turned into my sisters and I can't imagine life without them. I am so proud to be graduating from Saint Mary's along with my amazing, beautiful and talented friends who are truly my sisters.

Hannah McBride Etscorn

Psychology

I want to be a Disney Imagineer

Hannah Noelle Baxter

Computing and Applied Mathmatics

At Saint Mary's, there is no competitive environment. Everyone from the faculty to my classmates wanted me to succeed and would help me in any way they could! And I did the same for them. That is how I definitely understood the Smick Sisterhood!

Hannah Tanczos

Biology

I will be attending Loyola University Chicago's Masters in Social Work Program as advanced standing.

Hannah Wykoski

Social Work

I am getting married in June, moving to a house in Valparaiso, IN and working at a skilled nursing facility there.

Heather Williams

Master's in Speech Language Pathology

I will be moving to Indianapolis to pursue a career in speech language pathology. I will be working with children to promote their communication.

Helen Eckrich

Master's in Speech Language Pathology

I will be attending Saint Mary's College (again) to pursue my master's degree in speech language pathology!

Isabella Krockey

Speech Language Pathology

"A good life is when you smile often, dream big, laugh a lot, and realize how blessed you are for what you have."
—Unknown

Isabella Wiseman

Business Administration

Thank you Saint Mary's for the most wonderful 4 years of my life! I am beyond grateful for the friendships and memories I have made here. Saint Mary's and South Bend will forever hold a special place in my heart. I will be working as a veterinary nurse in Honolulu, Hawaii.

Jacqueline Halia Mash

Biology

I love that Saint Mary's professor truly care about their students. My professors have been so inspiring and helpful throughout my journey. I will be eternally grateful for their hard work and commitment to my success!

Jalyn Paige King

History and Secondary Education

I will remain at Saint Mary's to earn two Master's degrees in Speech Language Pathology & Autism Studies! I intend to specialize in working with children on the spectrum.

Jalyn Rose Doyle

Speech Language Pathology

"Trust in the Lord with all your heart and lean not on your own understanding. In all your ways submit to Him, and He will make straight your paths." (Proverbs 3:5-6)

Jane Frances Pingel

Religious Studies and Philosophy

I will forever cherish the Hispanic Heritage Celebration Dinner, it was an honor to plan and dance the night away with my friends.

Jazmín Abigail Herrera

Sociology

My favorite memory of Saint Mary's is the quint.

Jen Kreighbaum

Global Studies - Business Administration

Continue to my fifth year of the engineering program, earning a degree in civil engineering.

Jennifer Buck

Economics

After I have finished with the program I plan take boards and pursue my career as a Nurse Practitioner in either the pediactrics or family practice.

Jessica Lynn Rizzo

Doctor of Nursing Practice

Work hard, play harder

Jessie Snyder

Business Administration

The most important lesson I learned as an international student would be resilience. I was ambitious and a perfectionist; I always wanted the best. Yet, I am only a human. I got defeated countless times. I am not afraid of failures anymore and I am ready to make positive changes in the world.

Jessy Nguyen

Environmental Studies

I absolutely love that Saint Mary's gave me the gift of lifelong friendships. With having the friends that I did, they really made Saint Mary's home.

Jillian Dani

Social Work

Step out of your comfort zone and take control of your own life no matter what that may look like for you. Do everything with love and you will never regret what could have been.

Joanna Stochitoiu

Speech Language Pathology and Spanish

My favorite memories are from Junior Mom's and Senior Dad's Weekend!

Jocelyn Elizabeth Carrasco

Accounting

The thing I love most about Saint Mary's is the sense of sisterhood. Everyone genuinely cares and looks out for the other girls in our community. It felt like home as soon as I walked onto campus my first day. I am so blessed I got the opportunity to spend the last four years at such an incredible place.

Jordan Marsman

Biology

I will begin my career as a speech language pathologist in a private clinic in Chesterton, IN. I will be working with children beginning at birth to 18.

Jordin Saalfrank

Master's in Speech Language Pathology

Attending graduate school at Purdue University for a master's in special education

Julisa Cerda

Psychology

My favorite memory? Finding my forever friends in the prettiest place on Earth!

Kaitlin Anne Clifford

Nursing Science

I will be teaching secondary English for the next two years as a Teach for America Corps Member. In the future, I hope to get my PhD in literature and teach English literature in higher education.

Kaitlin Jade Emmett

English Literature & Writing

I will always treasure the support and encouragement that my fellow Belles have shown. Four years, but these memories will last a lifetime!

Kamryn Yerga

Biology

"Take chances, make mistakes, get messy!"
— Ms. Frizzle

Kara Gargan

Elementary Education

To all future Belles, these next four years will fly by. These next four years will be filled with plenty of studying, stress, football games, friendships, heartbreaks, dances, more stress, and the list goes on. You will make lifelong friends that were once strangers and now mean the world to you.

Karin Garcia

Nursing Science

I am moving to San Diego, CA and accepted a job as a speech and language pathologist (CF) where I will be working with children and adults in various settings who have communication disorders, swallowing disorders, and on accent modification.

Karli Lynn Gabica

Master's in Speech Language Pathology

I will be attending law school in the fall at William S. Boyd School of Law

Kassandra Acosta

Psychology and Sociology

After Saint Mary's, I will be attending the University of Michigan to receive a PhD in Pharmacology. I'm thankful to have been a part of the SMC sisterhood and for the continuous support from my family and friends the past four years.

Kassidy M. Jungles

Biology

My favorite memory from Saint Mary's is teaching abroad in Uganda and white water rafting down the Nile River alongside of other future educators and nurses.

Katelyn Drew

Elementary Education

My favorite memory of Saint Mary's is just going down the Avenue. Whether it is after a class across the street, a quick errand in town or after a break, driving down The Avenue is like going down a driveway back to my "sisters", mentors and a supportive community who welcome me home.

Katelyn Long

Chemistry

My favorite memories are of dancing and singing our hearts out at late-night breakfasts! This event captures the spirit of Saint Mary's so well through the sense of togetherness and joy that I will always hold close to my heart!

Katherine Dower Wankelman

Social Work & Gender and Women's Studies

What I love most is being able to share this campus with so many wonderful students, faculty, and staff.

Katherine Lee Weese

Psychology

I look forward to taking my Saint Mary's education out into the world as I commission as an Ensign in the United States Navy. I will be serving aboard the USS Bulkeley (DDG-84), stationed in Norfolk, VA. I eventually hope to continue my research in astrophysics.

Kathleen Halloran

Physics

I will always cherish my four years spent at Saint Mary's, but I know that was just the beginning of my life as a Belle. Saint Mary's, you will always have a special place in my heart and have helped me become the person I am today. Forever and always, Go Belles!

Kathryn Claire Hansen

Nursing Science

I love that whenever you walk on the sidewalks or in any building on campus, the people that you pass, no matter students or faculty/staff members, will always flash a smile. It was always a reminder that even on my toughest days I was immersed in a loving and compassionate community that I could call my home.

Kathryn Stalter

Communication & Religious Studies

Be grateful for every moment, both the highs and the lows, because they make you who you are and bring you to where you are supposed to be.

Kathryn Vicenzi

Business Administration

I love that I get to be a part of this family. I love that I got to spend four years surrounded by strong, inspiring, loving, and supportive women who I know are going to change the world for the better, as they've most definitely changed mine.

Katie Glenn

Philosophy, Political Science

I will be pursing a DNP from Saint Mary's College in the fall of 2020 while working as an RN at the Parkview Heart Institute on a progressive care cardiac unit. Thank you Saint Mary's for all the memories!

Kayla Rose Knapke

Nursing Science

I will be pursuing a post-doctoral program with a focus on global health research in order to help improve the access and quality of healthcare across the world, with a focus in developing nations.

Kayla Therese Wilkerson

Doctor of Nursing Practice

I am finishing the engineering program with my 5th year at Notre Dame studying Civil Engineering!

Kellen Hinchey

Physics

Saint Mary's is not just a college, it's a home. It has given me so much strength and faith, and I will always be grateful that I am a Belle. I am so proud to graduate with the Class of 2020!

Kelly Golden

Nursing Science

Saint Mary's has given me the greatest support system that I will cherish for life. I now have so many friends, teammates, coaches, professors, and mentors, that I have learned from over the past four years. They have given me the knowledge, skills, and confidence to be the person that I am today.

Kelsey Anne Keilman

Nursing Science

I accepted a position as a registered nurse in the Cardio-Thoracic ICU at Yale New Haven Hospital.

Kendra Elizabeth Osinski

Nursing, Minor in Spanish and Biology

I will be an Incoming Market Strategist at Cressy Commercial Real Estate

Kennedy Richardson

Business Administration

I will be a child birth nurse at a local hospital.

Kerrigan Schmidt

Nursing Science

I am excited to be starting my clinical fellowship in early intervention, moving back home to New York state, and spending time with family.

Kimberly Nicole Gove

Master's in Speech Language Pathology

I'm hoping to continue implementing research into areas of identified need, filling the gap for healthcare, and would ultimately like to fill the gap for primary care providers in my own rural community.

Laura Dawn Grant

Doctor of Nursing Practice

Upon graduating, I will be relocating to New York City with one of my most favorite Belles! Though I am sad these past four incredible years have come to an end, I am excited to start this next chapter of my life with such a strong foundation Saint Mary's has provided me with. Go Belles!!

Laura Marie Taylor

Business Administration

I plan to work in Northwest Indiana as a speech language pathologist with the pediatric population.

Lauren Bustamante

Master's in Speech Language Pathology

After graduation, I will be attending Valparaiso University Graduate School to earn my degree in school psychology. I am excited to put everything that Saint Mary's has taught me into action. Go belles!

Lauren Marie Zinanni

Psychology

I will continue to study next year at Notre Dame to complete my mechanical engineering degree.

Lauren McGovern

Physics

I have accepted a position as a Second Grade Special Education teacher with Monroe Public Schools in Monroe, Michigan.

Lauren McKenzie Vanisacker

Elementary Education

"Now I understand why they say the friends you make in college will be your friends for life, I've met the best people here." -Unknown

Lauren Read

Business Administration

I love all the friendships I have made at Saint Mary's. The community at Saint Mary's is something I will cherish forever.

Lauren Wartner

Elementary Education

Currently studying for a master's degree.

Leilana Valdez

Business Administration

I will be moving to Indianapolis and beginning my career as a Financial Analyst at Eli Lilly & Co. I am so incredibly grateful for everything Saint Mary's has taught me and look forward to fulfilling my purpose in the world as I move on to the next chapter in my life.

Leticia Torres Gaytán

Business Administration

I'm moving to Dallas, Texas to begin my career as an Speech Language Pathologist!

Lexi Koomler

Master's in Speech Language Pathology

I love the small family-like community who is there for each other and continually empowers one another.

Libbey Rose Tierney

Communication Studies

My favorite memory has to be being apart of the tennis team. I made so many life long friendships I will always cherish.

Lily Brandt

Communication Studies

The Saint Mary's sisterhood is unmatched. Although cliché, you find your "forever friends" at SMC. Everyone motivates and inspires you to be your best, and the faculty and staff truly care for their students. Over the 4 years spent on campus, Saint Mary's becomes your second family.

Lucia Katherine O'Quinn

Business Administration

The Avenue will always lead you home! Go Belles!

Lucille Semler

Nursing

As I move forward, I will always treasure the time I shared with my sisters at Saint Mary's.

Lucy Zeiger

Elementary Education

Looking forward to the next adventure of learning the nurse practitioner career and a lifetime of learning!

Maddie Beld

Doctor of Nursing Practice

I plan to attend the University of Notre Dame's Master's of Science in Global Health program next year.

Madeleine Beatrice Mauck

Biology

I will always treasure the friends I made at Saint Mary's and how they love and support me. I also hold such a special place in my heart for all of the professors who believed in my abilities and helped me accomplish things I never thought I'd be able to.

Madeleine Marie Green

Psychology

Saint Mary's has given me my best friends, memories I will cherish for life, and amazing experiences that have given me the confidence to start this next chapter. What I love most about Saint Mary's is simply being a Belle and knowing what it means to be a Belle, and I wouldn't change that for the world!

Madeline Elizabeth Gallagher

Nursing

We belong to an all-women's college with a strong sense of tradition and excellent sense of community. I love all of my fellow SMC women and know that they are all going to do amazing things. This was the place I pursued my education but will always be my forever home. Once a Belle, always a Belle.

Madeline Greely

Communication

Saint Mary's has provided me with the opportunity to travel the world, explore my passion for science, and reinforce my desire to help others with healthcare solutions. I will forever cherish the friends and memories I have made over the past four years. Go Belles!

Madeline Judith Lamb

Chemistry and Chemical Engineering

Stop waiting for Friday, for summer, for someone to fall in love with you, for life. Happiness is achieved when you stop waiting for it and make the most of the moment you are in now.

Madeline Molloy Nettleton

Nursing Science

My plans for my career are to help my community through evidence based and innovation. I plan on working closely with other healthcare professionals to gain enough experience as a family nurse practitioner to open my own practice in a few years. Thanks Saint Mary's for this educational opportunity.

Madhuwattie Parsam

Doctor of Nursing Practice

After graduation I plan on moving back home to Illinois. I recently just accepted a job as a speech-language pathologist in a school system where I will be working with 3rd through 8th graders. I am extremely excited about this opportunity and I cannot wait to see what the future holds.

Madison Feeney

Master's in Speech Language Pathology

Live in the moment, stop thinking about the future, and everything will eventually fall into place

Madison Hynes

Business Administration

After graduating from Saint Mary's with a Religious Studies degree and Biology minor, I will be continuing my education at the University of Oklahoma to pursue a second bachelors degree in Secondary Science Education.

Madison J Pyle

Religious Studies

I will be relocating to Richmond, Virginia to complete my CFY in Richmond Public Schools.

Madison Kay Schaffer

Master's in Speech Language Pathology

"Your time is limited, so don't waste it living someone else's life. Don't let the noise of others' opinions drown out your own inner voice. And most important, have the courage to follow your heart and intuition...Stay hungry. Stay foolish."

Madison Nancy Lee

Psychology

The friendships I have made in this school healed my soul and lifted my spirits when I needed it the most.

Magdalena Hernandez

Social Work and Spanish

My favorite memory is tracking down the Chainsmokers at Hooters, meeting them, and finessing some free front row tickets for their concert at ND.

Maggie Benjamin

Chemistry and Chemical Engineering

Every Cloud has a Silver Lining

Maggie Cloud

Business Administration

Don't be afraid to try something out of your comfort zone. It may end up being the best decision you've ever made!

Maggie McKinnon

Social Work

Know your worth, so welcome love, success, happiness, peace and clarity into your life.

Maire Katherine Ritchie

Business Administration

Taking a gap year before going to grad school!

Malary VanOverberghe

Psychology

I love long walks through the campus and the convent!

Maria Betten

Business Administration

I love the sense of community and family that Saint Mary's has. I feel so welcomed and loved by my fellow belles. I also love the connection with the Sisters of the Holy Cross and the opportunities we have to connect with them. It has been such a blessing to spend time with them.

Maria Ciaravino

Nursing Science

My favorite memory would definitely be dancing on the tables with my best Belles at Midnight Breakfast. I will forever cherish these memories... especially the videos!!

Marianna Sanchez

Biology

I would encourage others to make the most of each opportunity and to treat others with kindness every chance they get. Life is short and you never know what others are going through

Marie Burke

Social Work

I love the everlasting community that SMC has given me. Being a Belle means so much more than just spending four years on campus. It is a title that I will hold proudly forever. I am excited to build a new community as I enter my professional adult life with the tools that SMC has given me.

Marissa Martinez

Business Administration

Take candids for your friends. Keep those memories close.

Marta Antonetti

Political Science

I cannot pick one favorite memory but I do know all of my fondest memories include the girls who have become my sisters over the past four years.

Marta Kernan

Physics

My favorite memories were the ones I made with some of the best friends I will most likely ever have. Whether it be the drives, the extremely late night talks, or the Taco Bell runs, they were memories made with some of the most important people in my lives.

Mary Grace Stechschulte

Elementary Education

I love the community at Saint Mary's. The professors I've had, the classmates I've learned from, and the friendships I've made have all touched my life. I am leaving Saint Mary's a confident and driven woman with the best support system behind me!

Mary Beth Moir

Psychology

I will be accepting a position at MedStar Georgetown University Hospital in their Neuroscience Intensive Care Unit.

Mary Clare Rhodes

Nursing

I will be attending Indiana University Maurer School of Law in the fall!

Mary Coleman

Humanistic Studies & Political Science

I plan to pursue my master's degree in speech language pathology at Saint Mary's College.

Mary Elizabeth Lowery

Speech Language Pathology

To keep discovering myself as Saint Mary's gave me the tools to do.

Mary Kathryn Selvaggi

Nursing Science

It's a very cool thing to be a smart girl!

Mary Manley

Biology

Will be starting my career this summer working for the Department of Defense!

Mary Margaret Brandt

Statistical and Actuarial Mathematics

This fall I will be participating in the Disney College Program and working at Walt Disney World!

Mary Maureen Favo

Elementary Education and History

One of my favorite memories is going to Madeleva to study for finals with some friends but we always ended up making each other laugh until our stomachs hurt. I will treasure all my amazing friends and the memories we made for a lifetime.

Mary Michelle Ducaji

Nursing

When I think about what I love about Saint Mary's, many things come to mind. Saint Mary's has brought me to some of the most important people in my life and has shown me what I want in this world. My life has changed for the better.

Mary Trainor

Communication Studies

What do I love the most about Saint Mary's? The community

Mary Wandor

Economics

My favorite memories from my time at SMC are all of the Saturday and Sunday mornings spent in the dining hall with my friends. We laughed so hard and so loud that the entire room would stop what they were doing, go quiet, and look at us.

MaryClare Isop Freeman

Business Administration & Economics

I'll continue leading Data Governance and Quality at CPPIB.

Matthew Eugene Hawkins

Master's in Data Science

SMCXC

Maura Eileen Honan

Communication Studies

I will be moving to Milwaukee to pursue my master's in speech language pathology at Marquette University.

Maura Gillig

Speech Language Pathology

My favorite memory is waking up the morning before football games and all the neighbors were blasting music and getting ready together. Because go belles and go Irish!

Meaghan Lagore

Business Administration

My favorite memory is watching Impractical Jokers throughout the years with my best friends. Thank you for the memories and laughs.

Megan Catherine Coeur

Nursing Science

I love the Saint Mary's community and how supportive and caring my professors have been. I have made countless memories and lifelong friends during my four years here.

Megan Elizabeth Drolet

Social Work

It's worth it. The hours spent in class. The late nights at the library. The impossible exams. The never ending page counts on papers. It's all worth it, it's worth being able to call yourself a Belle.

Megan Goralczyk

Political Science and History

After graduation I will be commissioning as an Ensign in the United States Navy and serving as a Surface Warfare Officer on the Destroyer the USS LASSEN, home-ported in Jacksonville, FL.

Megan Mullaney

Mathematics

After graduation I plan on attending University of Toledo Law School.

Megan Peruski

History and Political Science

My favorite memory of Saint Mary's is always move in day. The feeling of excitement and gratitude that I experience when I see every Belle moving back to campus and reuniting with old friends further reminds me that the relationships I've made with everyone here will be remembered forever.

Meghan Mulroe

Communication Studies

I'll start graduate school for Theology in the summer and will begin teaching in the fall through Notre Dame's Echo Program.

Meghan O'Briwn

English Literature

I will be attending the University of St. Thomas School of Law in Minneapolis, MN in the fall.

Michelle A. Lester

Political Science

The rabid trash squirrels of Saint Mary's have always been infamous and I always made sure to keep my distance. One day on my way to class, I saw four Smicks being chased into Regina by said rabid dumpster squirrel and I've tried to emulate its power ever since.

Middi Norberg

Global Studies

Take pride in how far you have come, and have faith in how far you have you can go. Always remember that adventure is out there.

Moira LeMay

Psychology

If Britney Spears can survive 2007, we can make it through 2020. Let's Get It Seniors!

Molly Colleen Doengan

History & Political Science

Finding my friends during football halftimes at the 20-yard line gate to split hotdogs.

Molly Hart

Business Administration

I will be a Merchandising Analyst for Kohl's in Milwaukee, Wisconsin

Molly Malone Galvin

Business Administration

I'm moving to Indianapolis to start my new career and start the next chapter of my life

Molly Ryan

Computer and Applied Mathematics, Philosophy

I will be attending Purdue University in West Lafayette, Indiana to obtain my doctorate of nursing practice in primary care pediatrics.

Monica Lynn Eggebrecht

Nursing Science

I will be working at Emory University Midtown Hospital in Atlanta, GA on the General Medicine/Telemetry Unit!

Morgan McKinley Chichester

Nursing Science

Be unafraid in the pursuit of what you love. Make trouble, make change.

Natalie Ann Davis

English, Gender and Women's Studies

I will be starting my career as a Speech Language Pathologist at a private pediatric clinic!

Natalie Lichtenberger

Master's in Speech Language Pathology

2 years. 5 semesters. 63 credit hours. 375+ clinical hours. Finally, the end has come and I can officially add MS, CF-SLP to my name — I'm a speech-language pathologist! Ready to begin my fellowship & make a difference in the lives of my future patients

Nava Shahidi

Master's in Speech Language Pathology

Following graduation, I will be attending the University of Colorado Boulder to pursue my PhD in Sociology. Thank you to my wonderful professors who have inspired me to become a professor and researcher!

Nicole Ann Aggarwal

Sociology and Communication Studies

Saint Mary's College gave me amazing friends. We made so many laughs, great memories, had crying moments, and helped each other throughout college. I can't wait to see where everyone goes with their lives and to see everyone at our Reunions. Thank you Saint Mary's for helping me find a second home!

Nicole Ehardt

Nursing Science

I love that Saint Mary's became my home and made me the woman I have always dreamed to be. Thank you to all who have helped me during my time here whether it was the faculty, the students, or any of the staff. I love knowing that I will always be a Belle!

Nicole Gloria McCaffery

Psychology

I love the opportunities I was given during my time at SMC. I voluntarily stepped out of my comfort zone and faced every challenge head on and learned with each new experience. I grew so much as a person during my time here, and for that I am truly grateful. Thank you, SMC.

Nicole Ploeger

Elementary Education

Saint Mary's has blessed me with incredible opportunities that have shaped me into the person I am today. From studying abroad, to the friendships we have formed, and professors who have turned into life-long mentors. Each person I have encountered over the last four years has impacted my life for the better.

Noel Charis Keen

Accounting

You never know what can happen until you try. Work hard and aim higher than you expect, you may suprise yourself.

Nola Wallace

Psychology

Next year I will be teaching kindergarten in Savannah, Georgia!

Olivia Allen

Elementary Education

I will be moving to Arkansas to work for Walmart Corporate as a Merchandising Operations Analyst!

Olivia Propheter

Business Administration and Economics

I've met lifelong friends. Some of the most amazing people have come into my life because of Saint Mary's. I'll cherish these people forever and all the memories we've made.

Olivia Sencion

Art History and Studio Art

Don't settle, push yourself and challenge yourself. Take advantage of the awesome support system Saint Mary's has, there are so many people that want to help you succeed!

Peyton Andrysiak

Computer and Applied Mathematics

After graduating, I will be working towards becoming a professional actress and choreographer either in Chicago or New York. I hope to make it to the Broadway Stage!

Rachel Thomas

Communication

I will be completing my clinical fellowship year at a pediatric outpatient center in Indiana, and I am so excited to start! I am so blessed to have gone to a college that has prepared me so well both academically and spiritually.

Rachel Willing

Master's in Speech Language Pathology

I will be heading to the University of Illinois Urbana-Champaign this fall where I will be getting my master's degree in vocal performance and literature!

Reagan Jayne Stohler

Music Education

Saint Mary's has given me the confidence to pursue my passions without reservation and to approach life with strength, curiosity, and gratitude. I'm so thankful for my SMC experience and the community of friends who have supported me for four years.

Rebecca Strom

English Writing and Humanistic Studies

Saint Mary's College is special to me because it has allowed me to grow into the woman I am today. The lessons that I cherish most from Saint Mary's have taught me to always be an example of empathy and flourished my passion of helping others.

Riley McCall Recker

Nursing Science

In the famous words of Derek Shepard, "it's a beautiful day to save lives"

Rose Catherine Fialkowski

Nursing Science

Never take Saint Mary's for granted. I remember being a freshman and thinking I wanted these four years to fly by. At some point Saint Mary's becomes home and when you are a senior you really won't be ready to leave.

RyLee Haughey

Business Administration

After graduation I will be pursing my master's in data science through Saint Mary's College. In the future I hope to work with children diagnosed with Autism Spectrum Disorder as a child psychologist.

Sabrina Anne Hollis

Psychology

I am so excited to be starting a full-time position as a RN on a Mother/Baby unit. I will be working in Chicago at Northwestern Prentice Women's Hospital, and I plan on moving downtown by the end of this year. I am so thankful for the education and opportunities that Saint Mary's has provided me with, and I can't wait to use these skills in the next chapter of my life.

Samantha Joy Etscheid

Nursing Science

Hold onto the special details that we so often miss. Look around when walking into your classes. Embrace the busy sounds within the dining hall. Treasure the benefits of communal living. Don't let the every-day distractions and stresses take you away from those moments.

Samantha Santamaria

Sociology

I love Saint Mary's for allowing me to be surrounded by strong and independent women who inspire me everyday.

Samantha Underly

Communication Studies

After graduation, I plan to work at a public accounting firm in downtown Fort Wayne (my hometown) at Katz, Sapper & Miller as a Staff Accountant in Audit. I am so grateful for the opportunities and friendships Saint Mary's has provided me. I am going to miss this special place. Go Belles!

Sarah Ann Braun

Accounting

I will be attending Syracuse University to pursue a doctorate in audiology.

Sarah Elizabeth Nation

Speech Language Pathology

I am incredibly excited to be moving to Queens, New York to attend St. John's University School of Law! I plan on pursuing a career in criminal law or art law.

Sarah Hautzinger

Sociology

I plan to begin my career as an English teacher!

Sarah Ludwig

English and Secondary Education

Midnight Breakfast was a favorite. We would sing and dance to every song, no matter if we knew the song or not — it was a fun distraction from being stressed about finals. I have made life long friends at SMC and I will be forever grateful for the wonderful people I meet that made me the person I am today.

Savannah Jackson

History

What I love most about Saint Mary's is the inclusive community and amazing friendships I've made!!

Savannah Kral

Nursing Science

Saint Mary's gave me my forever friends and memories to last a lifetime. Saint Mary's also allowed me to travel all around Europe and embrace the Italian culture during my study abroad. I will be forever grateful. GO BELLES

Shannon Marie Sheridan

Business Administration

My plans are to return home to Boston and attend law school!

Shayleigh Rebekah O'Donnell

History and Political Science

My favorite memory at Saint Mary's was thinking the seniors that stood on the side of the road to welcome us home as freshmen were weird... but little did I know I would be the weird senior standing on the side of the road welcoming home the Class of 2024!

Sheila O'Riordan

Elementary Education

Saint Mary's is truly a magical place that will always hold a special place in my heart. I will forever be thankful for the amazing sisterhood and countless memories I share with my fellow Belles. I've learned to always be true to myself and follow my dreams, which has instilled a vibrant hope within me.

Sheridan Anne Sims

Communication Studies

I will be working at Riley's Hospital for Children in Indianapolis on the cardiac step down unit!

Sidney Nash

Nursing Science

Always take advantage of every opportunity presented to you during your time at Saint Mary's, and never take this beautiful place and all of the people in it for granted. You are in charge of your future, but those at SMC will always support and encourage you along the way.

Sophia Jiyoon Sim

Biology

What I love the most is the amazing community of women that inspires me everyday!

Sophia McDevitt

Religious Studies and Social Work

My favorite memory is Saturday morning brunch with my friends after a night out on the town. If the walls of the Noble Family dining hall could talk...

Sophia Swailes

Business Administration

I love the tight-knit community of young women building each other up to be the best versions of themselves.

Sophia Wittenberg

Speech Language Pathology

My favorite memory from Saint Mary's is walking back onto the Avenue after a ND football game win and feeling that I am home when I see Le Mans! I will never forget the first time I saw the Avenue and those beautiful trees!

Stephanie Goyette

Psychology

What's next? Earning a DNP in midwifery

Sydney Ann McAllister

Nursing Science

I love SMC because of the community it has. I have found my second family

Taryn E. Van Horn

Communication Studies and Psychology

The relationships and connections I have made with my peers and professors is something I will treasure forever.

Tatiana Castilleja

Communication and Sociology

My favorite memory is studying abroad in Ireland.

Taylor Strong

Communication Studies

My future plans are to graduate from Saint Mary's with my masters degree in 2022! I want to help improve the lives of adults in a medical facility.

Taylor Szabo

Speech Language Pathology

Next I'll be working as a nurse in Denver, Colorado.

Teresa Marie Niehaus

Nursing

My favorite Saint Mary's memory is attending Wednesday night Mass with Father Steve! A group of us Belles would gather after to pray the rosary together. I loved the time we spent in Holy Spirit Chapel and always felt so lucky to live just a few steps away from it.

Terra Nelson

Elementary Education

I love the tremendous support that Saint Mary's provides and how it feels like home away from home!

Thallia Joanna Teresa Robles

Social Work

I will be working for Lutheran Health Network as a Speech Language Pathologist with adult and pediatric populations.

Tianna Schuerman

Master's in Speech Language Pathology

I look forward to a blessed career in speech language pathology, while continually educating myself. I look forward to taking time to enjoy this wonderful life.

Tiffani René Swank

Master's in Speech Language Pathology

I plan to work in the Indianapolis area as a Speech Language Pathologist with the pediatric population in the school setting.

Valerie Sargent

Master's in Speech Language Pathology

I love how Saint Mary's has felt like home since the first time I stepped on campus! I have met so many amazing and inspiring people and I will never forget all the amazing memories I have made throughout my 4 years here.

Valerie Zaczyk

History

I will be attending the University of Illinois Urbana-Champaign to pursue a PhD in Chemistry. I am thankful for the support from my family, friends, and Saint Mary's College because I would not be who I am today without them.

Whitney Lewis

Chemistry

College is fun! So just enjoy, learn, and take care of yourself!

Yufei Zhang

Statistical and Actuarial Math