A New Path
By Shannon E. Brewer '03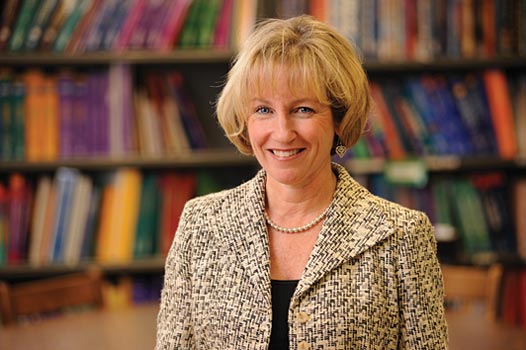 For education professor Nancy D'Isa Turner, the process of obtaining certification for a special education program at Saint Mary's has been long and rewarding. In the past year she has gained approval from the College and the state of Indiana for a program that offers students a license in special education. Thanks to her vision and persistence, education students can obtain dual licensure in Elementary Education and Special Education: Mild Interventions.
Turner, an experienced elementary and special education teacher, joined the Saint Mary's faculty in 1990. Her educational background and research includes curriculum planning, reading instruction, and special education. She is the co-author, along with Saint Mary's professor Mary Ann Traxler, of the book Children's Literature for the Primary Inclusive Classroom. In the "hands-on" experience of teaching in the classroom, and with continued training, she pursued her commitment to working in the best interest of children for whom learning does not always come easy.
As a professor, Turner recognized the importance of providing Saint Mary's education students the opportunity to teach students who need mild curricular/instructional interventions. "Dual licensure offers them a different career path, if they know they really want to work in the field of special education," says Turner. Knowledge gained through the elementary (K-6) Generalist coursework as well as the Mild Interventions classes will be invaluable as future special education teachers support what is taking place in the general classroom." Likewise, with the movement to "inclusive" classrooms—meaning, students with disabilities learning in the same classrooms as students without—general education teachers will be increasingly called upon to instruct students with a variety of learning needs.
"Any time a program can be broadened to be more inclusive, that is exciting … it goes to the heart of what education is by definition."
— Karen Van Meter '11
Preparing Saint Mary's graduates for this work falls to the education professors. Turner is on sabbatical during the spring '08 semester, and is working to develop a course for the new program. The course, Elementary Methods for Exceptional Learners: Mild Interventions, is based on training Turner is participating in on multisensory techniques for reading instruction. She will combine this information, broadened to include techniques for all content areas, into the course. This is one of six courses that will qualify Saint Mary's students for their licensure in special education. They'll also take General Education/Special Education Partnerships, Foundations of Special Education, Positive Behavioral Support, Assessment Strategies for Exceptional Learners, and Collaboration and Consultation in Special Education.
Along with these courses, students will have opportunities for field placements in special education settings. All education students work in a variety of field classrooms through their course of studies, collaborating with supervising teachers who volunteer their time to mentor Saint Mary's students. These classrooms become dynamic learning experiences for education students, who not only learn to implement lesson plans, but also come to better understand the varying academic, social, and emotional needs of all children.
"For those pursuing dual licensure, student teaching will look different too," Turner explains. Saint Mary's education students spend one semester of their senior year teaching a class on their own. This is the major focus of their senior comprehensive experience. Students working toward licensure in special education will spend half of that semester in a general education classroom and half in a direct service special education situation.
First-year student Frannie Hermes has already made the decision to work toward the licensure in special education. With a major in elementary education and this enhancing credential, Hermes will graduate in 2011 prepared for a wider range of career opportunities. "Any time a program can be broadened to be more inclusive, that is exciting," she says. "It goes to the heart of what education is by definition."
She has personal reasons for choosing this career path too. While she has always enjoyed working with young children, Hermes says, "My oldest brother has been profoundly handicapped from an early age and consequently I have grown up in a household shared with nurses and therapists." She is interested in collaborating with other professionals to teach students with special needs. "I've come away with the desire to make a difference," she says.