Courier Online - Spring 08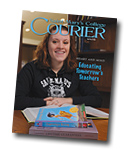 Spring 2008
The Education Department at Saint Mary's College is producing highly sought after teachers.
Professor Lorreta Li takes a look at how students read and speak, and the effects of cultural dialects.
Special Education Licensure: Saint Mary's offers education majors a new career option and an enriching learning experience.
Eight alumnae meet with education professor and mentor, Kitty Green, to talk about what being a teacher really means.
Meet Pennsylvania's Social Studies Teacher of the Year.
Full Edition
Download the full edition in pdf format here (2.5mb)