Courier Online - Winter 07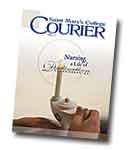 Winter 2007
The fifth in a six-part series on the College's nationally accredited programs.
Alumnae, faculty, and staff send in their sentiments in honor of Sister Basil Anthony O'Flynn's birthday.
A weekend conference, "New Roads, No Rules," took place July 13-15. It brought alumnae back to campus to discuss the "bonus years" of life through panel discussions and expert sessions on various topics.
Full Edition
Download the full edition in pdf format here (19mb)
Editor's Choice
This fall Saint Mary's bid farewell to a beloved campus leader. Director of Alumnae Relations Barbara Butler Henry '85 has stepped down to enter a new life stage, read more in "Unbeatable Presence."