Unbeatable Presence:
Saint Mary's Celebrates Barbara Butler Henry '85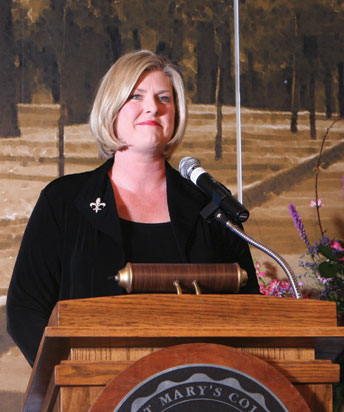 This fall, Saint Mary's bid farewell to a beloved campus leader. After more than sixteen years of keeping Saint Mary's graduates connected with each other and the College, Director of Alumnae Relations Barbara Butler Henry '85 has stepped down to enter a new life stage.
As an alumna, Henry nurtured relationships with alumnae from an "insider" perspective. She developed and strengthened alumnae programs that include travel, club awards, and scholarship fundraising—programs that are still going strong today.
As a marketing and finance major with a minor in sociology at Saint Mary's, Henry graduated on a Saturday and began working the following Monday as the northern Indiana unit manager for the household products division of Colgate-Palmolive. "A good first job," she says, "though not as glamorous as it sounds. I was on the road all day, with sales and product placement responsibility at grocery stores throughout the northern Indiana area."
A year and a half later, Henry traded in her car for an office and the title of account executive at Villing & Company, a prominent marketing and communications firm in South Bend. With a client list that included Hacienda Mexican Restaurants, the South Bend Medical Foundation, and Martin's Supermarkets, she loved the fast pace and the daily buzz of the communications field.
Yet, when the position of director of alumnae relations opened up at Saint Mary's in early 1991, the effervescent Henry chose to trade in her position in the world of advertising for the opportunity to return to the Saint Mary's campus. "Not only did I have an incredible academic experience at Saint Mary's, I made personal connections here that changed my life. To be able to work every day with women who share the bond of the Saint Mary's experience and help to make the College even stronger—I knew it would be both a privilege and my perfect job."
"Saint mary's has a long and rich tradition of alumnae involvement… We in Alumnae Relations worked to build and strengthen what was already a good alumnae program."
As director of alumnae relations, Henry's role was to "plan and implement programs and services that develop and sustain relationships between alumnae and the College." Thus, with Assistant Director Michelle Poeppe Egan '93, she oversaw the Alumnae Association and its volunteer board of directors, the College's 46 alumnae clubs, the annual June Reunion, the alumnae relations Web site, the alumnae sections of the Courier, the College's travel programs, and other programs, including the Alumnae Resource Network.
Henry worked to cultivate relationships between current students and alumnae so that the connection was strong even before graduation. With club scholarships, send-offs, exam care packages, as well as internships and job opportunities by way of the Alumnae Resource Network, students can now meet women who are eager to connect them with jobs and internships, or to include them in the special bonds of an alumnae club. She built up the alumnae travel program and had the joy of traveling the world with other alumnae whom she now considers her friends.
Among Henry's fans is Ann Meagher Vander Vennet '59, former Trustee and current member of the Madeleva Society Steering Committee. "Barbara has a presence that is just unbeatable," she says, remarking on Henry's easy, gregarious nature. "She makes you feel like you're the only person in the room when she's talking to you." Vander Vennet has worked with Henry on many projects, including the annual reunion, and she has witnessed Henry's involvement in building up unique programs that keep alumnae connected. Of the success of these programs Henry says, "Saint Mary's has a long and rich tradition of alumnae involvement … We in Alumnae Relations worked to build and strengthen what was already a good alumnae program."
Aside from the "wonderful" alumnae, staff, students, and faculty, Henry is grateful to have worked at Saint Mary's, she enjoyed the "entrepreneurial parts" of her career, and the innovation of new ways to keep alumnae involved. "It was the opportunity of a lifetime," Henry reflects, "and I'll be forever grateful."
As for that new life stage, Henry is enjoying time with her ten-year-old daughter, Jane, and becoming (not surprisingly) volunteer extraordinaire while still keeping touch with alumnae all over the world that she met through her position at the College.