In the Field - Colleen O'Connor '12
In the Field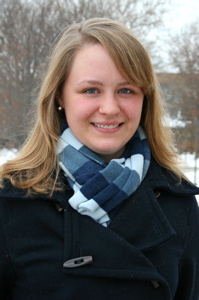 Colleen O'Connor '12 is still discerning where her interests lie within the nursing field. The nursing major from Westerville, Ohio, has plenty of opportunities to explore her options through the field experience she gets in Saint Mary's nationally accredited nursing program.
Colleen has clinicals several times a week. "Clinicals" is the nickname students give to the clinical experiences they participate in each semester in different settings including local hospitals, mental health facilities, and other organizations.
For Colleen, a day in the field goes something like this: "A typical clinical starts early in the morning, at the same time that the day shift comes on, so we get to the hospital in time for the night nurses to give report. Each student is assigned a patient for the day and we are responsible for any care that they require." 
With the support and guidance of the staff nurses and Saint Mary's instructors on-site, Colleen and her classmates perform dressing changes, medication administration, linen changes, and more. "Because we only have one patient at a time we usually help with other patients on the floor as well, and that just adds to the number of different experiences we get," says Colleen. 
It takes a special person to tend to patients' many needs and nurses typically spend long shifts on their feet. Colleen relies on her faith to encourage and support her. "I am in love with my Catholic faith," she enthuses. She attends daily masses at Saint Mary's and Sundays often find her at the Sacred Heart Basilica at Notre Dame.
Colleen's niche outside of the nursing department at Saint Mary's is Campus Ministry. This year she is a Peer Minister, a program through which she and her fellow ministers are prepared for leadership roles in service. Peer ministers are engaged in liturgical ministry, retreats, small faith groups, group prayer, and Bible Study.
Colleen's faith and her interest in science combine naturally in her choice of major. "I have always been passionate about serving God's people and helping people heal fits perfectly with the medical field," she says. 
Her experiences in the nursing department have confirmed that nursing is her vocation and the best way for her to make a positive difference in the world. "I have learned how important a nurse's role as a patient advocate is and by keeping a patient's best interest in mind a nurse certainly has the power to make a difference in the life of her patients."