Nature Connection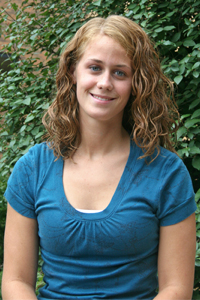 Nature Connection
Imagine spending your summer in Puerto Rico, basking on smooth volcanic rock boulders, swimming in natural watering holes, and hiking in nature. Sounds like the perfect vacation–and it would be, if that were all that Ashley Recupito '09 did. Instead, the biology major spent her summer in Quabrada Sonodora in El Yunque National Park, in Rio Grande, Puerto Rico, as part of the Research Experience for Undergraduates (REU) program, sponsored by the National Science Foundation.
Recupito participated in the ecology program with nine other undergraduates at the Universidad de Puerto Rico Rio Piedras (UPR). Recupito says she lived in modest quarters with 30 other people working in the rainforest on long and short-term research. Her ten week research focused on "leaf decomposition rates of native and exotic leaf species within tropical Puerto Rican streams, and the affect aquatic insects and fungal spore assemblage have on the breakdown rate of the leaves." At the end of her research, Recupito presented a scientific research paper to the university symposium.
When she wasn't conducting research, Recupito did have the opportunity to enjoy nature, including runs up the Luquillo Mountains, and swimming in a bioluminescent bay. "Often we would take night hikes through the forest observing land crabs and the 16 different species of the loud coqui frog present. We would end the hike at the canopy tower, which was 20 meters up above the canopy. There, you could see all the way to San Juan, and the whole mountain ridge we were surrounded by. The stars were so brilliant up there. It was during these times that I had no doubt in the existence of God, and I felt closer to him. It's funny how a summer in nature can reconnect you to your spiritual life," says Recupito.
Back on campus, Recupito is involved in a number of activities. She is the president of the Biology Club, and a member of Beta Beta Beta. She has also been a resident advisor (RA) the past three years, and is an RA in Opus Hall this year. Recupito also volunteers at Memorial Hospital in South Bend.
Recupito credits biology department professor Dr. Richard Jensen and department chair Dr. Nancy Nekvasil with being great supporters. Nekvasil is quick to point out that Recupito's summer research experience was something she chose to do on her own, even though her research requirements had been met. "She has been a great role model for younger students, showing that you can pursue research experience as early as the sophomore year," says Nekvasil. "Your education is what you make it–you don't have to wait on something to impact you. Go out and find things you're interested in. Ashley is someone who has done that."
With a minor in chemistry , Recupito says she plans to enter an accelerated nursing program. "Saint Mary's biology and chemistry department are wonderful. The staff and faculty has pushed and challenged me. I feel more than competent and I know that I can succeed in whatever I do because of how they have prepared me."