The Right Choice
The Right Choice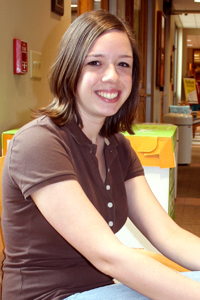 Graduate Molly Lamping '09 says she initially wanted to go to a big school in a big city, but after some encouragement from two older cousins who are Saint Mary's alumnae, she came to the College for a visit. It was then that she fell in love with the campus and the people here. "Choosing Saint Mary's is one of the best decisions of my life," says Molly.
The former political science major found what she was looking for at Saint Mary's. "We have small classes and personal attention from professors, but we also have so many clubs and study abroad programs," says Molly. She studied abroad in Maynooth, Ireland, during her sophomore year, an event that she says changed her life completely. "I strongly advocate studying abroad because education doesn't stop at the classroom door."
Molly also took advantage of what many see as the best of both worlds. "The affiliation with the University of Notre Dame opens doors to the resources of a larger university—like big sports and a huge course catalog," says Molly.
Molly participated in activities on both campuses—as a member of the Pasquerilla East Musical Company, a musical theatre company at Notre Dame, and as a member of the singing group Bellacappella at Saint Mary's. Molly, who has been a member since her first year, was the director during her senior year. "It's been so rewarding to lead the ensemble and to achieve our goal of recording our debut album."
Molly was also on the board of the Class of 2009, an activity that she says taught her organization and leadership skills. "I really enjoyed working for the benefit of my classmates and planning events that we will remember for years to come."
When it comes to classes, Molly says her favorite class was American public policy. "The class was really interactive and gave a hands-on approach to a subject that could be very tedious." She looked to Professor Pat Pierce in the political science department as a great advisor both personally and academically. "I valued his open door policy and willingness to help students with whatever they needed."
Molly will be attending law school in the fall at Indiana University in Indianapolis. She plans to be an intellectual property attorney.