World Traveler
World Traveler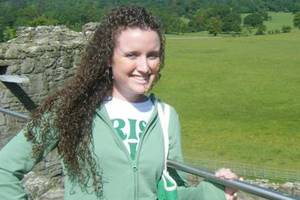 Kimberly Roland '12 knew what she was looking for when she chose Saint Mary's—a small college where she would receive individual attention, yet still have a fun college experience. "At Saint Mary's I know I'm more than just a number," says Kimberly who is majoring in both political science and humanistic studies (HUST).
The native of Phoenix, Ariz., enjoys the best of both worlds—the across-the-street opportunity to take classes at the University of Notre Dame, as well as the personal attention and relationships she has developed with her professors at Saint Mary's. Kimberly sees Professor Gail Mandell as someone who has made a great impression on her.
"She is such an inspiring and pioneering woman," says Kimberly. "She is the reason I decided to pursue a second degree in HUST. She helped me realize the value of a liberal arts education and the importance of women empowerment." Kimberly says her favorite class was Lives and Times: Book Club, a HUST tandem class with psychology. "This class helped me see connections between subjects that I never thought possible. I especially enjoy the HUST aspect because it incorporates literature, history, and art history."
Kimberly is active at Saint Mary's, participating in the Diverse Students' Leadership Conference, the Student Diversity Board, College Democrats, Friends with Sisters, Campus Ministry, Belles for Fitness, and Take 10 Volunteers at Jefferson Intermediate School in South Bend. Active in politics, Kimberly worked as the chairwoman of Governor Janet Napolitano's Youth Commission for the State of Arizona. She also volunteered at presidential candidate Barack Obama's South Bend campaign headquarters, and she has been a volunteer for Project CURE, a non-profit organization that sends medical supplies to third world countries.
No stranger to travel, Kimberly will be spending her next academic year studying abroad in Rome. She visited England, Ireland, Wales, and Italy during high school, and she's also traveled to Mexico on mission trips. With her travel experience and Saint Mary's education, Kimberly will be ready for the next step after graduation. "I am planning on attending law school and pursuing a JD with a focus on human rights law," says Kimberly.