Congratulations Graduates!: Saint Mary's 163rd Commencement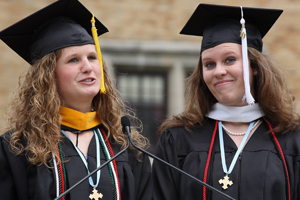 Audrey Marrah '10 and Carly O'Connor '10
Four years of classes, papers, tests, spring breaks, studying abroad, laughing, crying, and sharing culminated in Saint Mary's 163rd Commencement on Saturday, May 15. The graduating class was made up of 376 women from approximately 250 towns and cities in 32 states, with co-valedictorians from the same hometown, home parish, and high school. Seniors Audrey Marrah, a biology major, and Carly O'Connor, an English literature major, are from Kokomo, Ind., where they attended Northwestern High School, and St. Joan of Arc Catholic Church. They were also best friends while at Saint Mary's." I knew Audrey would be valedictorian. The fact that I made it too is what surprised me," says Carly. "We both realized in the fall of our junior year that this was a real possibility and we were truly hoping that we would be able to share this honor together."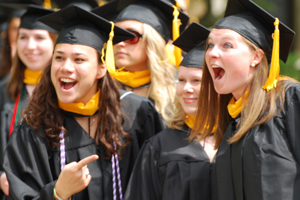 Lumen Christi Award recipient Patty Duffy (left) points
to classmates
The two also shared the honor of delivering the valedictory address to the class. "St. Augustine said that 'to find God is the greatest human achievement,' and Audrey and I have found that to be the most significant part of our Saint Mary's experience," said Carly as she delivered the first half of the address. "In this grand human achievement, we have both grown spiritually, emotionally, intellectually, developed lifelong friendships, served others and the poor, and learned how to tie our faith into our everyday lives. And as we have grown in all of these areas, we have come to know ourselves better."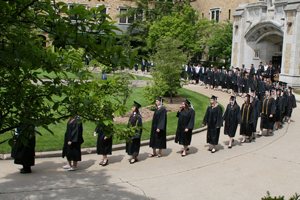 In the second half of the address, Audrey reflected on living life with meaning behind it and following your heart. "Each of us has our own unique gifts and talents to offer to the world, and the world is in desperate need of our gifts," said Audrey. "When we fully and passionately share and utilize the gifts and talents we have been given and use them to satisfy the world's many hungers, we will truly find our deep gladness." Audrey plans to do international service work in Guyana, South America. Carly plans to attend graduate school to study theology.
This year's Commencement speaker was marine biologist Sylvia Earle, who received an honorary Doctor of Humanities degree from the College. Lois Lowry, author of young adult fiction books, also received an honorary Doctor of Humanities degree.
Graduates, friends, family, and alumnae can all share the commencement experience by visiting www.saintmarys.edu/2010. The site hosts videos and photos from Commencement including the valedictory address and Earle's speech, as well as photos from events leading up to Commencement such as the Honors Convocation. Students are invited to post their own photos and video. Comments can also be posted via Twitter or on the comments section of the Web page.