Actress Glenn Close at Saint Mary's
Margaret Hill Endowed Visiting Artist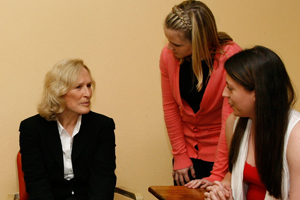 Actress Glenn Close speaks with Kara Quillard '13
and Joy Viceroy '13
It's not every day that a movie, stage, and television icon graces the stage of O'Laughlin Auditorium on Saint Mary's campus. March 15 was a different story. Actress Glenn Close regaled a sold out audience for "An Evening with Glenn Close" with stories about her childhood and her hugely successful acting career. Prior to the evening event, Close spent the day on campus working with students in a master class, sharing lunch with them, and then speaking at the evening event.
"It is very rare for a school of our size to be able to give students the opportunity to be in contact with artists of the stature of Glenn Close," says Saint Mary's College theatre professor Mark Abram-Copenhaver. Students in the master class presented a scene from the upcoming Saint Mary's theatre production, The Imaginary Invalid, as well as selected monologues. Before the students began, Close confided, "I've never done this before, and I want you to know that." And then she proceeded to coach each student after their presentation, helping them to take their performance to a new level.
"To work with such a renowned actress is truly an honor that only comes along once in a great while," says Emily Puscas '11. "To be able to say, 'I worked with Glenn Close once upon a time,' and maybe even to say, 'she thought I was funny,' would pretty much complete my acting goals for the time being."
Close is known for her depth of character in such roles as Patty Hewes in her series, Damages; nurse Jenny Fields, in The World According to Garp; and Alex Forrest in Fatal Attraction. On playing Alex Forrest, Close said, " I just wanted to do her justice." First year student Joy Viceroy commented on Close's portrayal of her characters. "The dedication and research that she puts into her various roles is amazing. She doesn't merely 'play' a character she becomes that character. That's the type of actress I hope to be."
Close's appearance was part of this year's Margaret Hill Endowed Visiting Artist series. Hill is a Saint Mary's College alumna and a Broadway producer. Her endowment allows the College to bring in recognized talent to work with Saint Mary's students.
"This is an opportunity that these students may never have again in their lives, to be taught by an actress who has won three Tony Awards, two Golden Globes, and three Emmys. And then to be able to sit down with her and to ask questions about the art and business of making films, plays, and television is just over the top," says Abram-Copenhaver.