A Magnanimous Gift: Marjorie A. Neuhoff's $6.2 Million Bequest is Largest in College History*
At their 50-year reunion banquet on June 3, classmates of the late Marjorie A. Neuhoff '61 celebrated her bequest to Saint Mary's, the largest in College history. Read press release with extended information and view media coverage.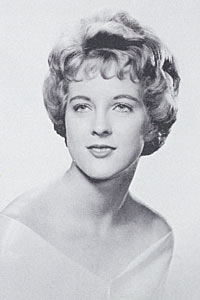 Marjorie A. Neuhoff's 1961 senior photo
"Marjorie's generosity to Saint Mary's has inspired admiration and fond remembrances from her classmates," said Susan Fitzgerald Rice '61, a classmate of Neuhoff and vice chair of the Saint Mary's College Board of Trustees. "It is clear that the College was in her heart for many years. Her magnanimous gift will have an impact on future generations of Saint Mary's women. How perfect it is that the Class of 1961 is on campus for our 50th year Reunion and can celebrate her big heart and her vision for Saint Mary's."
Neuhoff's gift will establish endowments for a chair in nursing, a need-based scholarship, and the Summer Science Research Communities, all in her name. The news comes on the heels of the March 26 announcement of the largest single private gift ever to the College—$9 million from philanthropists MaryAnn and Clayton Mathile, parents of alumna Jennifer Mathile Prikkel '95. That gift, matched by a $1 million gift from Prikkel, will fund an extensive renovation of Science Hall.
"Marjorie A. Neuhoff was a professional woman known for her business acumen. She also had a great love for Saint Mary's," said President Carol Ann Mooney. "In her memory, and with the consideration of her family, we have invested her bequest in areas of the College where we see increasing student interest."
Neuhoff, who passed away in 2008, graduated from Saint Mary's with a double major in business administration and economics. A native of Roanoke, Virginia, she worked for Cox Broadcasting Corporation in Atlanta from 1969 to 1983 as the personal secretary to Clifford Kirkland, who was chairman, president and chief executive officer.
The bequest will fund endowments for the creation of the following:
The Marjorie A. Neuhoff Nursing Chair will be established. The chair will be occupied the director of the department of nursing, who will promote interdisciplinary collaboration, the development of faculty as teacher scholars, and help recruit a new generation of faculty leaders in the department. The chair will play a major role in developing potential new programs of study. Current department Chair Linda Paskiewicz will be inaugurated as the endowed chair in the fall.
The Marjorie A. Neuhoff Scholarship will help meet the growing needs of students and their families to afford a Saint Mary's education. The endowed scholarship will start in the 2013-2014 academic year.
The Marjorie A. Neuhoff Summer Science Research Communities will be established and will commence in the summer of 2013. The program will allow students to conduct faculty-led research in collaboration with their Saint Mary's peers from across the sciences.
"We have wanted to develop a more interdisciplinary approach between the science fields, and this program, now that it is funded, will give us the opportunity to more fully explore some of the connections between fields," said Christopher Dunlap, chair of the Department of Chemistry and Physics.
Biology Chair Nancy Nekvasil added, "We have had many students in the past take advantage of summer research at other institutions. But with funding for the Summer Science Research Communities, we can offer our students the opportunity to be part of a team of scientists right here at Saint Mary's College."
*The bequest was originally announced as a $4.7 million gift to the College, but once her estate was settled, the gift became $6.2 million.