Studio Art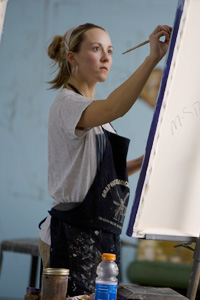 As a Saint Mary's art student, you will develop an impressive portfolio and exhibit your work every semester in The Moreau Center for the Arts. You'll work closely with accomplished professors who exhibit regionally, nationally, and internationally and explore new developments in art and a wide range of media and techniques. The art program is accredited by the National Association of Schools of Art and Design (NASAD).
"Saint Mary's as a whole, but especially the art department, was such a supportive place, both through professors and fellow students. I have made lifelong friends and memories and will never forget the morals, education, and confidence that Saint Mary's instilled in me." —Lauren Magnifico '06
Degrees
When you major in Studio Art at Saint Mary's College you can choose from two degrees. The Bachelor of Fine Arts (B.F.A.) is the professional degree in Studio Art and the Bachelor of Arts (B.A.) is the liberal arts degree in Studio or Art History. B.A. students can complete requirements in Education to teach art in grades P-12.
Areas of Emphasis
As a B.A. or B.F.A. major concentrating in studio art, develop expertise as you specialize in one of the following areas: ceramics, fibers, new media art, painting, photo media, printmaking, or sculpture.
Portfolio reviews
Each semester you will present your current studio work in the galleries for assessment by the art faculty. This process helps to ensure you're progressing through the program and reaching your artistic potential.
Writing in the major
Learn to effectively communicate with a variety of audiences and distinguish yourself as a skilled writer through your advanced writing portfolio. You will submit four writing samples that include items such as an artist's statement, research paper, grant proposal, or exhibition review.

Senior comprehensive
If you are a senior B.F.A. and B.A. student with a concentration in studio you will exhibit studio work that demonstrates your artistic development at Saint Mary's. This final, comprehensive project must be original, conceptually and aesthetically sound, and completed in an area of emphasis (four or more courses taken in that area). This important portfolio helps students gain employment, exhibition opportunities, and acceptance to graduate schools.
Hands-on Learning
At Saint Mary's, besides immersing yourself in the studios to work, you'll enjoy great opportunities outside of class with internships, some sponsored by INC@SMC grants. Students have obtained summer residencies at the Indianapolis Museum of Art, the Fort Wayne Museum of Art, MTV-Viacom, and Jonquil Design Associates in Knox, Indiana.
Careers
Prepare for a future that ranges from working as an art consultant to an art teacher, curator, museum educator, designer, art therapist, photographer, media advisor, production assistant, or sales manager. Many art graduates continue their graduate studies with top art programs across the nation. Visit the Career Crossings Office website to explore many great career opportunities for Saint Mary's graduates.