Studio Concentration - Art Major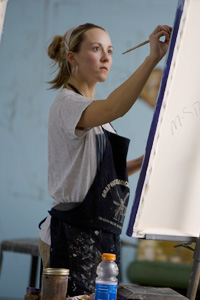 Develop an impressive portfolio and exhibit your work every semester in The Moreau Center for the Arts.  Work closely with accomplished professors who exhibit regionally, nationally, and internationally and explore new developments in art and a wide range of media and techniques. The art program is accredited by the National Association of Schools of Art and Design (NASAD).
The Experience
Devote four years to exploring your artistic interests, perfecting your skills and methods, and receiving constructive and genuine feedback from knowledgeable faculty.
The Requirements
The Bachelor of Arts (BA) is the liberal arts degree in studio art. Specialize in one of the following areas: ceramics, fibers, new media art, painting, photo media, printmaking, or sculpture. Each semester you present your current studio work in our galleries for assessment by the art faculty, which ensures you're progressing through the program and reaching your artistic potential. 
The Writing
Learn to effectively communicate with a variety of audiences and distinguish yourself as a skilled writer through your advanced writing portfolio. You will submit three writing samples that include items such as an artist's statement, research paper, grant proposal, or exhibition review.
The Results
Prepare for a future that ranges from working as an art consultant to an art teacher, curator, museum educator, designer, art therapist, photographer, media advisor, production assistant, or sales manager. Many art graduates continue their graduate studies with top art programs across the nation. 
The Studio Art Concentration, Major in Art, is offered by the
Department of Art