Alumnae Profiles
Days at the Museum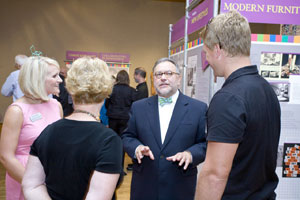 Alumna Catherine Tindall Mott '05 (far left) attends
an exhibit opening for design company Herman Miller, Inc.
Alumna Catherine Tindall Mott '05 is happy to admit that she wakes up in the morning excited to go to work. Mott is currently the curator of education at the Muskegon Museum of Art, which is part of Muskegon Public School District.

Mott was inspired by her volunteer experience at the South Bend Museum of Art (SBMA), under the direction of Jessi Lentych Loyd '98, to continue in museum work. At SBMA, Mott learned the challenges of working with new art and applied her art history education to work on tours, workshops, and grants.

Now Mott assists with museum fundraisers, educational guides, galleries for exhibitions, and the permanent collection. Her duties don't stop there, either. She works with local schools, helps give tours, and is in charge of family and adult programming and docent training and education. With a fast-paced job, Mott admits, "No two days are alike, and as a result, I learn and grow each day."

Mott says Saint Mary's prepared her well. "My education at Saint Mary's has impacted every facet of my life. Saint Mary's encouraged and supported my ability to be a strong, educated, and independent woman." Like most Belles, Mott was captivated by the small college environment, rich heritage, and exceptional academics.

Mott developed lasting friendships and took multiple art history courses at the College. Her favorite course, Chicago Art and Architecture, allowed her to appreciate the history and culture of Chicago, as well as adopt a new perspective on houses, structures, sculpture, and the world around her. Mott says, "I left Saint Mary's with more than a degree. My professors pushed me to do more, to explore, and continually challenge myself."

Since graduation, Mott has continued to expand and share her knowledge of art history with others. At Saint Mary's, Mott worked as a crew member in the Saint Mary's theatre and took a job as the supervisor of the costume shop. Now, she volunteers at the Muskegon Irish Music Festival, introducing travel exhibitions and educational material on Irish culture and history.

Recently elected as "Outstanding Young Educator of 2009," Mott says she is honored to be elected and motivated to continue her work with art education. To the current students of Saint Mary's, Mott says, "Take advantage of every opportunity to grow and change, volunteer, explore, and create." Sound advice from this award-winning alumna.

—Sarah Sheppard '11
Green and Glam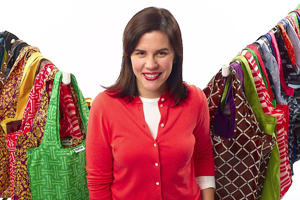 RuMe Bags are available in the Shaheen Bookstore
on Saint Mary's Campus
If you build it they will come. Alumna Katy Massey Lee has proven exactly that, in less than a year, with the introduction of her fashion-forward, enviro-friendly reusable bags. Lee is the co-founder and creative director for RuMe (short for ReUseMe) Bags, which are made to be stronger, lighter, and more convenient than the traditional reusable bags currently on the market. Launched in April of 2008, the bags have been featured on the Today Show, and in magazines such as Marie Claire, Star, and Vogue Japan. A-list Hollywood heavies like Jessica Alba, Jennie Garth, Nicole Richie, and Joel Madden have been spotted with the trendy carry-alls. Made in a government certified fair trade factory in South Korea, the idea for the bags grew out of an interest Lee and her co-founder/husband had in the green movement in Denver, Colo., where the business is based.
"One of the easiest steps to help the environment is using reusable bags. Unfortunately, I didn't have the best experience with the current reusable bags in the market," relates Lee. "Either they were so bulky and I forgot them in the car, or the quality of the bag was poor and quite frankly they were not fashionable. My husband and I decided that we could use his experience in manufacturing and trade and my experience as an art director to build a better bag. On November 2007 the idea of RuMe was born and we haven't looked back."
The 2000 graduate and former fine arts major says she chose Saint Mary's after visiting the campus. "I felt comfortable and I knew that I would be able to grow into a strong woman," says Lee. That strength is apparent in her business acumen. "My professors taught me, if you work hard, the rest will come."
Lee credits the entire art department with helping her to develop her artistic background but says, "it was Professor [Doug] Tyler who first introduced me to designing on the computer and taught me to take all of the information from my other art classes and apply the knowledge to the computer and design programs."
That design experience is reflected in the haute couture handbags that are sold in 47 states and 15 countries. "Within the next year we hope to be in all 50 states, and triple our foreign presence," says Lee.
While her bags say fashion and her celebrity following says hot, Lee remains focused on the goal of producing a better bag in a better way. "Most importantly, the feedback from our consumers has been wonderful. To make a product that people love to use is all that matters."
Picture Perfect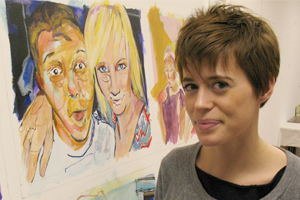 Alumna Mary Strebinger '08 has known since the age of three that she wanted to be an artist. "I had a lot of aunts who were artists and I think growing up around their work, I was influenced by that," explains Strebinger of her early interest in art.
Strebinger completed a BFA in studio art at Saint Mary's. Creating large, multiple bodies of work at a time, she averaged about 20 prints a semester. "I make art about the internet and social relationships," explains Strebinger. She works in print-making and painting, with drawing being one of her favorite things to do. "Painting is really great because it's just this battle with the canvas and color. So, it's drawing at the next level. Basically you're just drawing with liquid color."
In addition to the work that Strebinger has done at Saint Mary's, she was in a residency program one summer at the South Bend Regional Museum of Art. She helped with classes, public projects, the Festival of Banners program, and Art Beat, an event in downtown South Bend that features the work of local artists. As part of the residency, she received studio space and a chance to create new work.
As someone who considered herself shy during high school, Strebinger credits her experience in Saint Mary's small, all-women classes with raising her confidence. "I've learned to open up and speak my mind and respect others at the same time." Saint Mary's has also given her an advantage over her art student friends at other colleges. "We got to show our work a lot more than most undergraduate art majors," Strebinger says.
Originally from South Bend, Strebinger was already familiar with Saint Mary's; her mother taught here, and one of her neighbors taught here too. While she knew art professor Bill Sandusky as "Mr. Sandusky," she has gotten to know him as a friend and as a mentor. "I think that he's really helped me with my confidence when showing my work," explains Strebinger. "He really opened up doors for me and I'm really grateful for that. I never really know how to tell him thank you."
Strebinger completed an M.F.A. at the San Francisco Art Institute in 2010 and is the current Director of Marketing and Communications for RecSports at the University of Notre Dame.
Art Smart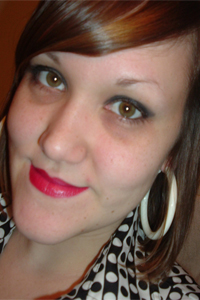 When alumna Candie Waterloo '04 came back to Saint Mary's for an art show, she was welcomed back home as if she had never left. "I was recently invited back as a Guest Curator for the Annual Student Summer Show sponsored by the art department and Moreau Art Galleries. I can say that having been back reminded me of why I chose Saint Mary's in the first place. I was granted the same hospitality and appreciation as when I was a student years ago. I am certainly proud to have been part of that tradition," says Waterloo.
The Buchanan, Mich., native majored in studio art , with an emphasis on fibers. Even though she wasn't ready to venture from home to attend college, Saint Mary's had always been a school her parents mentioned as an option. "It wasn't until I visited the campus and was treated with such hospitality that I knew it was the place for me," says Waterloo. Faculty who made her feel valuable and important, coupled with the small, intimate classes are what she considered to be the best part of being a Saint Mary's student. "They [faculty] helped me to really grasp who I was and always encouraged me to run with it – no questions asked."
Waterloo gives credit to professors Jason Lahr, Krista Hoefle, and Julie Tourtillotte as the "trio" who worked in tandem to motivate her. "It's almost like they had a secret pact to 'get' me. Until I met them, I would settle for whatever came my way. They really taught me to expect more of every situation, and furthermore, to understand that I was the best at what I did and to never let any thing stop me … I really attribute my development into a competent, confident young woman to them."
While on campus, Waterloo served on the Student Diversity Board as an admission commissioner during her junior and senior years. She was the vice president of the art club her junior year, and the president during her senior year. She volunteered at Polly's Place, a women's shelter in Niles Mich., and at the South Bend Museum of Art. During the summers she worked at the Early Childhood Development Center (ECDC) on campus as a teacher's assistant in the 8-12 year-old classroom.
With an MFA in sculpture from Ohio State, Waterloo's ultimate goal is to be a full-time professor of art. "I've got my sights set on Chicago, and I'm currently exploring my options at obtaining a second master's degree, possibly in art therapy. I'm hoping that this will work, in collaboration with my MFA, to open more doors," says Waterloo. "I want to teach. I believe that education is the most valuable asset, regardless of the subject matter. And with art, the education will be just that much more colorful."