Student Profiles
Time to Explore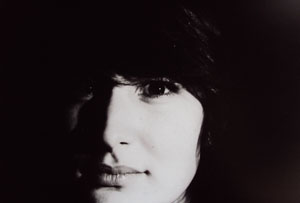 A recent gig as an artist in residence with the South Bend Museum of Art gave junior Nicole Krou the opportunity to explore her passion.

The studio art major spent last semester working in a studio space given to her by the Museum and says she did some sculpting, but naturally gravitated toward printmaking in the end.

Nicole's works—a collection of silkscreen on wood, vinyl, and cotton—were on display in the Museum's gallery through June 2010. She says the whole experience was an exercise in experimentation. In fact, that's been a theme throughout Nicole's Saint Mary's journey.

Nicole, who is well-traveled and studied abroad in Saint Mary's Ireland and China programs, is a lover of art history.

"I really love Greek and Roman antiquity and it's interesting to see how those classical influences are brought back throughout the decades and made more contemporary through time," she says.

Nicole's other favorite subjects include lithography—printmaking on metal or stone—and her fibers class where students print on fabrics.

Art conservation and restoration are on Nicole's list of most likely career moves. So is living abroad. She studied art history during a summer trip to China between her first and sophomore years. Her group, led by art professor Marcia Rickard, arrived in the country after disastrous earthquakes in Sichuan Province and a few months before the Beijing Olympics.

The experience was momentous for Nicole whose says the sense of nationalism and optimism among the Chinese people, and the striking landscapes rank high in her memories of the trip. She can't wait to go back.

While she had an equally meaningful experience living in Ireland for a year, Nicole had the most fun playing for the University of Ireland, Maynooth rugby team.

"We played all over Ireland and even traveled to Scotland to play a team in Edinburgh—and we won!" she says.

Nicole plays on the Notre Dame rugby team, which takes serious dedication. Practices take place three times a week at 6 a.m. But it's nothing Nicole can't handle. She always makes time for the things she loves, "because there is no sense in doing something that doesn't make you happy."
On The Ball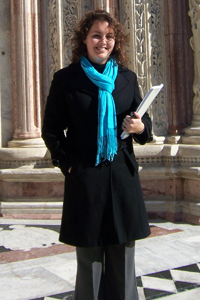 Can't get enough football? Senior Kate Wojan got her share this summer, as an intern at the College Football Hall of Fame in downtown South Bend, Ind. The studio art major worked in the archives and collections, and was responsible for designing and putting together new displays. "There were many facets to my job, and I can definitely say that there was never a dull moment," says Kate, who worked on the annual Enshrinement Festival. In charge of the silent auction, she collected donations, took pieces to be framed and signed, and set up the auction at the Morris Performing Arts Center. "It was a rewarding experience, and I made some wonderful friends, and really got a taste for the working world."
Kate's decision to come to Saint Mary's was influenced by the "intimate size" of the College, and the art department, which she found impressive. Art professor Julie Tourtillotte played a major role in her decision to major in art, and Krista Hoefle worked with her to combine her computer skills with her artistic ability. In addition to art, Kate enjoys writing, and professors Patti Sayre and Terri Russ have encouraged her to pursue that interest. Sister Kathleen Dolphin, Kate's religious studies professor from her first year, rounds out her list of supporters. "She still keeps up with me and takes such an interest in how I am doing," says Kate.
After her internship ended, Kate visited Santa Fe, N.Mex., and then drove cross-country back to Saint Mary's. "It was a great experience, and I got to see parts of the country for the first time."
Kate has traveled outside the country as well; spending a semester in Rome, in what she says was "absolutely life changing" for her. Her favorite class was Italian art history. "Where else can you learn about such masterpieces, and then see them in person?"
On campus, Kate stays busy as the secretary of the art club, and she works as a student consultant for the Huisking Media Center, assisting students and faculty with computer-based projects.
The Petoskey, Mich., native has a minor in advertising and hopes to work in advertising or graphic design, with her sights set on working in a large city like Chicago. "I have always wanted to use my artistic skills in an exciting environment. I love the idea of living and working in a city," says Kate.