Communicative Sciences and Disorders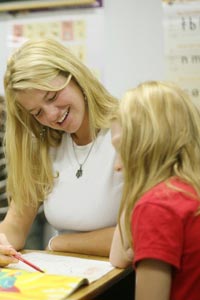 As a communicative sciences and disorders major, you will put theory into practice as you apply your study and research of speech and language to real-life client situations. You will learn the ins and outs of the speech and hearing sciences and participate in supervised therapy through various internships, volunteer positions, and the Speech-Language-Hearing Services at Saint Mary's College program.
The communicative sciences disorders program is an intensive study of speech, language, and hearing disorders, mild to severe, in people from infants to the elderly. Your research and study will prepare you to work with the population you choose. Learn to guide stroke victims through recovery of their speech and language; diagnose and help treat children with speech delays; or work with infants in need of feeding therapy.
The major draws on many other disciplines including psychology, biology, linguistics, mathematics, and health care. Combined with a complete liberal arts education and practical application in real-life situations, you will earn a comprehensive degree that opens up a variety of career options or a future in graduate school.
Writing in the major
A strong foundation in oral and written communication skills is integral to the major. In your classes you will write case studies, literature reviews, and reflections on your research, experiences, and interactions with clients.
You will fulfill the advanced writing requirement through one of three papers including a position, reflection, or research paper. During your senior year, you will combine your cumulative understanding of a chosen topic into one paper, either a literature review or research project, for your senior comprehensive project.
Hands-on learning
As a communicative sciences and disorders major you will realize your passion for social responsibility first-hand by providing services to those in need. Virtually every course in the program requires fieldwork. As a major you will complete 25 hours of observation alone before participating in a clinical practicum your senior year.
The practicum is an observational and clinical experience. It is designed to develop your competence in providing individual services in clinical setting, and group services in a preschool setting.
In your classes, you will have the opportunity to hear visiting speakers share their expertise. You will also spend time with children at Saint Mary's Early Childhood Development Center, providing language enrichment activities in the classroom.
Under your professor's supervision, you will diagnose and write a treatment plan for a client who receives assistance through the Speech-Language-Hearing Services at Saint Mary's College program. In implementing your own therapy plan, you will help a client heighten their potential for meaningful relationships, and help restore their self-esteem, dignity, and independence.

Careers
The need for students who are able to think critically and creatively about individuals with communicative disorders will continue to increase. With this major, you will be prepared for graduate work in a variety of disciplines, including a master's degree in Speech and Language Pathology or Audiology.
Pursue a career as a Speech and Language Pathologist (SLP) or a Speech and Language Pathologist Aide (SLPA); a classroom teacher who can instruct children with disabilities, an audiologist or pathologist. Many communicative disorders students pursue careers in early childhood intervention and education or work to fulfill the many needs of the growing elderly populations.