Faculty Profiles
Communicative Disorders Professor Susan Latham guides students through
the learning process



Professor Susan Latham (in red) with her students
"And what is as important as knowledge?" asked the mind. "Caring and seeing with the heart," answered the soul. —Anonymous

Communicative disorders professor Susan Latham believes in the "power of failure." Failure, she says, teaches her more than success ever does. On the first day of Phonetics class she tells her students, "Sometimes you will try and succeed in this class, and sometimes you will try and fail. I'm going to give you lots of feedback and help you along the way." Don't be fooled—Latham is one of the most positive people you'll ever meet. In fact, she works to embody for her students the above quote, teaching them to care and see "with the heart." As a teacher she hopes to be a
"loving guide" for her students as they progress on
the journey of learning together.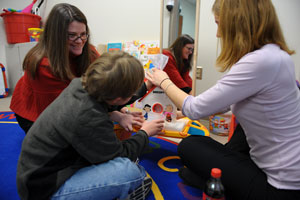 Professor Latham works with student Ashley Moritz '09
and Danny, a client of Saint Mary's
Speech-Language-Hearing Services.A 1991 communication studies graduate of Saint Mary's, Latham received her master's and doctorate in audiology and speech science from Michigan State University. In 2002 she came back to Saint Mary's as an adjunct professor and soon developed big plans for the program.
Communicative disorders became a major in 2008 thanks largely to Latham's perseverance and leadership. The program prepares students for a career in speech pathology, audiology, and work in many other fields. Latham is overjoyed that Saint Mary's offers the major, especially since it didn't exist when she was a student. "We had one course in the curriculum and that was the intro course, and I took that my junior year," she recalls. "And in that one course I said, 'This is it. This is exactly what I want to do with my life.'"
In fact that's how most students nationwide end up majoring in communicative disorders—they somehow end up in a class and decide it's the right career for them. This contrasts sharply with other health fields such as medicine, dentistry, and nursing, in which most students know their career direction even before college. "Just about everyone who ends up going into speech-language pathology stumbles across it," Latham says. "During our lives, we all visit doctors, nurses, and dentists, but not everyone works with a speech-language pathologist. And that means many people don't even know the job exists."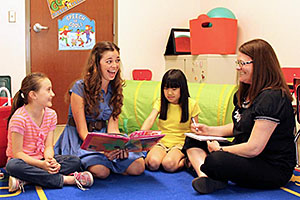 Latham, far right, works with Saint Mary's student
Carolynn Prisco '12 and children from the community. However, speech-language pathologists (SLPs) are among the top professions for demand and career enjoyment, she adds. "We're always on the U.S. News & World Report '25 Best Jobs' list." See the list here.
The Saint Mary's program prepares students to work with a variety of populations. In addition to giving students a space on campus to help treat local children with speech challenges, the program pairs students with SLPs in the field. "Students may be observing at the hospital in the NICU, watching a speech-language pathologist doing feeding therapy for a premature baby that needs to learn how to suck, swallow, and breath to be discharged," Latham explains. "Or they may be working with elderly stroke patients in outpatient rehabilitation." Speech and language pathology, says Latham, "is about both the science and the art" of the practice. She tells her students that they not only bring their skills to the profession; they bring their humanity.
Ask her what she loves best about teaching at Saint Mary's and Latham's answer is, hands-down, her students. "I am here to guide students in the learning process," she says. But she learns from them too. "Every morning I put on my bracelet that says Ancora Imparo and I am reminded that 'I am still learning.'"
Learn more about the communicative disorders program in the article "Going Where We Are Needed."