Student Profiles

Student, Volunteer, Figure Skater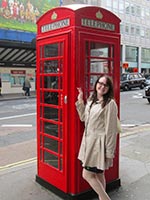 "During my visit to Saint Mary's, I sat in a communicative disorders class and knew that was what I wanted to do. Everyone at the College was so welcoming, and it's a great place because everyone has something to contribute and everyone is always learning," says Rosie Krzemien, a native of Pittsburgh.
Rosie is studying communicative disorders and psychology, with a minor in gerontology. After watching several of her relatives who struggled with strokes work with speech pathologists, she too wanted to enter the field. After graduation, Rosie plans to attend graduate school. She wants to do some research-based work, especially with autism. "We know lots about it, but there is so much more to learn," she says.
For now, though, Rosie is enjoying her time in the communicative disorders department, especially with her clinical practicum. She loves working with both the young and the old and looks forward to a career that will allow her to assist both. "I love learning from kids," she says. "And the elderly are a growing population. Someone needs to take care of them."
"I am working with an adult and a child with very different diagnoses. It's really good preparation for grad school and beyond. I've done diagnostic testing and research to understand the results. The experience has taught me to adapt to each client and discover what fits best for them."
Rosie also works at the Early Childhood Development Center (ECDC). She loves that working with the children at ECDC incorporates different parts of her major, especially occupational and physical therapy. "We're making sure that the kids are developing fine motor skills and reaching developmental milestones. I'm learning proper classroom etiquette and how to communicate effectively with children."
In addition to school and work, Rosie is also a member of the Notre Dame Figure Skating Club. She won the 2012 McMahon award for dedication, commitment, and leadership on the team. Rosie is also the secretary of the club. One of her responsibilities is coordinating the club's service and volunteering activities around South Bend. "It's cool that we get the chance to represent the school and give back to the community," she says. "We work together toward a common goal."
Rosie cites the College's expectation of personal responsibility as one of the biggest factors in her maturing at Saint Mary's. "There are high expectations here. But it's good because what I do here makes me more prepared for my job in the real world. After my time at Saint Mary's, I know I can go to the real world with confidence."
~Jillian Fata '14
Southern Belle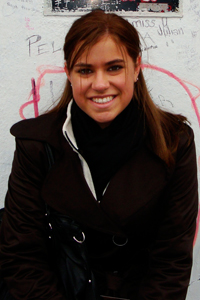 Ally Drake knows what she wants to do after college. The communicative disorders major will go on to obtain her master's degree in speech pathology, with the goal of becoming a certified speech and language pathologist. "I plan on working with the autistic community in either hospitals or schools," says Ally. The native of Georgia says that she is very passionate about her major. "My youngest brother T.J. is autistic and this inspired me to pursue my career as a speech pathologist. I was so excited when I found out that Saint Mary's was offering communicative disorders as a major for the first time this year."
Ally says her favorite class is introduction to sociology taught by Professor Leslie Wang. "Dr. Wang has such a passion for sociology and you can tell this the moment you step into his classroom," says Ally. "The course material is so interesting because it directly relates to our lives and those around us."
"The best experience of her life," says Ally is the time she spent studying abroad in Rome. "There is not a day that goes by where I do not think about my wonderful experience in Rome—we call this 'Rome Sickness,'" says Ally. "I remember before we left Dr. [Peter] Checca held a meeting and told us to look around the room because these girls, who we didn't know at the time, were going to soon be our best friends. I would be lying if I said I believed him then because I didn't. However, looking back on that day, I realize that he couldn't have been more correct. All of us who went abroad that semester share a special bond that I know can never be replaced."
Ally stays active on campus, participating in the Notre Dame/Saint Mary's Best Buddies Chapter. "Best Buddies is a nonprofit organization dedicated to enhancing the lives of people with intellectual disabilities by providing opportunities for one-on-one friendships," explains Ally.
When it comes to choosing what she likes most about Saint Mary's, Ally is hard-pressed to narrow it to one thing. But if she had to choose, she'll tell you she really values the women she's met here. "Because I'm from Georgia I came here not knowing too many girls or what to expect. I cannot express how happy I am with my decision to come to Saint Mary's because it has more than surpassed my expectations—and I still have two more years to go."
Keep Smiling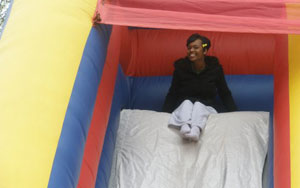 Junior Kendall Davis gets ready to slide at a "Heifer Carnival"
held by students to raise funds for Heifer International.
Kendall Davis is always optimistic. The junior and Los Angeles, Cali. native, with a sunny disposition possesses serious dedication to a number of causes.

She is a member of Sisters of Nefertiti, a student club dedicated to celebrating African-American history and heritage, and the Communicative Disorders Club. Kendall also works as a teacher's assistant at the Early Childhood Development Center (ECDC) located on the Saint Mary's campus.

She supports her fellow classmates in their endeavors on campus as well because she knows they are all working hard to make a difference in the lives of others. She says, "Saint Mary's has helped in opening my eyes and supporting causes that can change the world."

After changing her major twice, from nursing, to elementary education, to communicative disorders with a minor in intercultural studies, Kendall is sure of what she wants now. "I chose communicative disorders because I can help people, work with children, and help them regain a sense they lost or were born without (sense of hearing)." After graduation, she hopes to work with the deaf community, in the field of audiology.

When she's not out making the world a better place, Kendall is marching in time with the Notre Dame band. She says she's "not musically talented," but that didn't stop her from getting involved with the "Greatest Band in the Land," as she likes to call it. Kendall is a manager for the marching band, and while she doesn't play an instrument, she has made music a part of her life in other ways.

Kendall is part of what she calls "a group of 'closet ballerinas' taking dance professor Indi Diekgrafe's introductory ballet course. It is her favorite class. "The closet ballerinas that compose the class have minimal or no dance training, but that does not stop us from jumping around the room from first to fifth position like professionals," Kendall says.

Kendall has discovered more about who she is through her campus activities. The experiences she has taken part in and people she has met have offered her an understanding of herself as someone who is kind and committed to the causes that are important to her—or as she describes herself, "the smiling face that can be stubborn but optimistic always."

—Sarah Sheppard '11
Giving Back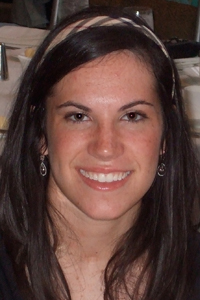 When it comes to supporting a cause she believes in, first-year student Molly Farrell is serious. The Wheaton, Ill., native has raised $300,000 for the Christopher and Dana Reeve Foundation through a direct mail campaign. As stated on their Web site, the Foundation is "dedicated to curing spinal cord injury by funding innovative research, and improving the quality of life for people living with paralysis through grants, information and advocacy."
Molly is familiar with this mission and its success first hand-she suffered a spinal cord injury that left her paralyzed from the neck down. Yet after seven weeks, she was able to move her big toe in therapy. That led to her participation in an experimental therapy called Lokomat, involving a robotic device moving her legs in a walking motion over a treadmill, stimulating her nerves. "Slowly I regained movement and was able to walk out of the hospital. Today I walk with crutches and continue to gain more recovery," describes Molly.
Saint Mary's provided Molly with an advisor, Iris Giamo, Specialist for Students with Disabilities, who helped her to make the transition to college. "Ms. Giamo helped me choose a room that would work best for me, pick classes that I needed but also were conveniently located, and she made sure that the campus was accessible. She has been a huge help to me," says Molly.
Molly's favorite class so far has been introduction to communications. "It was a great class to have in the first semester of my first year because there was a lot of interaction with other students, helping to start new friendships." While she hasn't declared a major, she is considering communicative disorders, and has a career goal to someday work for a not-for-profit agency. "I would like to work with people who have had a spinal cord injury, in some capacity helping them in their recovery."
In the meantime, Molly continues her work with the foundation. "I believe that it is because of hard work and the research like Lokomat, that the Foundation is doing-that is the reason why I am walking today. It is my way to give back to them and I am so thankful I can."