Student Profiles
Wedding Belle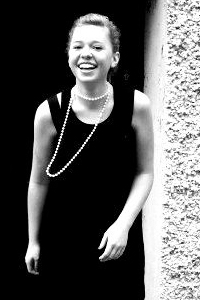 Last year when senior Kelsey Knoedler stumbled across a copy of Michiana Brides magazine, she could have never foreseen the great experiences it would lead to. After being drawn to the magazine, Kelsey, an English writing major, looked at their Web site and decided to send them an e-mail inquiring about internships. When they responded she quickly sent her resume and writing samples. After an interview she was offered an internship for school credit.
Michiana Brides is a South Bend Tribune publication that comes out twice a year, in the fall and spring. With only two issues, the magazine employs a small staff, which gave Kelsey more opportunities to shine. She was given an assignment on her first day at the magazine.
"I know of lots of girls who end up at internships with bigger companies or magazines who end up getting coffee or filing, but I'm treated like a normal staffer at the Tribune," Kelsey says.
That year the October issue featured four articles by Kelsey. She also authors her own blog for brides entitled, "Something Blogged, Something Blue" on the Michiana Brides Web site: Michianabrides.com.
"I've seen working in weddings already that people are so happy and willing to talk to you because weddings are such a happy time," Kelsey says. "I leave my interviews feeling so happy myself."
When it comes to making the bridal industry a career, Kelsey is not ruling it out."I love my internship with Michiana Brides, and I'd love to do more writing for wedding or other magazines," Kelsey says. "But I think there are a lot of jobs out there that I'd be great at and that I would enjoy. One of the greatest things about being a writer is that no matter what job I have, each experience will give me more to write about."
Kelsey's magazine writing experience translates well to her extracurricular activities at the College. She is the Editor in Chief of  Bellezine, which is the Saint Mary's on-campus, student-produced magazine.
Kelsey is extremely grateful for her Saint Mary's education and says that her favorite part of Saint Mary's is the feeling of community with both the students and professors.
"I love being able to work closely with professors and getting to know the other women in my classes," Kelsey says. "And I love living, learning, and working in a community of women who are smart, hard working, and all around beautiful people."
—Nikki Taylor '11
Nice on Ice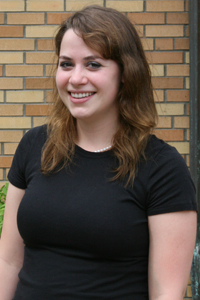 Many students go to college to "find themselves." Kate Ortigara came to Saint Mary's and found skating. "I just started skating in college and fell in love with the sport. I now compete as well as coach at the rink in town." The Tinley Park, Ill., native has been a member of the University of Notre Dame Figure Skating Club and the president for one year. She has performed in an exhibition and at a Notre Dame hockey game with the synchronized skating team. She also competes as a singles skater representing Notre Dame.
In addition to skating, Kate finds time to participate in Friends with Sisters, going to Mass and enjoying brunch with one of the Sisters of the Holy Cross. She's a student ambassador too and guides campus tours for prospective students. "I feel honored to be able to share my love of Saint Mary's College with prospective students and parents," says Kate.
Kate is working on a double major in English writing and elementary education with hopes of teaching English. "I am given a lot of support from the education and English departments in pursuing my double major," says Kate. "All of the education professors, as well as everyone else in the education department, have been extremely supportive of my quest to become a teacher. My writing professors, Professors Bonnell, Hwang, and Westler, have inspired me to become a writer and have taught me so much. I really fell in love with writing this [past] semester," says Kate.
Kate aims to keep writing after college. "I am looking forward to writing my senior comprehensive paper and I hope that it will give me a good springboard for writing that I will do after college." She's also ready to be a teacher. "I think that Saint Mary's is preparing me for my future because I have had the opportunity to observe all different types of schools and different grades as part of the education program. Doing so has helped me realized that I would someday like to teach in the upper elementary or middle school grades."
Nikki's Shamrock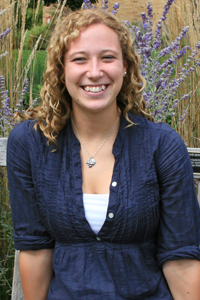 Look for a sparkly green shamrock attached to a dorm room door in the long corridors of Holy Cross Hall and you will find senior Nikki Taylor. Like many of the lucky Saint Mary's ladies that bravely travel to Ireland for a study abroad program, Nikki proudly displays her shamrock on her door as a sign of her accomplishments both at Saint Mary's and in Ireland.
Nikki decided to come to Saint Mary's College "almost entirely on a gut feeling" that she was meant to be here. She believed that the College was a great fit for her needs, goals, and talents. She was not disappointed.
Nikki was glad to find that her professors were actively involved in her education, both inside and outside of the classroom.  "One of the things I love the most is that the professors really build a rapport with their students," she says.
Saint Mary's College has also given the English writing major the opportunity to gain knowledge and experience in the field of writing, which is what she hopes to do when she graduates. Through Saint Mary's, Nikki is now a news writer for The Observer, the student-run Notre Dame-Saint Mary's-Holy Cross newspaper, and has worked in The Observer office since her first year.
Nikki tells other students at the College that deciding to take part in the Saint Mary's study abroad program in Ireland "was the best decision I ever made after picking Saint Mary's in the first place." Being abroad pushed her to mature, be independent, and become self-reliant. She also became best friends with the other Saint Mary's students that were in Ireland. These friendships continued once they got back to the States. "You rarely see one of us on campus without another Ireland girl close by."
Nikki feels that Saint Mary's pushed her to strive to be her best and to get involved. The College made it possible for her to go abroad, where she learned more about herself, and to achieve academic excellence while on campus. For those reasons she proudly displays her shamrock on her Holy Cross door and happily pronounces that Saint Mary's, "is such a great fit for me and I'll always trust my gut."
—Lauren DeBruce  '11
Granted Opportunity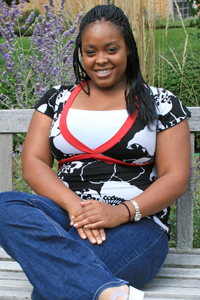 Working for a summer camp is a fairly common summer job for college students. Junior Lauren DeBruce's job at a camp for children with cancer was anything but common. Lauren had an internship this past summer with Camp Whatcha-Wanna-Do, which operates out of Fort Wayne, Ind., and gives children with cancer a week to experience summer camp and a week out of the hospital.
While Lauren worked more on the clerical side of camp, writing press releases, and planning fundraising events and memorial services, she also attended the camp itself. "A lot of the kids are pretty sick. It gives them a chance to be normal kids," Lauren says. "Their brothers and sisters come with them too."
The internship was made possible for Lauren through a grant she discovered through the Saint Mary's Career Crossings Office. The grant was for Saint Mary's students to work a non-paid internship in Indiana that would enhance their experience in a chosen career field. Students were then provided a stipend through the Cross Currents program. DeBruce applied and was one of the lucky ones chosen. "Without Saint Mary's I wouldn't have been able to do it because I really needed to get a summer job," Lauren says.
Lauren is confident that her internship experience and her Saint Mary's education are preparing her for her future. "The internship really helped me learn what I want in a career. I learned a lot of professional skills," says the English writing and history double major.
While Lauren continues to volunteer for Camp Whatcha-Wanna-Do, she is setting her sights on graduate school after Saint Mary's where she plans to study library science. "I'm glad that the skills I learned at my internship will carry over into my graduate studies," she says.
—Nikki Taylor '11