Student Profiles
Great Expectations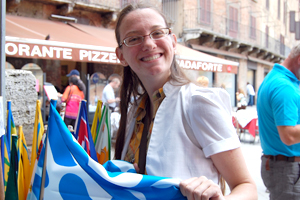 Elizabeth Elsbach loves a good challenge. With plans for a double major in history and international relations (through the University of Notre Dame), and potentially an additional major in English writing, Elizabeth enjoys pushing herself beyond her own expectations. "I do realize this is an insane amount of work, but I feel that I am more than up for the task," she says.
With these majors in mind, Elizabeth chose to attend Saint Mary's, where she knew she'd pursue her dream to work in a field of service, social justice, or political activism. "I want to work with developing and oppressed nations, hopefully as a diplomat, and the fact that Saint Mary's has three alumnae as current United States Representatives definitely makes my dream seen like an attainable goal," Elizabeth explains. "I think that's the reason I chose Saint Mary's, the fact that every dream I've ever had for service, social justice, or political activism can now become attainable goals." Elizabeth already has some experience under her belt. Through RusticPathways, a volunteer program for high school and college students, Elizabeth worked to help improve living conditions and education in various countries in Southeast Asia.
Elizabeth feels at home at Saint Mary's and enjoys the sense of community she experiences here. "Everyone has been extremely kind and welcoming," she says. "There has been a real effort to make sure each person feels comfortable at Saint Mary's—to the point where people regard it as home. The upperclassmen really try to help new students get the hang of the college life and point out where to find things, as well as pass on the old legends and traditions."
In class, Elizabeth enjoys learning from her professors and appreciates how cooperative and understanding they are. She says professors are willing to make time for students outside of class, as well as provide helpful information. "Every teacher I've had to talk to has been more than helpful in suggesting alternative methods of study and providing helpful websites and just being there to discuss the materials that we went over in class," she says. "Its nice to know that I'm viewed, not as just another tuition check, like I might be at a big state school, but as a student and a person."
Elizabeth loves the challenging academics as well as the Saint Mary's community. She says, "Saint Mary's provides an academic learning environment where women are encouraged to step outside of their comfort zone in order to become more confident and productive members of society. Each woman here becomes an individual with a sense of purpose, self-respect, and moral fortitude that is reinforced by the environment found at Saint Mary's."
—Alicia Smith '12
Globetrotter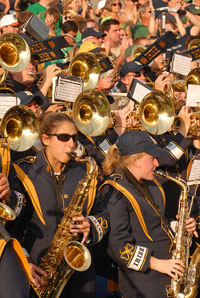 Julie Hagopian (left) is well-traveled
and talented. She plays the sax
in the Notre Dame marching band.
A junior-year excursion to China left Julie Hagopian with more than a lingering craving for jaozi (steamed dumplings). It compelled her to make her studies at Saint Mary's, and her future profession, more "China-centered."
Julie went to China for three weeks with the College's China Summer Program. Along with other students, she toured Chinese landmarks including the Forbidden City, the Great Wall, and Tiananmen Square. During the trip Julie was enrolled in Professor Alice Yang's History of Chinese Women course, which, she says, satisfied a requirement for her history major, a requirement for her Chinese minor through the University of Notre Dame, and her own curiosity.
Julie has always been intrigued by other cultures. "I have fallen in love with the Asian cultures," says the New Jersey native. She hopes to roll her experiences and her academic success—which includes a second minor in advertising—into a future with the British Broadcasting Corporation (BBC). "The BBC is my goal because they work in many countries, three of which I speak the language for," says Julie, counting her native English and her second language, Spanish, in addition to Chinese.
Though a globetrotter at heart, Julie has made herself at home in the Saint Mary's/Notre Dame community. She belongs to several student clubs, works three part-time jobs, and is a proud member of the Band of the Fighting Irish. Playing the saxophone at football and hockey games has given Julie a real sense of the community of which she's thankful to be a member.
She says that's the best part of being a Saint Mary's student. "I have all my Saint Mary's friends, the friends I went to China with, my saxophone section family, my work family, the list goes on and on," she says. "It's the camaraderie that cannot be found on any other college campus that makes me love Saint Mary's so much."