Spanish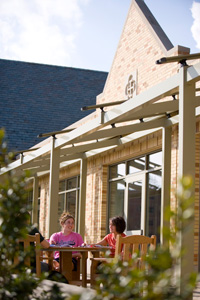 As a Spanish major at Saint Mary's College, you'll acquire proficiency in the four basic language skills: listening, speaking, reading, and writing. You'll gain broad knowledge and appreciation of the literature and culture of Spain and Latin America. By studying abroad through one of Saint Mary's programs in Spain or Latin America, you'll have the opportunity to immerse yourself in the language and culture.
Advanced courses will take your language skills to the next level through the study of literature, theatre, film, and culture. Classroom discussion and interactive work in the Language Learning Center will build on your strong foundation.
If you're interested in teaching Spanish, you can take courses leading to secondary education certification.
Writing in the major
At Saint Mary's, Spanish majors learn to communicate with precision and style in their language of study. You will work closely with faculty, sometimes revising and rewriting drafts, to develop strong writing skills in Spanish. By completing the portfolio requirement for the Spanish major, you will also fulfill the advanced writing proficiency requirement at Saint Mary's College.
Senior comprehensive examination
In the final semester of senior year, you'll have the opportunity to demonstrate your knowledge of the literature and culture of early and contemporary Spain and Latin America through written and oral examinations. Your professors will draw exam questions from the material covered in courses for the major, evaluating your answers both for linguistic accuracy and content. For the essay portion of the senior comprehensive exam, you will focus on two areas of your choice.
Hands-on learning
At Saint Mary's, you'll have countless opportunities to improve your Spanish. You can immerse yourself in the language and culture of Spain or Argentina through Saint Mary's academic year or semester programs in Seville, Spain or Cordoba, Argentina. You may also participate in semester break and summer programs in Latin America and Spain.
On campus you can join the Spanish Club, which promotes conversation and cultural awareness through films, lectures, literary readings, social events, and other activities. You can become a club officer and work closely with your Spanish professors to encourage your classmates to study abroad and experience the language and culture of the Spanish-speaking world. Every week, you can improve your Spanish through lunchtime conversation at the Mesa Española in the Dining Hall.
Saint Mary's Spanish majors have frequent opportunities to develop their language skills through volunteer work in the local Latino community. Imagine tutoring children who are learning English at a community school, or joining the worship services of a local Hispanic parish. Saint Mary's students also work as tutors in local high schools, and strengthen their language skills through jobs and internships where Spanish is required.
Careers
In today's global economy, many employers give preference to job candidates with foreign language experience. As a Saint Mary's Spanish major, you can prepare for a variety of careers in education, communications, business, law, government, and many other fields. Many Spanish majors continue their studies in graduate and professional programs around the country.