Religious Studies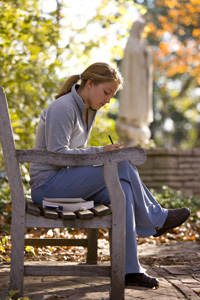 Under the leadership of Sister Madeleva Wolff, CSC, its third president (1934–1961), Saint Mary's College became the first women's college to offer an undergraduate degree in theology, and the first Catholic college to award advanced degrees in theology to women. Today, the tradition of the open study of religion and serious theological inquiry still thrives.
The religious studies program invites you to explore big questions about life, death, love, sin, freedom, grace, peace, justice, God, and the human community. Christianity, and specifically the Catholic tradition, are the focuses of the program.
"It's a real privilege to teach students who are interested in what they're doing and to hear them make connections. The students are just thirsty with great questions, and the Religious Studies faculty members are incredible. Saint Mary's is a good fit for me." —John Fotopoulos, professor
In conjunction with Campus Ministry, the Department of Religious Studies offers a Lay Ministry Program. The lay ministry program offers courses, workshops, and supervised experiences in various aspects of ministry. At the time of graduation, students who have successfully completed the program will graduate with a minor in Religious Studies and be recognized at the Religious Studies Hooding Ceremony.
Writing in the Major
You can complete the Advanced W in Religious Studies by assembling a portfolio of three papers demonstrating your ability to read theological literature with sensitivity, rigor, and understanding, and to engage in theological writing with insight, clarity, and persuasion.
Senior Comprehensive Examination
As a major in Religious Studies you take a two-part comprehensive examination in your final year. The exam tests the your breadth of knowledge in Religious Studies and your facility in theological reflection. One part covers historical materials; the second examines contemporary sources. Each test consists of three essays. You prepare your bibliography and test areas in consultation with your academic advisor and other members of the Religious Studies faculty.
Hands-on Learning
At Saint Mary's, students are encouraged to learn and live their own religious traditions while understanding and exploring the overall study of religion and theology. Religious Studies at Saint Mary's isn't simply reading or studying the Bible. Whether it's faith in action, religion and politics, religion and literature, or understanding and exploring the afterlife, you will be encouraged to ask questions and participate in discussions. Some of our students even participate in supervised ministry or teaching religion in the local community. The Greece Summer Study Program is an 18 day excursion that takes students to Greece, enabling them to immerse themselves in the surroundings of the first Christians and providing them with an opportunity to understand the world these early Christians lived.
Careers
Most students choose the major because it is fascinating and rewarding and, as an inherently interdisciplinary field, it is an ideal liberal arts major. As a result, Religious Studies alumnae pursue graduate work, post-graduate service, and a wide variety of careers, including teaching and ministry, as well as other fields that require the ability to read critically, think analytically, and write adeptly. Many students find that Religious Studies complements other majors, enhancing their knowldege and broadening their worldviews and career options.