Alumnae Profiles
Spiritual Quest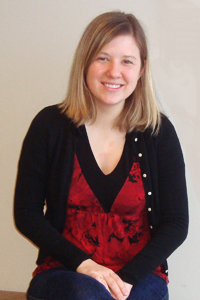 Imagine having dinner with your hero. Who would it be? For religious studies alumna Meghan Larsen '09, it's an easy question to answer: theologian Elizabeth Johnson. And instead of a what-if scenario, it became a reality for Larsen when she and Sarah King '09 were invited to attend a dinner with Johnson at Saint Mary's. The dinner was held in conjunction with the Center for Spirituality's (CFS) Quest Project Fall Lecture Series in 2008 featuring Johnson's lecture, The Quest for the Living God.
"I was honored that Dr. Kathleen Dolphin (CFS director) asked me if I would like to meet with Elizabeth Johnson," says Larsen. "She [Johnson] gives such hope to the future of the church and really tries to build many bridges between cultures, faith, traditions, and people."
Johnson's teachings were a part of Larsen's senior comprehensive, comparing Johnson's work, Friends of God and Prophet's, with theologian James Cone's work, The Spirituals and the Blues. "Both theologians show how many individuals continue to misinterpret certain individuals' lives and some theological concepts. They focus on what is called memory restoration, where they try to bring truth to ideas that have been misinterpreted throughout history," explains Larsen. "Johnson does this with the Communion of the Saints and Cone does this with black spirituals."
Larsen is originally from Coudersport, Pa., and has two older sisters who also attended Saint Mary's. She says she was determined not to follow in her sisters' footsteps, but found that Saint Mary's was the best fit for her. "I loved my sisters' friends and was excited to meet some of the same type of amazing individuals. I was also attracted to the small class size and personal attention from professors," says Larsen.
Larsen has a long list of favorite classes and professors, but she notes how professor Joe Incandela challenged her academically, and how professor Beth O'Connor fostered her love of psychology. She also speaks highly of her year-long study abroad experience in Rome, where she found Father Mark Attard to be one of the most intelligent men she has ever met, yet one of the most humble. "I was sad when class was over every time," says Larsen.
Upon graduation, Laresen was recognized for her volunteerism and contributions to the College community with the Lumen Christ Award. After graudation, she accepted a position with the Pacific Alliance for Catholic Education (PACE), a teaching-service program. Larsen is teaching high school students in Ogden, Utah, and will receive a master's degree from the University of Portland.
"I [was] ready to engage in the academic work of graduate level classes because Saint Mary's challenged me academically," says Larsen. "Saint Mary's taught me how to use my gifts for the good of humanity and that is why I decided to teach."
Living Out Her Faith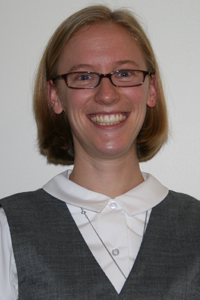 Alumna Katie Press '05 is on her way to becoming something that is a little less common for women today. She is working toward becoming a religious sister. Since August, Katie has been living with the Sisters of the Apostles of the Sacred Heart of Jesus in Hamden, Conn. She is known as a postulant, on her eight-year journey to becoming a sister. "In some sense I've always felt called to be a sister. Yet hearing this call and understanding what it might mean for my life took a while to realize," says Katie. "But gradually as I met sisters, starting at Saint Mary's, and then into graduate school, I began to see the joy they lived out through their vocation."
The Cincinnati, Ohio, native majored in religious studies (RLST) and minored in anthropology and psychology. She was initially attracted to Saint Mary's because it was far from home, it snowed in the area, it was a Catholic school, and she could study abroad. But the ultimate turning point for her was a campus visit and spending the weekend with someone who was her complete opposite. "She was involved in Student Government, listened to different music than I did, and was very outgoing and wore tons of makeup. I had such a wonderful time with her," recalls Katie. "When I left I thought to myself, 'If I had a good weekend with someone who was so different from me, I will definitely have my own place here.'"
Katie went on to get her Master's of Divinity degree from Aquinas Institute of Theology this past May. While at Saint Mary's she was active on campus, leading tours and hosting prospective students, and as a member of the Board of Governance. She also studied abroad in Maynooth, Ireland, a confidence-building experience. "I had a lot of responsibility—budgeting money for food and travel, learning how to live with people from other cultures and backgrounds, and navigating my way through Europe on different trips. I did so much growing up, and saw so much of the world, that I don't know when else I could have done that in my life," says Katie.
During her senior year she conducted an independent study for psychology with Professor Carrie Call, where she observed a religion classroom at a local Catholic school. This led to her discovering a method of teaching religion to children, the Catechesis of the Good Shepherd. Also crediting psychology professor Beth O'Connor, Katie says, "I found something that combined my two loves—young children and religion."
Katie also credits the RLST department for helping her prepare for today. "Saint Mary's gave me a great passion for learning," says Katie. "My education at Saint Mary's gave me the confidence to pursue my master's degree . . . Now I'm back in the classroom again, taking a psychology course to hopefully attain state certification so I can teach."
Katie is presently studying the history of her community and what it means to be a sister, as well as participating in the different ministries the Sisters are involved in. "The goal of this year of my life is to deepen my relationship with Jesus. Ultimately, it is to become a better Christian," says Katie.