Student-Designed Major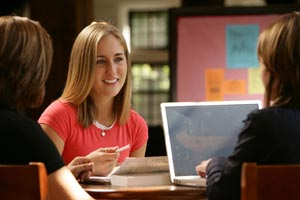 The Student-Designed Major (SDM) enables qualified students, with advising, to design an independent, interdisciplinary course of study outside the traditional department structure at Saint Mary's. If you are self-motivated and academically determined, we invite you to reach your educational goals through a combination of courses from existing majors and minors.

This is a highly ambitious program, and it's not for everyone. The SDM is offered to independent students with specific educational objectives, and passion for those objectives. Working with faculty, you will develop your own interdisciplinary degree proposal, tailored to suit your specific interests and explore your chosen fields.

As an SDM you will embark on a journey of your own making across the College curriculum. Guided by two faculty advisors, you will experience the independence of learning "outside the box." You will explore the interconnectedness of knowledge from varying disciplines, and direct your own course through an academically dynamic program.

"Doing a student-designed major was great because it allowed me to be my own scholar. I was able to look at issues and tailor my education in a way that really fit me and my interests." —Ashley Ingram '07, Women's Studies, Religious Studies, and Political Science interdisciplinary major

Writing in the Major
As an SDM student you will complete various kinds of writing assignments based on the courses that comprise your major. Some of these assignments may include case studies, essays, fiction, reflective papers, reviews, and research papers.

Senior Comprehensive Requirement
All Saint Mary's students fulfill the Senior Comprehensive requirement.

Past Senior Comprehensive projects include:
"The Mill in Medieval Ireland: A Study in Liminality"—Katherine Frazier '08
"Cultivation: Four Independent Island's Production, Family, and Faith"—Cansandra Kruse '07
"Addressing Racism in the Women's Movement"—Amanda Schramm '06

Hands-on Learning
You may find that the many opportunities for hands-on learning at Saint Mary's complement the learning objectives of your own particular SDM. These include internships, service, or field study outside of or in connection with your courses.

Careers
Past SDM students have gone on to pursue graduate school and careers in different fields. These include anthropology, politics, service positions, social work, teaching, and many more.