Student-Designed Major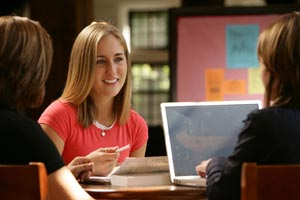 If you're self-motivated and academically determined, we invite you to reach your educational goals through a combination of courses from existing majors and minors. Our Student-Designed Major (SDM) enables qualified students, with advising, to design an independent, interdisciplinary course of study outside the traditional department structure at Saint Mary's. 
The Experience
This is a highly ambitious program, and is offered only to independent students with specific educational objectives, and a passion for those objectives. Working with faculty, you will develop your own interdisciplinary degree proposal, tailored to suit your specific interests and explore your chosen fields.
The Requirements
As an SDM, you'll embark on a journey of your own making across the College curriculum. Guided by two faculty advisors, you'll experience the independence of learning outside the box. Explore the interconnectedness of knowledge from varying disciplines, and direct your own course through an academically dynamic program. You'll also fulfill the Senior Comprehensive requirement. 
The Writing
You'll complete various kinds of writing assignments based on the courses that comprise your major. Some of these assignments may include case studies, essays, fiction, reflective papers, reviews, and research papers. 
The Results
Past SDM students have gone on to pursue graduate school and careers in different fields, including anthropology, politics, service positions, social work, and education.