Alumnae Profiles
Major By Design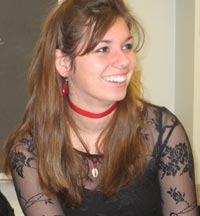 When alumna Renee Woodward was a sophomore at Saint Mary's, she declared a major that was off the beaten path. She combined her interest in communication and gender studies into a student-designed major (SDM) in communication studies and women's studies. "I had the luxury of taking authority over my education," she says. "Obviously, I was advised by the amazing faculty at Saint Mary's, but ultimately how I chose to learn was up to me."
Woodward worked with a SDM committee, which included two faculty advisors, to design a major that best suited her interests and career goals. This meant she would be exposed to a broader range of campus departments and courses than she would in a traditional major. "I had the opportunity to learn from a great variety of professors in different disciplines, maximizing the ideals of a liberal arts education," says Woodward. It also meant that she was faced with the responsibility of achieving very specific academic goals.
Luckily, Woodward had her SDM committee faculty advisors who guided her through the completion of her major. She also found a special faculty mentor in Assistant Professor Terri Russ. "I truly admire Dr. Russ's dedication to women's issues, her honest style of teaching, and the advice she gave me in the last several weeks of my senior year," Woodward reflects.
Woodward's involvement with the Saint Mary's community and her close relationships with faculty and staff led her to several leadership roles on campus. She took part in theatre productions and in her senior year acted as Women's Issue Commissioner for the Board of Governance (BOG), as well as director of the Women's Resource Center.
Her experience as an SDM exposed Woodward to courses she loved like Social Construction of Gender, History and Criticism of Public Address, and Female Beauty taught by Dr. Russ. The SDM sent Woodward down a career path that has led her to a job in politics. "I graduated in an election year and I've always had an interest in politics," says Woodward.
In her most recent position in Grayslake, Ill., Woodward acts as Field Organizer for Melissa Bean for Congress. When asked how Saint Mary's prepared her for this type of work, Woodward responds with her desire to change the world. It is a desire she says was nurtured in her by her Saint Mary's professors and the College community.
"I believe in the inherent good of people and I want to work towards that good. I want to work towards and inspire others to work towards the betterment of our communities, our families, and our country. I want the women I meet to see themselves as beautiful and good enough; I want the children I meet to have the opportunities I have had; and I want everyone I meet to work for equality and social justice in their own lives." That, she says, is how people can create change and make a difference in the world.
Outside the Box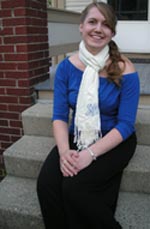 For Theresa Klear, learning is a lifestyle. Whether she's in Italy or Columbus, Ohio, the Saint Mary's alumna makes the most of every life experience. She made the most of her academic goals at the College when she participated in the student-designed major program. Klear majored in anthropology and literature. She also picked up an English writing major and a minor in Italian along the way. That's where her love for Italy enters in. Klear studied abroad in Rome her sophomore year. "There is nothing that has impacted my studies, goals, or life more than this experience," she says. "It is one thing to learn about other cultures, customs, or languages in a classroom and another to learn from people from different walks of life."
On this trip, Klear took her interest in anthropology to Rome and came back a changed woman. She experienced another culture firsthand, and learning about how other people live helped her decide how she wants to lead her own life. "My experience at Saint Mary's—the classes, studies abroad, volunteering, and participation in campus organizations—all taught me to look past myself toward the bigger picture, and encouraged me to continue to reach out," she says.
That applies to the student-designed major Klear completed. Thinking outside the box, she developed cross-disciplinary plan that allowed her to combine her love of literature and different cultures. "Being at Saint Mary's and working towards a student-designed major helped me realize that no field is completely separate from the rest," says Klear. "You can apply the skills and ways of thinking you learn in one field to other fields, especially with Anthropology."
Klear continues to make these connections in her work at Allodial Title Company in Columbus, Ohio, while she looks forward to obtaining her Master's in Fine Arts (MFA) degree. She hopes to continue her studies in anthropology and folklore in graduate school. As she begins to pursue her next learning experience, Klear appreciates the kind of thinking that Saint Mary's encourages in its students. "You're not taught to think inside a bubble," she says. "You're taught how to pop it."
Body in Motion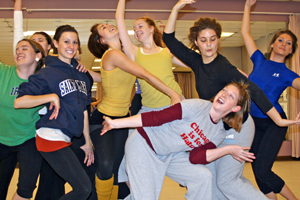 "Use the legs, free the arms, toes around, down and up! Cut it through, square off the hips, challenge yourself." These are the commands delivered by dancer and Saint Mary's alumna Jaclyn Thompson '04, while instructing a class of dancers in her return to the campus during a brief residency as a guest artist and professor. The students were focused, energized, and moving. "The more space you take up the easier it is to hold yourself in space," she continues. And then to reiterate she says, "The more space you take up, the goo-ier it is."
Thompson explains this by using mathematical concepts. She can't sit still and has to go through the movement to illustrate what she means by "gooier" or "luscious," another word she uses to convey how "the body is on a 3-D axis, with the framework around you. You can touch and feel the axis."
Thompson completed a student-designed major in movement studies, integrating math, dance, and art. In 2003 she and dance professor Indi Dieckgrafe were recipients of a Student Independent Study and Research (SISTAR) grant, and the two traveled to Europe to research "Labanotation," a discipline named for the dancer Rudolf Laban. The system records dance movement, using "math as a way to frame the movements of the body," explains Thompson. "It's really special to find a link between math and dance."
Thompson has also been a sabbatical replacement for Dieckgrafe. "She is such a talented and very promising young artist, both as a performer and a choreographer," says Dieckgrafe.
In addition to dance, Thompson was active on the track and field team during her first year at Saint Mary's, setting a pole vaulting record which still stands (there is no longer a track and field team), and she was on the golf team her junior and senior years. Thompson also studied dance in Ireland during her sophomore year, traveling right after 9/11. "It was a really scary time to be away from your family, and in a new place," says Thompson. Looking back on the experience she says, "It was the best year of my life."
Today Thompson works at Movement Research in New York City. While in the Midwest, she'll be performing in Chicago. "This is the way people work today," says Thompson of her schedule. "Project based."
Thompson's return stint included two days of intensive choreography and dance instruction for dancers in the Dance Ensemble Workshop. She'll return in February when the ensemble performs. Thompson also worked with advanced dance classes during her residency. It's nice to see all the good here and be back to see how committed they are," says Thompson of the students. She believes in supporting the College, and says of her return, "It's my way of giving back."