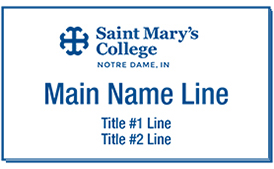 Please fill out the following form completely and hit submit. For multiple badges with different names to be sent to the same location, please hit the option "Add Another Badge" below. You can select this up to six times before you have to fill in a new order form.
Name badges are $7.50 (+ shipping) and take generally 10-15 days from order to delivery.
The standard badge is 3" long x 2" high, white with blue lettering, as pictured.