"Faith Always, Action Now Campaign" Concludes with $105 Million Raised, Exceeding $80 Million Goal

Contact:
Gwen O'Brien
Director of Media Relations
Saint Mary's College
(574) 284-4579
January 30, 2015 (Notre Dame, Ind.)—Saint Mary's College proudly announces the conclusion of Faith Always, Action Now, a comprehensive campaign, which raised a total of $105 million in gifts and pledges, nearly $25 million more than the initial goal. The campaign began in mid-2008 and concluded in December 2014. It is by far the largest fundraising campaign in Saint Mary's 171-year history of educating women.*
"This remarkable achievement is because of the generosity of our alumnae, friends, faculty, and staff who made gifts and pledges to the campaign that exceeded the initial goal of $80 million," said Saint Mary's College President Carol Ann Mooney '72.
Mooney noted that generations of students to come will have access to a Saint Mary's education and experience enhanced educational opportunities here.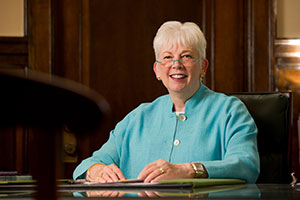 Saint Mary's College President Carol Ann Mooney"Building endowment for scholarships was a key component within the campaign and I am happy to report that we received $35 million for endowed scholarships," Mooney explained in letters to the Board of Trustees, faculty and staff, alumnae, and donors.
"This endowment will strengthen our ability to provide financial assistance for the increasing numbers of academically talented young women for whom a Saint Mary's education is financially unattainable."
The President offered this recap of the campaign categories and gifts received through the Faith Always, Action Now Campaign.
Category

Purpose

Gifts received

Annual Fund

Annual support for current operations

 $19 M

Donor Designated Expendable Funds

Current scholarships, grant funds, athletic operations, department funds

 $14 M

Facilities

Angela and Science Building

 $30 M

 

Endowed Scholarships

Donor designated specific scholarships

 $35 M

Endowed Donor Designated Funds

Professorship in Nursing, Library, student experiences, faculty awards

   $6 M

Gifts to be Designated by Donors

 

    $1 M

Total

 

$105 M
In addition to scholarships, the Faith Always, Action Now campaign will benefit students in a myriad of ways:
Improved Science Facilities: Improvements to Science Hall laboratories and study spaces are coming to fruition thanks to a combined gift of $10 million from Clayton and Mary Ann Mathile and their daughter, Jennifer Mathile Prikkel '95. A new greenhouse was constructed last summer and renovations to the main building start this summer.
New Research Experiences for Science Students: Chemistry and biology students have spent 10 weeks each of the last two summers conducting research with faculty as a result of the Marjorie A. Neuhoff Endowed Summer Research Communities established by a multi-million dollar bequest by the 1961 alumna.
Real World Learning that Serves Community: Students majoring in communicative sciences and disorders and those in the new Master of Science in Speech Language Pathology program will benefit from practical experience in the campus-based Judd Leighton Speech and Language Clinic dedicated in April 2014. The clinic, which provides much needed speech and language services to the public, and the establishment of the master's program are thanks to a $1 million grant from the Judd Leighton Foundation, Inc. Additional donors also invested in the undergraduate and graduate speech and language programs.
Talented and Student-Focused Faculty: Improved academic facilities and experiences are hollow without talented faculty in place devoted to student learning and faculty/student cooperative research. Four newly established annual awards will recognize professors. In addition, the Marjorie A. Neuhoff Endowed Professorship in Nursing will ensure the College retains the best talent to teach and lead the Department of Nursing's undergraduate and newly announced Doctorate of Nursing Practice programs.
Graduate Programs in In-Demand Fields: Students have three new graduate programs to consider at Saint Mary's. In addition to the Master of Science in Speech and Language Pathology, the Doctorate of Nursing Practice and the Master of Science in Data Science programs were announced this month. The data science program prepares professionals to analyze big data and lead significant changes in data analytics. It's made possible through a $1 million grant from the Lilly Endowment, Inc. to expand opportunities for graduates to find meaningful employment in Indiana (Lilly Endowment Initiative to Promote Opportunity through Educational Collaborations, Round III, A Call to Action).
Enhanced Athletic/Wellness Environment: Students will enjoy the expansion and renovation of the Angela Athletic & Wellness Complex, which will occur in phases at a total projected cost of $25 million. The campaign raised $19.5 million for the project. This includes the completion of two separate challenge grants, sponsored by Tony and Sarah Belanger Earley '71 and Drs. Don and Susan Fitzgerald Rice '61. These matching grants provided $1 for every $2 pledged and helped raise $6 million for the project. Sarah Earley and Susan Rice are two of the campaign's tri-chairs. Groundbreaking on the athletic fields, the project's first phase, will take place this spring.
Mooney credited the Sisters of the Holy Cross for their vision for Saint Mary's, while again showing gratitude toward those who gave to the Faith Always, Action Now campaign. "Long before American women dreamed of social, legal, or political equality, the Sisters of the Holy Cross founded Saint Mary's, and the College is now in a stronger position to fulfill the dreams of our founders."
*There have been only two other comprehensive campaigns at Saint Mary's College. The Sesquicentennial Campaign (1991-1998) raised $36 million and the Excel Campaign (1981-1986) raised $25 million.
About Saint Mary's College: Saint Mary's College, Notre Dame, Ind., is a four-year, Catholic, residential, women's liberal arts college offering five bachelor's degrees and more than 30 major areas of study, such as business, nursing, art, chemistry, and social work. By the fall of 2015, pending accreditations anticipated in the spring, Saint Mary's College will offer two graduate degrees: a Master of Science and a Doctorate. All programs that fall under these degrees are co-educational and include a Master of Science in Data Science, a Master of Science in Speech Language Pathology, and a Doctorate of Nursing Practice. Founded in 1844 by the Sisters of the Holy Cross, Saint Mary's College's mission is to educate students, develop their talents, and prepare them to make a difference in the world. Saint Mary's College ranks among the top 100 Best National Liberal Arts Colleges for 2015 published by U.S. News & World Report.