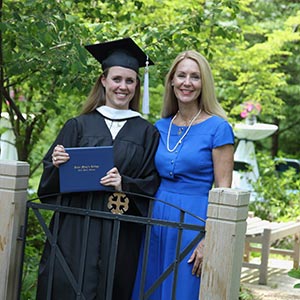 Julie Herder '13 and Sally Herder '78
"As a little girl, she would always ask to try on my Saint Mary's ring. Seeing her wear her very own makes me extremely proud," says Sally Herder '78. Her daughter, Julie Herder, graduates from Saint Mary's with a BA in communication studies in May 2013. College graduation is an important milestone, but sharing an alma mater adds a special meaning to the occasion. "The long-standing traditions at Saint Mary's are very, very special, and being able to share that with a daughter is something that I wish every mother could experience," Sally says.
Separately, they experienced the many traditions of Saint Mary's, like the Madrigal Dinners at Christmas, late night in the dining hall during finals, wonderful walks around the beautiful campus, and senior comps. And together, they share the memories they've each made during their years at Saint Mary's. Mother and daughter both found quiet areas to study in Le Mans− Sally's on the floor in the third floor Chapel and Julie's was in the back room of Stapleton Lounge.  "Of course, there is nothing like the experience of attending the ND football games and being among the students cheering the Irish on to victory, and finding comfort at the grotto when life got a little tough," Sally says.
They also discuss the differences, too. "Julie was able to experience wireless service in her room. We didn't have any idea of the technology that was coming," says Sally. Since Sally's time, many courses and majors have changed, like global studies, business development (entrepreneurship), plus student research opportunities like the patent pending for detecting counterfeit drugs. "Julie had the opportunity for a wonderful internship at Notre Dame in sports information and media, and her job as a sports photographer for the Observer was an unbelievable experience for her and helped her get her first job out of college with the Golf Channel," says Sally.
Sally noticed that Julie has become more independent and confident, which are the same transformations Sally experienced during her years at Saint Mary's. "Besides those qualities, Julie has become more focused on what she wants to do in life and what direction she wants to go in, both from a career standpoint as well as a personal one," says Sally. "I hope she continues to take the gifts that a Saint Mary's education has given her−independence, confidence, a sense of social responsibility, and a strong faith−out into the world."
Seeing Julie graduate from Saint Mary's, Sally feels she has come full circle. "I know that after thirty-five years, if I had to do it all over again, I would choose Saint Mary's. I hope Julie will feel the same. Once a Belle, always a Belle."