Department of History
It's More Than Just Textbooks
Students who enjoy studying history are often captivated by the stories of the past. But if you study history at Saint Mary's, fascinating stories are just the beginning of your education. Ask historians why they study history, and they will often begin with a deeply personal question. Why am I the person I am? How did the community in which I grew up shape me? Where did the attitudes and ideas that I see in the people around me come from? What are the attitudes and ideas of people of varied cultures around the globe? At Saint Mary's you will join a community of students and professors asking those profound and often personal questions.
In this vibrant community, you will learn about people, cultures, and events, in addition to learning how to do oral history and contribute transcripts to local archives, study visual and material culture, and interrogate archives and documents, all in pursuit of the questions that you find important.
94%

of graduates are employed full time, enrolled in, or have completed graduate school

18

average size of all Saint Mary's classes

73%

of history majors study abroad
Coursework in history will prepare you to live a thoughtful life in addition to laying the groundwork for a variety of careers. The communication, research, and writing skills you gain from studying history help prepare you for a range of successful career paths. Our recent graduates are attending law school and graduate school in a variety of disciplines, along with teaching, working in the Peace Corps, corporate world, libraries, museums, among many other careers. You can pair your history major with virtually any other major such as English, philosophy, religious studies, business, theatre and more. It's your major. It's your life.
"My parents have always said invest in something you're passionate about, so I chose history."
—  Emily Sullivan '17
It's More Than Just Term Papers
In your classes, you will be encouraged to ask questions, to look at why something occurred, rather than just what happened. You won't just be lectured at; you will be asked to participate in a dynamic learning experience. Through a variety of primary sources such as literature, music, advertisements, oral history, and other visual culture, your understanding of a period of history will extend beyond the pages of books. Assisted by your professors, you can pursue your ideas and questions beyond the classroom and develop an original research topic. Students have presented their research at conferences and in publications where you get to share your discoveries with the world.
Ali Tipton '18, Adrienne Whisman '17, and Katlynn Dee '17 were encouraged by Jamie Wagman, assistant professor of history and gender and women's studies, to do collaborative research and present in October 2016 in Seneca Falls, New York.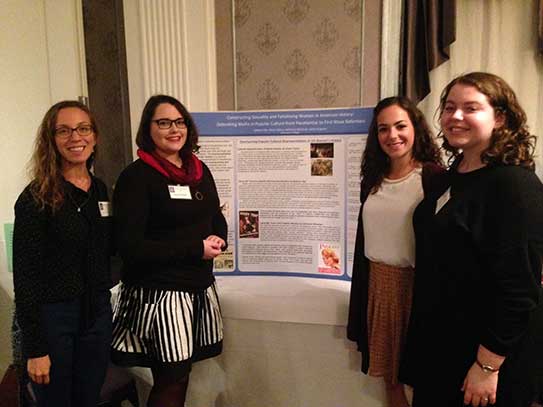 Read more about their research project here. >>
It's More Than Just Office Hours
The design of Spes Unica Hall allows students to have access to professors by stopping by their offices even outside of scheduled office hours. Nestled among classrooms, professors keep their office doors open as they work and encourage students to stop by before or after classes. Your history professors will encourage you to take that deep dive into a specific topic, period of time, or event that interests you. They will link you with resources to bolster your research and serve as mentors throughout your four years at Saint Mary's and even long after.

It's Not Just on Campus
The history department offers a summer opportunity to travel to Europe — London, Paris, Dublin, and Edinburgh — for a month. Every other year, the program shifts to Central Europe. The purpose is to introduce students to the historical places of Poland and the Czech Republic as well as Vienna and Budapest. City walking tours allow you to experience places of historical importance in real life rather than reading about them in a textbook. As a history major with a flexible curriculum, you will have ample time to study abroad whether you choose the summer program or a typical semester-long program. You will be encouraged to explore the world, to broaden your perspective. And that exploration deepens your understanding not only of history and past events, but of your place in the world and who you want to become.
Specializing in Women's History
A concentration in women's history can prepare you to explore narratives, documents, and research that has been historically ignored and devalued. Through courses that focus on women's leadership, women's work, and the way in which we understand gender throughout the world, you'll gain a thorough understanding of women from Modern China to the US suffragists. You'll explore the relationship between gender and politics, gender and religion, and gender and the arts. You'll come to understand how gender also intersects with race, class, sexuality, religion and geography. Set a course for your own career in politics, law, education, government service, business, and as a mentor for the women who will follow you.
Related Areas