Apply to Saint Mary's - Transfer Students
Application Requirements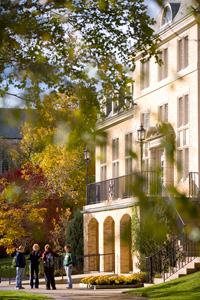 Transferring to Saint Mary's is easy! Just start with the Common Application and send us the following requirements:
College Report or Academic Evaluator Recommendation

The College Report can be completed by an academic official, like the Registrar's Office or an Academic Advising Office

Official final high school transcript(s)
Official college transcripts (from every school attended, if multiple)
Course descriptions

These short course descriptions can be copied off the college's online course guide, pasted in a word document or e-mail, and e-mailed directly to us. In some cases, we may request syllabi in addition to these descriptions.

Self-reported SAT or ACT scores (if applying with fewer than 24 college credits taken after high school) unless you plan to apply Test Optional (if so, please email lromeo@saintmarys.edu after you apply letting her know you'd like to be considered without your test scores). If you apply with self-reported scores, we will need your official scores if you decide to enroll at Saint Mary's, so make sure you report those scores accurately.
Mid-term Report

Don't worry about sending in your mid-term grades, but please note that we may request this report once we begin to review your application.
All application materials should be directed to:
Office of Admission
Saint Mary's College
Notre Dame, IN 46556-5001
* For Test Optional candidates: The Office of Admission reserves the right to request additional documents, such as an academic writing sample and/or a teacher recommendation, if we believe it will give us a clearer sense of your preparation for Saint Mary's during the holistic review process.
Once all required information is received, your application will be reviewed and we'll send you a decision within two to four weeks!