When in Rome
Adventures in Study Abroad
By Shannon E. Brewer '03

You know the old saying: when in Rome, do as the Romans do. Meagan McHugh '08 and Stephanie Pupo '08 were determined to do just that when they boarded the same flight from Philadelphia to Rome, Italy. Little did they know that their shared passion for the Roman people and culture would cement friendships—including their own—that keep them coming back to Rome beyond their year-long, study-abroad experience.
"We call it our city, and we're proud to show it off," says Pupo, a senior English writing major reflecting on her time in Rome. She and McHugh took classes together during their first semester in Rome and they became fast friends. The two Italian minors encouraged each other to exercise their knowledge of the language, going into restaurants and ordering in Italian and speaking Italian with the locals in museums and shops. Their intention paid off, Pupo says, in "ample opportunities to make lasting friendships."
On a recent break the two friends returned to Rome, where Saint Mary's boasts its own campus in the heart of "the eternal city." The campus is headquartered at Hotel Tiziano, where students can live for one or two semesters during their sophomore year. Nearby are classrooms, faculty offices, a chapel, and a library.
"Hang a right," says McHugh, "and it's ten minutes to the Roman Forum and the Coliseum. Hang a left, and in 15 minutes you're at the Vatican." The Pantheon is three minutes from the front door of the hotel, she adds. The proximity of these historical Roman sites sets the stage for students to immerse themselves in Italian culture, history, cuisine, music, and language.
The whole experience, according to Professor Peter Checca, has a "significant impact on students' personal, spiritual, and intellectual growth." Checca, who coordinates the Rome program from the Saint Mary's home campus, encouraged McHugh and Pupo to spend their sophomore year in Rome. "They learn how to love learning there," he says. "They come back more independent and self-confident."
The beauty of the program, says Checca, is the established presence of Saint Mary's in Rome. Since 1970, when the Rome campus first opened, hundreds of students have participated. Academically speaking, the program offers many of the same classes students would take on Saint Mary's campus, from philosophy to business to religious studies. "The same Saint Mary's academic standards apply," says Pupo.
She and McHugh agree, study abroad is experiential learning at its best. While involved in one of Saint Mary's 20 study abroad programs, students make a conscious connection between what they are learning in class and what they are experiencing out in the world. "You read about some event in history or political science or humanistic studies, and then suddenly you're there," says McHugh. "You're in the book."
According to Siqin Yang, director for international and intercultural learning, the programs at Saint Mary's are growing. "Student participation rate in semester-long programs has doubled in the past five years, from 20% to more than 40%," she says. In the past year, students have even helped develop a new program in South Africa.
The job of preparing students for their time abroad falls to Yang, in addition to the faculty coordinators of each program. Yang provides students with a thorough pre-departure orientation covering issues the students may face, such as culture shock, health and safety issues, packing, and insurance. She also gave a Maximizing Study Abroad Workshop last November, and recruited students returning from their study abroad to talk with departing students. "Students are encouraged to contact the student peer advisors or other returnees to talk about what it is like to live abroad, and the difficulties they might encounter," Yang explains.
But students are not left completely to their own devices while adapting to the lifestyle of another country and culture. McHugh and Pupo rave about the Rome campus faculty who "become like family" to their students. With their encouragement, Pupo says, she "learned to trust and be connected to a different place, a different part of the world."
Their study abroad experience continues to connect these two friends to Rome today. They have Italian friends with whom they still keep in touch. Both women read Italian newspapers and even keep tabs on an Italian cable TV channel. The experience, as with many students who study abroad, has served McHugh and Pupo, changing them from American students learning a new language, to students who "conquered Rome," as they put it, on their own.
McHugh adds, "We're already planning our next trip."
International Adventures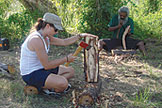 Saint Mary's offers nine study abroad programs during the academic year, and many other short immersion trips during semester and summer breaks. The following programs offer students semester- or year-long adventures in other countries and cultures.
Dijon, France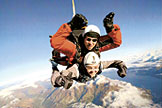 Students taking French at Saint Mary's can apply for this semester- or year-long adventure in Dijon. A historic town two hours southeast of Paris, it was the medieval capital of Burgundy. Students study all courses—from theatre to art history—in French at the Université de Bourgogne. Immersed in French culture, many students also share weekly meals with local French families.
Fremantle, Australia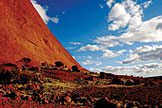 In this joint program with the University of Notre Dame, Ind., students enroll at the University of Notre Dame Australia. Campus is located in the historic port town of Fremantle, where they meet people from many places and cultures, and experience the art, markets, cafes, and beaches. One special excursion takes students on a weeklong field trip to Kimberly, where they experience life in the Outback in an Aboriginal community.
Innsbruck, Austria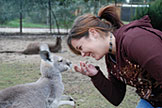 Once a central hub for routes north, south, east, and west across Europe, Innsbruck is a German-speaking city that dates back to Ancient Roman times. Students embrace its storied history, art, culture, and cuisine, in classes—all taught in German—and on the streets in the city's many festivals, parades, and celebrations. Designed for sophomores, the program begins with a special month-long German language session in Salzburg, Germany, and tours through Vienna and other cities, before students land in Innsbruck.
Maynooth, Ireland
Students in the Ireland Program experience both quiet country life and city life in beautiful Ireland. The program is located at the National University of Ireland, Maynooth, only 14 miles west of Dublin. Students attend classes with Irish students and live with them in modern apartments near the University. They are surrounded by museums, art galleries, and concert halls, all the better to soak in the local culture.
Mumbai, India
India, home of Bollywood and the Taj Mahal, has now played host to Saint Mary's students for over 20 years. Students are based in Mumbai, and attend Tata Institute of Social Sciences, located ten miles out from the bustling city. This experience includes a one-week yoga camp, service learning in the Mumbai community, and tours in and around Mumbai. Their time in India offers
opportunities to study social and economic development in India, including issues of class and gender.
Rome, Italy
Launched by a tour through Assisi, the birthplace of Saint Francis, the Rome Program is based in and around Hotel Tiziano, set in the heart of this vibrant city. Courses are designed to meet the specific requirements of a Saint Mary's education. Lessons flow directly from the pages of the textbook to the sights, sounds, and tastes of the city. Students who take part in the semester- or year-long experience can also tour southern Italy in the fall, or northern Italy in the spring.
Pietermaritzburg, South Africa
In this semester- or year-long program through the University of KwaZulu-Natal, students will study against the beautiful natural backdrop of South Africa, just an hour from the Indian Ocean. They have the opportunity to explore a variety of interests, from social justice to African literature to environmental biology. The program is based in the old-world city of Pietermaritzburg, near nature reserves and the bustling resort area of Durban.
Seville, Spain
For students in the Spain program, it's "adios" to the U.S. and "hola" to the vibrant Spanish culture in Seville. This language immersion program is located in the ancient city, where students are surrounded by rich architecture, art, and history. While studying a variety of disciplines—all taught in Spanish—students also participate in the city's many cultural, social, and religious celebrations.
Women's Studies in Europe
The Women's Studies in Europe program allows students to explore feminist theory in practice across Europe. Travel is their teacher as they conduct original field research and attend lectures at European universities from Brussels to Krakow to London. While pursuing independent research, students enroll in 16 hours of additional coursework. The program is offered each fall semester.