Stepping Out
By Natalie Davis Miller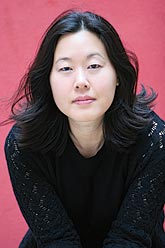 Professor Frances Hwang
photo by Alice Chen
Professor Frances Hwang placed a bag full of apples in the middle of the classroom in Spes Unica Hall. The assignment: Each of her fiction writing students was to pick out an apple and write about it. Descriptions were varied, flowing, poetic even. Exercises in writing description such as this were just a small part of an engaging fiction writing course.
Students in Frances Hwang's fiction writing class spent the fall semester crafting characters, setting, dialogue, and scenes into literary fiction that would become the beginning of a novella. Conducted in a workshop setting similar to graduate-level programs, students received positive feedback and constructive criticism from each other as well as from Hwang. As the writing on the novellas progressed, students also read classic and contemporary literature, the only textbooks for the class. The classroom instruction included in-class writing assignments, and student-led class discussions.
Professor Hwang is no stranger to good writing. In addition to a number of awards, honors, and grants, she has had a number of short stories published in literary magazines such as Tin House, Glimmer Train, the Madison Review, and the Best New American Voices. She is also the author of a short story collection titled Transparency (Back Bay Books-Little, Brown and Company, 2007), and she is presently working on a novella herself. Hwang has been a professor at Saint Mary's since 2007.
The semester ended with students submitting at least 40 pages of their novellas. Professor Hwang met with Courier to talk about how students benefit from trying their hand at fiction and how the experience complements a liberal arts degree.
How does a liberal arts degree work in the real world? How does it help students prepare for a career?
"I always think of students with a liberal arts degree as being passionate about learning for the sake of learning. They are curious about many things—art, politics, literature, history, science, religion—and their breadth of knowledge allows them to make connections, to grasp and make sense of the world from a larger perspective. Employers, I hope, will always value individuals with this kind of sensibility."
What are the benefits of studying and writing fiction?
"Fiction allows us to step outside the confines of our own lives and to identify with the lives of others. We get to meet people from all walks of life with different social and cultural backgrounds, from different time periods and countries. What I love about fiction is how it allows us to take an imaginative leap into other worlds, embark on a journey that allows us to intimately know another person's life. And then to reflect upon that life, to be moved by what happens to a character; no doubt the best fiction does this, makes us deeply consider the lives of others and develops our capacity for empathy. I'd like to think that reading and writing fiction enriches our imagination and makes us more open, tolerant human beings."
As a professor, what are you getting your students ready for?
"When I teach creative writing, what I want most from my students is that they become original, creative thinkers. For fiction to have any literary merit, I think it has to surprise us and be unfamiliar in some way. That means that as writer you have to reject anything that is ready-made, resist formulas, stereotypes, and clichés. This is harder to do than it sounds. Art values innovative, unconventional thinking. I hope that my class encourages students to become independent thinkers who will not blindly accept what they've been told or given, but who will look closer in order to try to understand the truth and complexity of anything, whether it be an idea, a situation, or another human being."
Michelle Catenacci
Major:
English Literature and English Writing
Hometown:
Westfield, New Jersey
Aspirations:
Publishing/Writing
Why i write:
"I have found writing to be a great medium to express myself in creative ways. It allows me to get lost in different characters and worlds that I normally would not experience. It also permits me to experience new ways of being and understanding through the words I put on a page."
Excerpt
from With These Hands:
Ignoring the pain, she planted her hands firmly on his chest and pushed him away before he had a chance to realize what she had said. Without ceremony and before he could get another word in, Lilly yanked off the glove on her right hand. With great care, she then removed her wedding ring from her left finger…
Desiree J. Fischer
Major:
English Literature and English Writing
Hometown:
Middlebury, Indiana
Aspirations:
High School English Teacher and Writer
Why i write:
"I write because it is my passion. It is a way for me to express myself to others who hopefully enjoy reading what I write."
Excerpt
from Mud Pies and Glitter Glue:
Kurt arrived just in time to help me dig my old blue bike out of the shed. After wading through mountainous boxes of my parents' things and climbing over various pieces of lawn care equipment, I spotted it. It was still beautiful, if not a little tired looking. It was the bike that my parents had bought me before I went to college. The bike had carried me to the majority of my classes, and when I lived in the city, it had also carried me to and from work.
Miranda Baxter
Majors:
Theatre and Philosophy
Hometown:
Mishawaka, Indiana
Aspirations:
"I plan on becoming a professional stage manager; I've set the goal of joining the Actors' Equity Association within five years of graduating from Saint Mary's. I would also like to try writing plays when I've found some kind of security in the future."
Why i write:
"I write as an escape. When I was young, I would read as much as I could and as often as possible to escape from the mundane everyday life we all live. That's not to say that I didn't enjoy life, because I did (and still do), but I enjoy escaping to different worlds, either in the sense of other peoples' lives, or even to fantastical places."
Excerpt
from Alone No More:
As concerns for Dogberry consumed his mind, he briefly forgot most of the misfortunes of the evening. He forgot the way Beatrice had turned his heart's pace up about seven notches when she walked in the door. He forgot the way he had so quickly managed to gain and lose her interest in a single hour. He also forgot how the Ginkgo trees that lined the sidewalk suddenly seemed darker and more threatening as soon as she had departed…
Sarah Sheppard
Major:
English Literature and English Writing
Hometown:
Grosse Pointe, Michigan
Aspirations:
Law or Publishing
Why i write:
"I write to express my thoughts, to free my stress and explore my imagination."
Excerpt
from A Whirlwind of Snowflakes:
On the way home from school, Katie gripped the steering wheel hard, letting her fingertips turn purple from the pressure. She watched the road intensely with her body leaning forward. She drove slowly, careful not to slide on the wet snow and lose control. Almost there, Katie repeated in her head, wondering why she decided to drive. The trip home was agonizing. It was her first day driving since his accident. She was in constant fear while in control of the wheel. Katie could hardly breathe until she pulled into the narrow driveway of her small, brick house. She waited before getting out of the car so she could recover from the drive. The light snow covering her house and the colorful Christmas lights her father hung last week were lit around the roof. Katie took three deep breaths, before going inside.
Emily Cook
Major:
Business Administration and Marketing
Hometown:
Fairfax, Virginia
Aspirations:
Publishing or Marketing
Why i write:
"Writing is more than a creative outlet for me; it's a way to express my words, thoughts, and emotions through a language that is full of literary devices and variable vocabulary. The writing classes I've taken at Saint Mary's have challenged me to try new ways of thinking when it comes to characterization and encouraged me to embrace the beauty of the present."
Excerpt
from Full Count:
Crack.
As the sound of leather making solid contact with metal broke the silence in Yale Field, Brandon unleashed a blood-curdling scream from the mound. The intended, hard, line-drive by the husky batter ricocheted off the side of Brandon's face. The ball was halted by the fleshy skin between Brandon's temple and ear. Both fell to the ground with a thud.
The audience gasped as the infield stood in position with shock written across their faces. All the players were immobile as if they were standing in hardened cement.
Kelsey Knoedler
Major:
English Writing
Hometown:
Mosinee, Wisconsin
Aspirations:
"This week? To work for a wedding magazine. But ask me next week, and I may have a different answer for you."
Why i write:
"…I don't have to think about it…I just put a pen to paper, and words come out. I don't always like what comes out; it's not always very good. But when I summon words, they come."
Excerpt
from First of May:
The clown walked nearer to Scarlet; she hid behind the giant wheels of the wagon. He slammed down his bucket and took out a cigar and matchbox from the giant pocket of his denim pants. The clown sat down on the overturned bucket, lit the cigar, breathed it in, and sighed, looking up at the stars. Slowly and softly, between puffs of the vanilla-scented cigar, the clown began to hum a sad tune. Scarlet thought she recognized it from a broken music box she had gotten rid of a few summers ago. And slowly and softly, as Scarlet leaned against the enormous wheel beneath the circus wagon, she began to drift off into a dreamless sleep.
Laura Kleinschmidt
Major:
Communications
Hometown:
St. Louis, Missouri
Aspirations:
Writer
Why i write:
"I chose to pursue a writing minor because I have always enjoyed reading and writing."
Excerpt
from Pressure Point:
Something was out of place. Something had been moved. Her chair. She didn't usually leave it sticking out like that, she always tucked it underneath her desk. Always. She tucked her chair in and looked around. Her closet? The door seemed to be standing ajar. She never left her door like that. Someone was behind her. "Hi Sam," a voice whispered into her ear. Sam whipped around and saw a face staring right back at her. Before she knew what was going on, her entire body went numb and everything went black.
Megan Sotak
Major:
English Literature and Writing
Hometown:
Cleveland, Ohio
Aspirations:
Editor, Professor, or Novelist
Why i write:
"I write because I must; within me is a need to write that cannot be ignored. Writing allows for the preservation of memories, the sharing of ideas and opinions, the exploration of something different, and the birth of new characters and new worlds. That's the short answer."
Excerpt
from A Masked Man:
As I walked, I was captivated by the storefronts overflowing with masks of all shapes, sizes, colors, and materials. There were masks with long noses, short noses, and no noses. Masks with full faces in all colors of the spectrum. Masks with feathers and bells, with crystals and ribbons. Papier-mâché masks and others made of metal, though especially delicate-looking. There were even masks of animals—elephants, pigs, giraffes, lions, camels, frogs, hippos, rams, unicorns. I had never seen such enchanting stores, never even imagined them. Some stores sold glass made on Murano Island that came in bizarre shapes, mostly wavy cones with brilliant blues and oranges, branching out from a spherical base. Shelves in windows were decorated with figurines of animals, French cartoon characters Asterix and Obelix, holiday ornaments, and flowers all made of glass. The mask and glass stores made up Venice; one store with material to hide you and one with material to expose you.
Marilynn Anater
Major:
English writing and English literature
Hometown:
Lancaster, Pennsylvania
Aspirations:
Ph.D. in English or a J.D.
Why i write:
"For me, writing is a personal experience. Mostly, writing gives me the opportunity to showcase a single instant of the human experience that I find particularly engaging or deserving of attention, and to encapsulate it permanently in the powerful medium of the written word."
Excerpt
from Testimony:
I blindly let her help me down from the witness stand and guide me away from the judge's bench. I close my eyes as we approach the defendant's table, I don't want to feel his eyes on me any longer.
Passing through the gate that separates the court arena from the gallery, I can feel a huge weight lifted off me and notice that my breathing is coming more easily. As we walk down the aisle to leave the courtroom, I see my parents dart back to their seats to grab their coats and belongings before following behind us. Yet all I can think about is how I still just want to get out, want to leave. I want to get out of the stifling room of grand columns, mahogany woodwork, and grated windows, and leave those piercing eyes behind.
Jamie Peterson
Major:
English Literature and English Writing
Hometown:
Austin, Texas
Aspirations:
Publishing, Editor
Why i write:
"I write because it feels natural. I write in hopes that one day, just one person, will be inspired to write."
Excerpt
from Exploding Grapes:
Now she had someone else's hot breath on her neck and it was making her think of him. She did not want to react wrong again. Making the first move however was not in her repertoire. She shifted uncomfortably and the hot breath left her neck. Charlotte began to relax muscle by muscle but the weight beside her on the couch did not budge. Connor was still sitting there. Charlotte kept her eyes closed hoping that Connor would think she had fallen asleep and would become uninterested.
"Charlotte, you awake? I just want to talk."