Sign Me Up
Sign Me Up
Kristle Hodges is the queen of understatement. If you ask the Saint Mary's sophomore to sum up her first year on campus, she says, "I got involved and I liked it."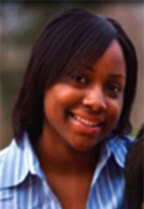 Involved? Just a little. Hodges' first move was to connect with the Student Diversity Board and the Office of Multicultural Affairs. That led to planning the annual Diverse Student Leadership Conference and working with Dream Girls, a mentoring program for local high school girls. She lent her singing talent to Voices of Faith, the Saint Mary's-Notre Dame gospel choir. And she flew to Texas for the annual Black Student Leadership Conference, a national event.
Hodges, who grew up in South Holland, Ill., also sought spiritual involvement as a first year student. "My church at home is small and very close-knit, and I get a lot out of it," she says. A preacher's daughter, she teaches Sunday school at home and didn't want to give up participating in worship services when she went to college.
At Saint Mary's, she joined a preaching group through Campus Ministry along with other students and staff. "We all preached at different events, and I did the Black History Month service. It was a great experience," says Hodges. "Being at Saint Mary's has allowed me to grow in my spiritual life."
A serious student, Hodges also got involved academically. Originally, she contemplated a biology major, but her first-year courses pointed her in directions that fit her interests and goals more closely. "English writing is my major because I've always loved to read and write. I'm also doing minors in education since I want to be a teacher, and religious studies because I have a passion for my spiritual life," she says.
Hodges is involved with one more project. Like her sister Kim—who is student body president—Kristle joined the Board of Governance as admissions commissioner. Her role will include hosting prospective students for campus visits and tours, with the goal of increasing diversity. "When students come to campus, I want them to see more than the buildings and history," she says. "I want them to see that there is more than one type of Saint Mary's woman. There are different kinds, different sizes, and different colors—and we all have different interests."